House Dems Adjust to Life Without Power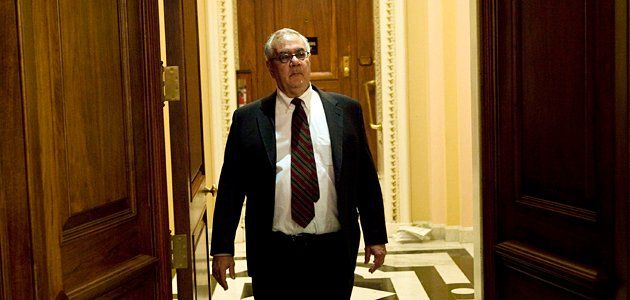 For Barney Frank, the first sign his life was about to change came in the middle of 2006. George W. Bush's approval ratings had hit record lows, and polls were pointing to a Democratic rout in the upcoming midterms. But with Election Day still months away, it was something of a surprise, says Frank, when the "Capitol's architect" sent a letter to his office asking if he'd like to follow committee-chairman tradition and sit for an official portrait.
"I knew as the ranking Democrat on the Financial Services Committee that I'd take over if we regained control the House," he says. "But that was the moment when I thought, 'Well, it looks like this is actually going to happen.' "
A portrait in the halls of Congress is one perk of running a House committee. Power is another. Now, after four years of ruling their respective roosts, the Massachusetts congressman and his fellow Democratic chairmen—Nick Rahall (D-W.Va.), George Miller (D-Calif.), Henry Waxman (D-Calif.), and John Conyers (D-Mich.), among others—are about to lose both.
It's bound to be a jarring experience for the veteran gang of lawmakers, all of whom spent more than a dozen terms rising through the ranks before finally grabbing their gavels—and only four short years in control before returning the reins to their Republican rivals.
"Being in the House minority is never fun," notes Brookings Institution congressional scholar Thomas Mann, especially "during these highly partisan times." But for Frank & Co., who've enjoyed the heady privilege of being able to reshape legislation, schedule hearings, and steer the national agenda, misery may be more like it.
The initial disappointments have been mostly personal. As the election returns rolled in on Nov. 2, Rahall, the chairman of Natural Resources, found that he was unable to enjoy his hard-fought victory over GOP challenger Spike Maynard because "so many of his colleagues were losing theirs seats"—an outcome that threatened his chairmanship as well. "It was a bittersweet evening," he admits.
Back in Washington, says Waxman (Energy and Commerce), a holiday party was transformed into a send-off for now-redundant staffers. (Chairmen choose two thirds of a committee's employees; the minority party selects the remainder.) Frank snapped a photo (also "bittersweet") with his departing aides at the final caucus of Financial Services, while Rahall hosted his own "going-away" bash last month.
"We've lost superb individuals already, and we're going to lose more," he says. "It's sad to see them go." Elsewhere, Miller (Education and Labor) staffers were still calling their boss "Chairman"—not the less exalted, if more accurate "Congressman"—as recently as Tuesday.
As much as it might sting personally, however, losing control of a House committee is primarily a problem of policy and politics. Every one of the outgoing chairmen interviewed for this article served as the ranking minority member of his committee in recent years—and each insisted that the incoming Republican chairmen are, as Waxman puts it, "much further to the right than anything we've seen before."
"The biggest change won't be shifting from chairman to ranking member," says Frank. "It'll be shifting from ranking member with a mainstream conservative group in control [back in the mid-2000s] to ranking member with this very right-wing group in control. Frankly, I don't think I'll have much input."
Under the new regime, any unfinished Democratic business—a climate-change bill for Waxman, for example, or affordable rental housing for Frank—is likely to remain unfinished. What's more, many of the signature accomplishments of the 111th Congress, from health care reform to financial reregulation, are about to come under assault. And while some outgoing Democratic chairmen dutifully (and predictably) pay lip service to the virtues of bipartisanship—"There are lots of issues where we can work together," says Rahall—most concede that they'll have to butt heads with their GOP counterparts if they hope to protect the legacy of the last Congress.
"Now my role is to be a critic of what they're doing and to fight the pulpit debate," says Frank. "I'd rather it be cooperative, but I see no signs it will be, given all the partisanship."
In crisis, people tend to cope by clinging to whatever silver linings they can envision. Politicians are no exception. Rahall insists that he "won't be in the backseat" in the new Congress. "I may not be at the wheel," he says, "but I'll be riding shotgun at least. That's a big deal." In the meantime, Rahall says he'll be able to focus less on "universal challenges" and more on "local issues in West Virginia"—another way of saying he will be more parochial.
Frank freely concedes that he'll have "more free time" on his hands. And Waxman comforts himself by claiming that his party is poised for a comeback in 2012. "I don't think it was fair that we lost this time around," he says, blaming the Democrats' downfall on the lousy economy that President Obama inherited.
Whether or not Waxman's dream comes true, the immediate reality of life on the Hill is looking more like a nightmare. "Losing on a day-to-day basis and seeing the Republicans prevail when I so strongly disagree with them—that's not going to be easy," he says. "It's a less than pleasant situation."