House Dems Want Marjorie Taylor Greene Removed From Committee, But GOP's Hands May Be Tied
Members of the House Education and Labor Committee are calling on Republican officials to remove Representative Marjorie Taylor Green from her committee assignment—after the freshman congresswoman sparked widespread criticism for supporting conspiracy theories surrounding several deadly school shootings.
But stripping her of the seat may not be as easy as House Democrats are hoping. While legislators have left or been removed from committees in the past, there is a procedural quirk that governs these positions.
"Once a member is placed on a standing committee, the party leadership can't actually remove that member from just that committee—at least not until there is a new Congress," American University professor Andrew Ballard told Newsweek.
"Marjorie Taylor Greene has already been put on the committee, and according to the House Rules, the only way that she can be removed—short of actually being removed from the House—is if she resigns," he said.
But Ballard pointed out that the Rule doesn't make House Minority Leader Kevin McCarthy powerless. He said GOP leaders could corner her by promising to fund a strong challenger, by failing to support any bills she wants or by cutting her off from party donor networks, among other things.
"If they choose to, the Republican Party leadership can definitely put enough pressure on her to get her off the committee. The question is whether they want to," Ballard said.
On Thursday, Representative Jahana Hayes circulated a letter to a number of House Republicans, including McCarthy, requesting that Taylor Greene be removed from her seat on the committee.
"In light of the onslaught of reports that have emerged depicting Representative Greene espousing hateful rhetoric and conspiracy theories about the legitimacy of mass school shootings, it has become clear that she should not be seated on this Committee to further this narrative," Hayes wrote.
This week, a 2019 video resurfaced, showing Greene following and harassing Parkland survivor and gun control advocate David Hogg. In the clip, the congresswoman called Hogg a "coward" and baselessly accused him of being a paid actor at the Marjory Stoneman Douglas High School shooting that left 17 people dead.
Before she was elected to Congress, Greene also endorsed online conspiracy theories about the Sandy Hook Elementary School shooting in Newtown, Connecticut — the state Hayes represents. Twenty-six people, including 20 young children, died at Sandy Hook.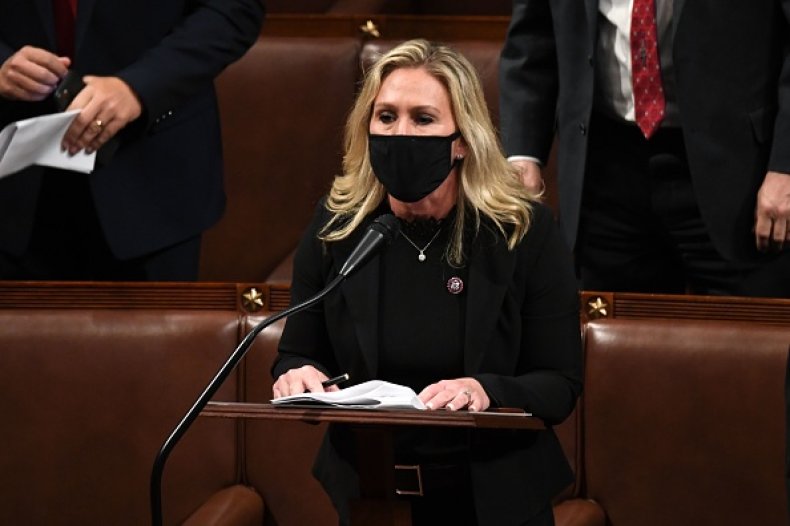 "There's something so incredibly egregious about selecting her as a representative for this committee," Hayes told Newsweek. "We are tasked with keeping schools safe and addressing issues with student trauma. To have someone on the committee who doesn't even believe these things happen or that they exist, or someone who would express her disapproval in the ways that [Taylor Greene] has, I don't think that this is a committee that is the right fit for her."
"I don't think that her voice is a voice that should represent Republicans or children on this committee," Hayes added on Thursday. "And I'm really surprised that Leader McCarthy would have selected this committee for her."
Hayes is joined by other current and former committee members, including Representatives Mark DeSaulnier, Joseph Morelle, Raúl Grijalva and Lori Trahan, in asking that Taylor Greene be removed from the Education and Labor post.
House Speaker Nancy Pelosi and Representative Robert Scott, who chairs the Education and Labor Committee, also criticized House Republican leaders for appointing Taylor Greene to the committee.
"House Republicans made this appointment and Republican House Minority Leader Kevin McCarthy must explain how someone with this background represents the Republican party on education issues," Scott told Newsweek in a statement. "He is sending a clear message to students, parents, and educators about the views of the Republican party."
Hayes said GOP officials should revisit the decision made in the case of former Representative Steve King as an example of how to address Taylor Greene's unsubstantiated claims.
Back in 2019, Republican leaders removed King from the Judiciary and Agriculture Committees after he made racist comments questioning why white supremacy is considered offensive.
"Many of my [Republican] colleagues always cite precedent or past practice and I wanted to remind them that you, in fact, have done this before. There is precedent, you have addressed it," Hayes said.
But, Ballard said King's removal may have come down to a matter of timing.
"It was definitely framed as him being removed," he told Newsweek. "By removing him, they just didn't appoint him to any committees."
"The King case is not as similar as it might appear. Steve King had a long history of making potentially offensive comments on race," Ballard added. "When the House Joint Committee made that decision, that there were plenty of people who asked, 'why didn't you do this sooner?'"
Former Representative Chris Collins was stripped of his titles by former House Speaker Paul Ryan in September 2019, but this was due to the House rule which stipulates members will be removed from committee assignments if they're indicted with criminal charges.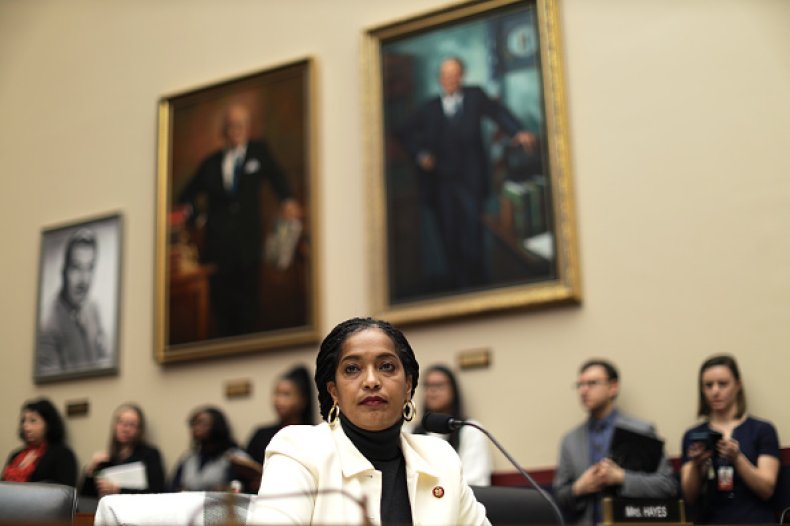 Hayes said that while she understands Democrats and Republicans face policy differences when sitting on the committee, Taylor Greene's appointment demonstrates a new message from the GOP.
"It really sends the message that we don't care to work on solutions in this committee," Hayes told Newsweek. "We are sending someone to represent our views that will distract from the conversation, that will deter, that will be obstructionist, and that will normalize these fringe theories."
Ballard said this signaling may not be any different than the kind the GOP has already implied by remaining silent about Taylor Greene's remarks.
"The reasons that the Republican Party haven't necessarily denounced Taylor Greene's comments yet and there has been no moves to censure yet, is that the Republican House leadership sees value to Taylor Greene," he said. "And that honestly doesn't surprise me given how much of the Republican base seems to be in agreement with a lot of the things that she says."
In a statement sent to Newsweek, Taylor Greene said, "Democrats and their spokesmen in the Fake News Media will stop at nothing to defeat conservative Republicans. They are coming after me because I'm a threat to their goal of Socialism. They are coming after me because they know I represent the people, not the politicians. They are coming after me because, like President Trump, I will always defend conservative values. They want to take me out because I represent the people. And they absolutely hate it."
Given the new White House administration and other priorities on their agendas, like former President Donald Trump's upcoming impeachment trial, Democrats may not dedicate as many resources into making the committee appointment a larger issue, Ballard said.
He added it could also lead to backlash from GOP figures like Missouri Senator Josh Hawley and Texas Senator Ted Cruz who have already bolstered claims of censorship by the Democratic Party.
"I think as elected officials we have a responsibility to ground ourselves in the truth. We had investigations and I know with fidelity that the shooting at Sandy Hook occurred. We can't be pulled by fringe narratives," Hayes said. "We have to, as the leaders, ground ourselves in the truth and legislate accordingly and if we can't do that, I don't think we deserve the privilege of holding these positions."
Newsweek reached out to McCarthy and for comment but did not hear back before publication.