'House of the Dragon' Birth Scenes Reignite Violence Against Women Debate
HBO's hit Game of Thrones spin-off series House of the Dragon sparked heavy online discussion this weekend with its sixth episode, especially over its inclusion of more scenes of violent child births.
The original Game of Thrones received criticism during its run for its depiction of violent acts committed against women. Prior to House of the Dragon's debut, executives from the show assured audiences that the new series would not employ such violence in its narratives.
Many critics were thus upset in August when the premiere episode began with Queen Aemma Arryn (Sian Brooke) going through an arduous, agonizing child birth. In that debut story, King Viserys Targaryen (Paddy Considine) eventually made the difficult decision of choosing a procedure that could have saved the life of his unborn son while sacrificing his wife. Ultimately, he lost the lives of both, though not before Queen Aemma was seen suffering through labor in multiple scenes. Those scenes of Aemma, shot in realistic fashion, resulted in a social media cry for HBO to place trigger warnings before such content is shown.
Episode six opened with a large time jump and the first of two birth scenes. Princess Rhaenyra Targaryen (Emma D'Arcy)—Viserys' daughter and heir to his throne after the infant's death—was the one giving birth this time for what turned out to be her third child. She managed to deliver the baby, but not without much suffering first.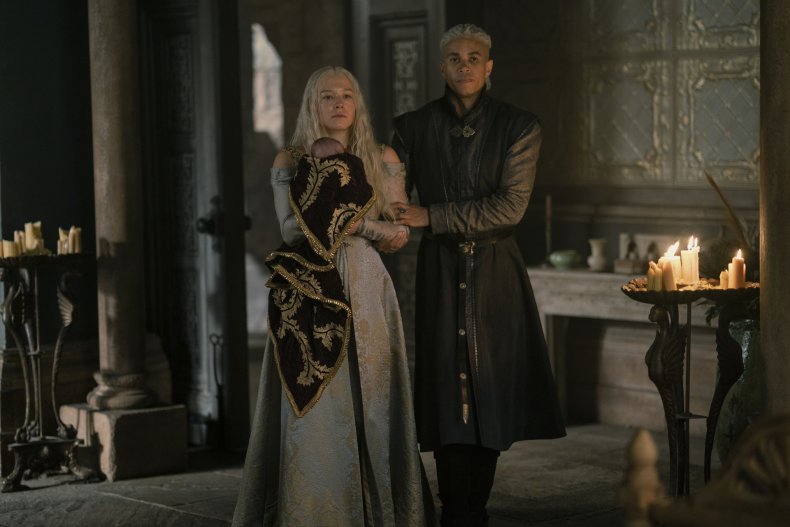 The reaction on social media to Rhaenyra's birthing ordeal ranged from milder tweets posted by people who described being grossed out by the scene to others who were upset by what they had witnessed on screen.
Twitter user @aishacs tweeted, "Really and truly and totally over the amount of birth scenes on #HouseOfTheDragon."
"Can we get a #HouseOfTheDragon episode without a traumatic birth scene?" user @rosechehrazi asked in a tweet.
"Traumatising birth scenes is the new black," read another Twitter post.
Rhaenyra's agony didn't end with the birth, however, as Queen Alicent (Olivia Cooke)—her father's second wife and her former friend—demanded to see the baby immediately upon delivery. The queen's order resulted in Rhaenyra struggling through the halls and stairs of the kingdom, leaving a bloody trail behind her.
Many House of the Dragon viewers were also upset about the storyline involving Alicent's demands.
"Alicent making Rhaenyra walk across the castle directly after giving birth is next level petty," journalist Philip Lewis tweeted.
Defenders of House of the Dragon used an excuse for the birth scenes that echoed similar arguments for Game of Throne's violence: Such actions would have been common during the time period. Though set in a fictional, fantastical setting, the world created by author George R.R. Martin for the shows shares many characteristics associated with medieval times.
"#HouseOfTheDragon as much as it makes me [SCREAMS AND CRIES] i'm impressed with how this show is emphasizing the difficulties of child birth? in a world of so many stories are 'woman died of child birth' and nothing is actually ever gone into for what that means it's refreshing," Twitter user @imoshen said.
Before episode six ended, viewers witnessed another painful child birth. This time the one suffering was Lady Laena Velaryon (Savannah Steyn), who has married and had other children with Daemon Targaryen (Matt Smith). During another grueling scene, Laena endured much pain while in labor and Daemon was given a decision much like Viserys had to make: Choose his wife's life or have the baby and risk Laena's life. Daemon chose differently than his brother, though Laena opted afterwards to end her life via death by fire when she ordered her dragon to burn her to death.
Most fans expressed being moved by Laena's death—and her dragon's seeming reluctance to follow her command—but many others seemed shocked at seeing two violent birth scenes in one episode.
"As a pregnant woman myself there has been 2 too many birth scenes for my liking in this season of #HOTD," Twitter user @niiiiccoollleee said.
Kelly Lawler, a television critic at USA Today, wrote on Sunday night that House of the Dragon had traded Game of Thrones' sexual violence for birth trauma.
"In the first six episodes, three gratuitous birth scenes included two that ended in the death of both mother and baby," Lawler said. "It's clear from the way these scenes were filmed, and what the creators have said about them, that their intentions were good. But the scenes came off not as revolutionary or revelatory, but as clichéd, exploitative and in poor taste."
Her opinion was also shared by some people on social media.
"Instead of sexposition we get brutal birth scenes in #HotD," Twitter user @L_Happenstance wrote.
However, there were still many other viewers who took a lighter view of Sunday's episode.
"This whole show is just one big promotion on the benefits of birth control," read another tweet from user @Icequeen_E16.
Viewers upset by these scenes may get a break from any future traumatic births on the show, at least from Laena and Rhaenyra. Laena didn't live, of course, while Rhaenyra's lover—who fathered her children while her husband Ser Laenor Velaryon (John Macmillan) pursued same-sex relationships—was banished from King's Landing and subsequently killed.
Newsweek reached out to HBO for comment.