'House of the Dragon' Fans Notice Clue When Daemon is About to do Evil
This article contains spoilers for episode seven of House of the Dragon.
Eagle-eyed House of the Dragon fans have spotted a recurring clue that Daemon Targaryen (Matt Smith) is about to get up to no good.
The Targaryen prince has become a fan favorite in the Game of Thrones spin-off series thanks to his scheming ways.
So far this season he has sneaked his young niece Rhaenyra Targaryen (Milly Alcock) out into the common areas of the Red Keep and made out with her in a brothel, stolen precious dragon eggs and led his army to a cunning victory over Crabfeeder.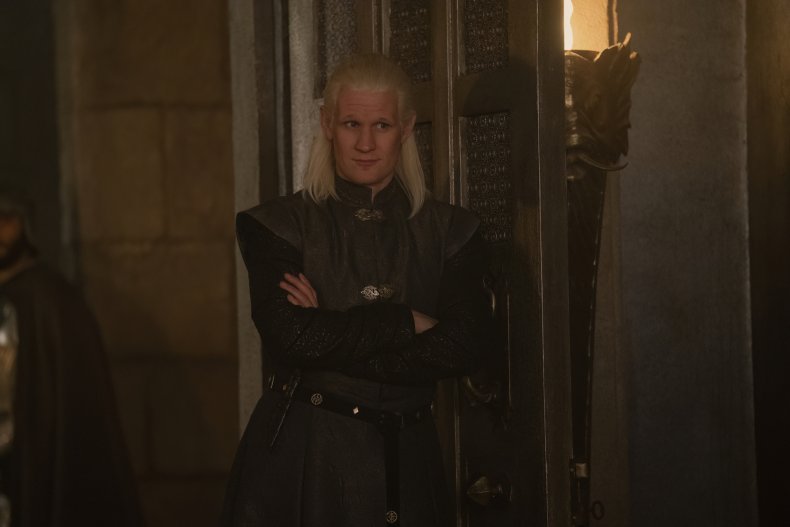 In the latest episode, Daemon schemes with the older Rhaenyra (Emma D'Arcy) to murder her husband Laenor Velaryon (John Macmillan), so they can wed.
Fans have noticed how Daemon dons a hooded cloak before carrying out his dastardly plots.
This time out, Daemon put on his trusty cloak and pulled the hood up to approach the soldier and Laenor's lover, Ser Qarl Correy (Arty Froushan), hiring him to kill Laenor.
"Favorite thing about Daemon is that he has a hoodie for committing crimes," wrote Twitter user m_ttt21.
"Daemon targaryen, wielder of dark sister, rider of caraxes and possessor of the 'hoodie of crimes'," added daemonshoe.
And Bantu_Biko0 commented: "You know someone is about to die when Daemon wears that hoodie."
An ensuing scene sees Qarl attack Laenor in his family's quarters at Driftmark and seemingly kill him.
Qarl supposedly leaves Laenor for dead, his body burning up in the big fireplace.
Rhynera and Daemon then get married in a traditional Targaryen ceremony, helping to sow the seeds for the upcoming civil war between the opposing sects of the Dragon dynasty.
But the closing frames of the seventh episode dropped a major plot twist that strays from George R.R. Martin's Fire and Blood books, on which the show is based.
It turns out Laenor and Qarl faked the death and ran away in a rowboat together.
Laenor had shaved his trademark silver dreadlocks and the pair escaped to the Free Cities.
This twist differs from the Fire and Blood books, where numerous witnesses see Qarl murder Laenor in Spicetown rather than Driftmark.
One explanation given to the unsuspecting court was that Qarl had become jealous when Laenor started to show interest in a younger man.
House of the Dragon recently came under fire for the violent murder of Laenor's former lover, with many accusing the show of leaning into anti-gay tropes.
Fans had just finished celebrating Laenor as Westeros' first Black—and gay—dragon rider but were horrified just one week later when his lover Ser Joffrey was killed in one of the show's most gruesome murder scenes.
Ser Joffrey was murdered by Rhynera's sworn protector and secret lover, Ser Criston, after the former tried to come to an arrangement that the pair would continue to see their lovers even after the princess married Laenor.
But the scorned Criston lashed out at Joffrey and beat him to a bloody pulp.
The 'Kill Your Gays' trope sees LGBTQ characters killed off or face violence at a much higher rate because they are seen as either more expendable or not having as much value.
The trope is also a problem because there is often such little LGBTQ representation in the TV show or film that the murdered characters may have served as the only positive representation.
House of the Dragon airs Sundays at 9 p.m. ET on HBO and HBO Max.