'House of the Dragon': Release Date, Cast, Trailer and Plot
Game of Thrones may have ended the fantasy franchise on a sour note, but a new prequel series could change all that.
House of the Dragon is HBO's first spin-off from the flagship show, which will expand on the history of Westeros first created by George R. R. Martin in his hit fantasy book series.
Here is everything you need to know about the forthcoming series.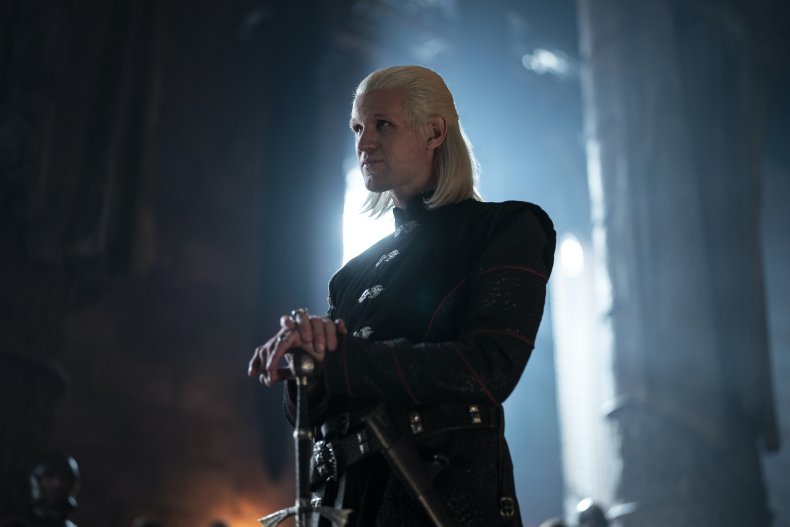 When Will 'House of the Dragon' Be Out?
House of the Dragon is going to be released on HBO, like its predecessor, and it will also be available to stream on HBO Max.
The show will premiere on HBO on Sunday, August 21, and HBO Max subscribers won't have to wait as it will also be put on the streaming platform on the same day.
House of the Dragon will consist of 10 episodes in total, and these will be coming out on a weekly basis.
Who Will Star in 'House of the Dragon'?
House of the Dragon stars Matt Smith as Prince Daemon Targaryen, Paddy Considine as King Viserys Targaryen, and Emma D'Arcy as Princess Rhaenyra Targaryen.
Also appearing in the series are actors Olivia Cooke as Alicent Hightower, Rhys Ifans as Otto Hightower, Steve Toussaint as Lord Corlys Velaryon, aka "The Sea Snake," and Eve Best as Princess Rhaenys Targaryen.
Fabien Frankel will portray Ser Criston Cole and Sonoya Mizuno also takes on the role of Mysaria in the series.
What Will 'House of the Dragon' Be About?
House of the Dragon is based on author Martin's book "Fire & Blood" which charts the history of House Targaryen.
The show is set 200 years before the events of Game of Thrones and will center on the conflict between the heirs of King Viserys Targaryen, a civil war that later became known as the Dance of the Dragons.
A number of characters play a part in the story, including King Viserys' daughter Rhaenyra, his brother Daemon, and Alicent Hightower who is the daughter of Otto, the Hand of the King.
The conflict begins when King Viserys chooses to change his heir, despite Daemon being named as his successor for being his only male relative.
While the Prince is determined to contest the decision, Princess Rhaenyra is equally keen to prove a woman deserves to be on the Iron Throne.
Is There a Trailer for 'House of the Dragon'?
HBO released an official trailer for House of the Dragon on Tuesday, July 20 which gave fans a taste of the drama that is set to unfold in Westeros.
Teasing the battle for succession between Prince Daemon and Princess Rhaenyra, the preview clip even gave viewers their first glimpse of the dragons that will feature in the show.
House of the Dragon will premiere on HBO on Sunday, August 21.