Milly Alcock and Emily Carey Hope They Can Return to 'House of the Dragon'
House of the Dragon will soon be changing its cast, with Emma D'Arcy and Olivia Cooke taking over the roles of Princess Rhaenyra Targaryen and Alicent Hightower from Milly Alcock and Emily Carey.
Alcock and Carey play the characters during their teenage years while their co-stars will portray them as adults.
The young actors spoke to Newsweek of their desire to reprise their parts in the Game of Thrones prequel again, if the story should call for it.
Milly Alcock and Emily Carey Hope They Can Return to 'House of the Dragon'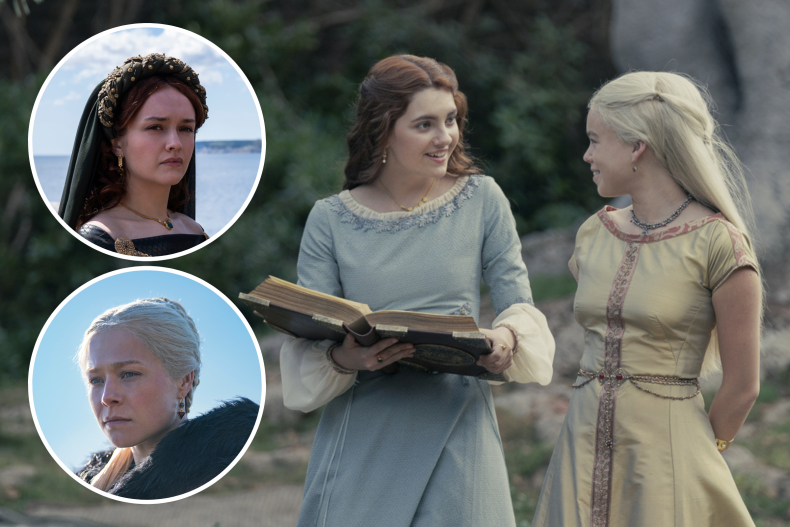 House of the Dragon follows Alcock and Carey's iteration of Rhaenyra and Alicent until midway through the series, at which point the show will have a suitable time jump to explain D'Arcy and Cooke taking over the roles.
Alcock admitted that she would "love" to reprise the part in future, such as in a flashback, but that she did not want to distract viewers from D'Arcy's performance.
"I adore Rhaenyra and I adore the cast and I adore the way that they've told this story, so, you know, if they would have me I'd love to come back," Alcock said. "But I know that Emma's going to continue Rhaenyra's journey for the next season or whatever.
"So I don't really want to take away from that performance or anything, you know what I mean? I have to give her up in a way."
Carey, meanwhile, shared how much the part of Alicent meant to her, and when asked about potentially returning in future, the actor said: "I mean, of course! It's such a cool show to just be involved in, even if I was just in one scene, even if I was in one episode.
"But I have such a strong connection to this character and it feels strange to leave her story halfway and just let someone else take over. As much as I adore Olivia—I cannot wait to see what she does with it—it felt strange, you know? Which it was bound to do.
"So if I ever had the opportunity to be able to revisit Alicent, I guess depending on where I am and what I'm doing, I'd love to, but who knows what's going to come in Season 2.
"I'm just excited to sit back after episode five airs and actually appreciate the show from the audience's perspective and take it all in, and not be cringing at myself. So hopefully that continues for Season 2 as well."
House of the Dragon airs Sundays at 9 p.m. ET on HBO and HBO Max.