Tea Party Conservatives Take Aim at GOP Leaders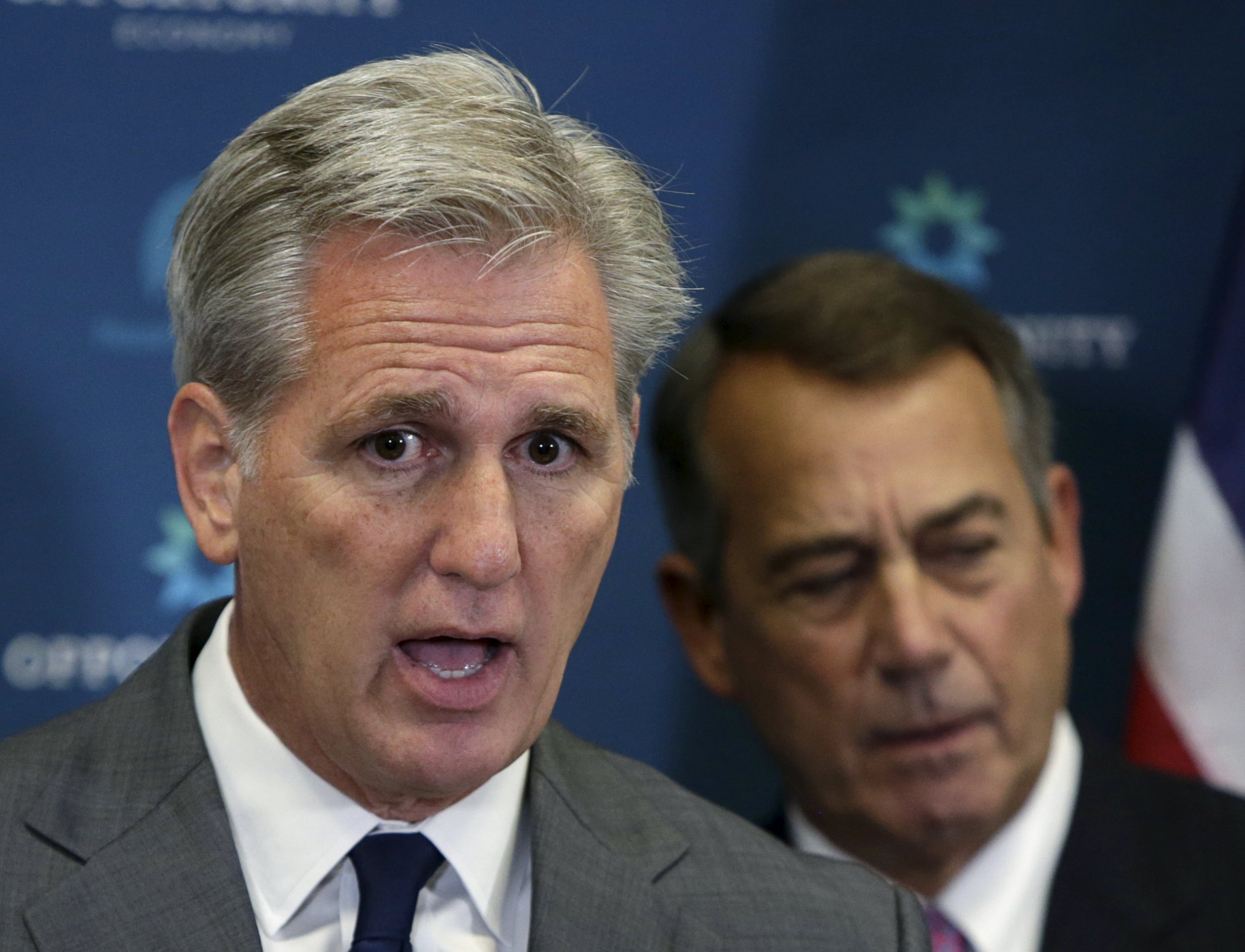 The House Republican caucus votes Thursday to nominate its next speaker, but the leadership drama promises to play out for the rest of the month, at least.
California Republican Kevin McCarthy, the current House majority leader, is expected to run away with the vote among GOP members. But he does not have the support of a powerful bloc of hard-line conservatives—members of the House Freedom Caucus, who endorsed Florida Republican Daniel Webster Wednesday evening.
"Last night we had productive exchanges with all of the Speaker candidates," the caucus said in a statement. "It is clear that our constituents will simply not accept a continuation of the status quo.... We accordingly believe that, under the present circumstances and without significant changes to Conference leadership and process, Rep. Daniel Webster would be best equipped to earn back the trust of the American people as Speaker of the House."
That opposition will keep things interesting between now and when the full chamber votes on the next speaker on October 29 (the day before current Speaker John Boehner officially retires). McCarthy will then need a majority of House members—218 votes. If he doesn't have the Freedom Caucus on board, he'll have a hard time getting there without Democratic votes. Conservatives made clear on Wednesday they expect anyone aspiring to the speaker's position to prove their conservative bona fides in the coming weeks.
"The vote for House speaker is a constitutional position; it's not a party position. And the vote that matters is on October 29," Michigan Representative Justin Amash, a Freedom Caucus member, told reporters at a lunch on Capitol Hill Wednesday. "So we're going to look at how this place is run. We're going to talk to all the candidates. We're going to make sure that before that vote takes place, we know how each candidate will handle it and what changes have been made."
As House Freedom Caucus Chairman Jim Jordan pointed out, between now and October 29, the House may consider an "omnibus spending bill, which may include breaking the spending caps. There's been talk of that. There could be an [Export-Import Bank reauthorization] bill on the floor. There could be a transportation bill on the floor and...possibly a debt ceiling." All are things where conservatives in the Republican Party have taken a harder line than more establishment members. On Wednesday, Jordan promised that how the speaker candidates handle those issues "will weigh in as well" on the Freedom Caucus's vote on the floor later this month.
They and other caucus members at Wednesday's lunch, a regular affair dubbed "Conversations with Conservatives," said the biggest changes they want to see relate to process—giving rank-and-file members more rein to introduce and vote on legislation, even if it runs contrary to the agenda mapped out by House and Senate Republican leaders. What do House conservatives want to do with this opening? Force more confrontation with the Obama White House. Fundamentally, their frustrations stem more from the limitations they face in a divided government than their own leaders' shortcomings, though they wouldn't characterize it that way.
"You know who is really dictating the agenda in the U.S. House for the last four years and nine months? That's the president of the United States," complained Tim Huelskamp, a Republican from Kansas. "How many times has the leadership stood up in conference and said, 'We can't do that because the president will shut the government down. He's going to veto it. [Senate Minority Leader] Harry Reid doesn't like it'? It's not what Republicans want or, even more important, what our constituents want to see us pass."
Given that McCarthy has been one of those leaders, a Boehner deputy since 2011, the conservatives present Wednesday showed little enthusiasm for coronating him as the next speaker. The House Freedom Caucus hosted a forum with the three speaker candidates—McCarthy, Webster and Utah Representative Jason Chaffetz—Tuesday night. And though they didn't announce their endorsement until later in the day, it was already clear at the lunch which way they were leaning.
Thomas Massie, a representative from Kentucky, is not member of the caucus, though he aligns with the members on many issues. He told reporters Wednesday that McCarthy is "absolutely not an option."
"You can't go back home and tell your town halls, 'Well, your tens of thousands of phone calls really made a difference. John Boehner stepped down and we replaced him with his right-hand man,'" Massie said. "That is not going to work."
The problem for conservatives is that Webster does not appear to have broad enough appeal to win over a majority of House members. And the House Freedom Caucus does not intend to stand up one of its own for the position. "I'll be honest: I don't know that one of our leading members could be elected right now," conceded Idaho Representative Raúl Labrador, given the caucus's confrontational approach.
But the caucus members are also not much interested in rallying around McCarthy simply for the sake of efficiency.
"If there is a stalemate, there's a stalemate," Amash said of the impending vote on the House floor. "Then we go through the normal process; we have more votes. And I wouldn't be surprised to see other candidates at that point jump in when they see that there's an opportunity for an alternative."
"It could be any other member who comes to office, somebody who can get to 218, somebody who can bring the party together," said Labrador. "It could even be Kevin McCarthy. Like I said, he has three weeks to make systemic changes, to not just talk about the changes, but to show exactly what he's going to do."
It looks to be an interesting three weeks, at that.