Did HGTV Cancel 'House Full of Spouses'? Controversial Polygamy Show May Be More Trouble Than Its Worth
The future is uncertain for an HGTV show that's sparked controversy after just one episode. House Full of Spouses, a home renovation show centering on polygamist families, may have been removed from the network's slate after numerous HGTV fans vented their concerns on Twitter.
It's not clear if House Full of Spouses was ever planned to be an ongoing series. Newsweek asked HGTV to clarify why the show was removed from the schedule. A network representative said HGTV experiments with many different types of entertainment.
"House Full of Spouses is one of many innovative pilot concepts that HGTV tests regularly as part of its rigorous development and evaluation process," the comment read.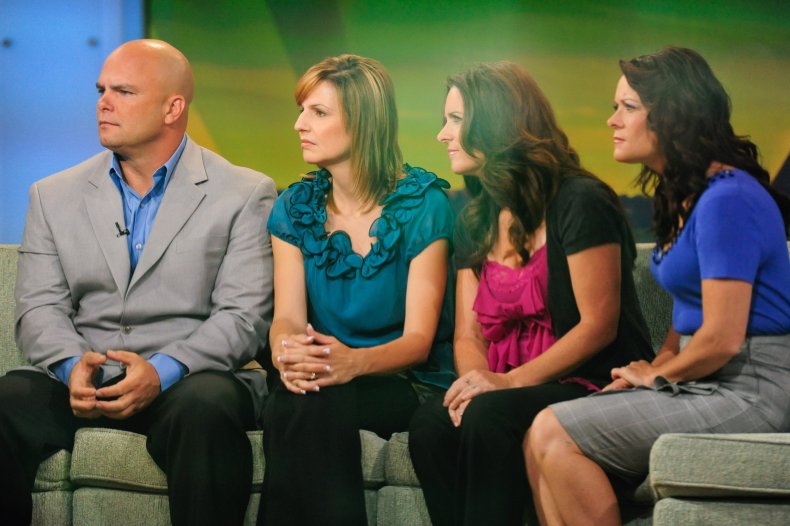 The show introduced a new creative couple as the leading voices on House Full of Spouses, Rachel and Greg. What sets the pair apart from established HGTV couples, like Chip and Joanna Gaines, is that Rachel was raised in a polygamist household. She aims to create comfortable homes for plural-marriage families.
HGTV premiered the only episode of House Full of Spouses on Thursday, April 25 at 2 p.m. ET. Many social media users objected to the show's concept, pointing out that polygamy is illegal in the United States. Others claimed the content was unsuitable for a family channel.
House Full of Spouses featured the Darger family, who has appeared on TV before in Sister Wives, My Three Wives and HBO's Big Love.
House Full of Spouses is not available On Demand. The full episode, however, is currently available to stream on the HGTV website. It's listed unnamed, as an "HGTV Sneak Peek," under Season 2, episode seven.
If House Full of Spouses is really canceled for good, which has yet to be confirmed, it wouldn't be the first time HGTV has canned a TV show early on based on viewer backlash. In 2014, they canceled a pending pilot, Flip It Forward, before it ever aired. Fans objected to prospective hosts David and Jason Benham, vocal critics of LGBT people, divorce and abortion, according to The Wrap.