House GOP Adamantly Correct to Kick Rep. Omar off Foreign Affairs Committee | Opinion
Rep. Ilhan Omar's (D-MN) ouster last Thursday from the House Foreign Affairs Committee (HFAC) is richly deserved, but for reasons even more fundamental than those detailed in the resolution removing her from the panel.
The congresswoman's hostility towards Jews and the Jewish state of Israel, her related attempts to draw moral equivalence between jihadists and Israeli and American forces, and the broader anti-Western worldview that pervades the rhetoric recounted in the removal resolution make her a uniquely repugnant figure—now officially so, as determined by her House colleagues.
But the reality is that Rep. Omar should have never been allowed to serve on the HFAC in the first place. By appointing her to that post, Democrats knowingly and recklessly endangered U.S. national security—a crucial but overlooked point in the Omar saga.
This is because, while the committee touches on nearly every sensitive issue vital to U.S. national security and foreign policy, an extensive investigation into Rep. Omar's background suggests she would have never been able to pass a basic background check for any national security position—let alone one at the level required of a member of the HFAC.
I undertook such an investigation into Rep. Omar, and laid out this argument in painstaking detail in my 2020 book-length exposé on the congresswoman, American Ingrate.
Therein, I detailed the extensive "links and/or coordination"—in Bob Mueller special counsel parlance—between Rep. Omar and Islamist, terror-tied individuals, often affiliated with organizations such as Muslim Brotherhood-linked CAIR, MAS, and the USCMO, and officials foreign and domestic, revealing an open-and-shut case of collusion with American adversaries and/or corrupt regimes, led by Turkey and her native Somalia.
I also produced credible, often overwhelming evidence suggesting Rep. Omar engaged in marriage, immigration, student loan, and tax fraud, as well as perjury—all stemming from the bizarre circumstances surrounding two of her marriages, one of which may have been to her biological brother. In fact, many of those crimes may have occurred regardless of whether one of Rep. Omar's husbands was her own brother.
This is all before one touches on the mere ethical concerns raised by conduct like Rep. Omar's paying out hundreds of thousands of dollars to a political consultant alleged to have been involved in an affair with her—a consultant, incidentally, who Omar would ultimately wed—as well as more petty violations such as her receiving honoraria against the rules of the Minnesota House, or her unlawful use of campaign funds for travel as a state legislator.
That (as I came to learn in researching my book) Somali-American sources in Omar's congressional district claimed they faced threats to their life and limb from Omar-tied goons for speaking out about her, and in certain cases would only meet in public locations where there was visible security, for their safety, only raised further alarm bells about the congresswoman.
As did her prevarications, and the contradictory accounts she presented when facing scrutiny—along with her persistent crybullying, including of yours truly and continuing until this very day, in calling those who dare to confront her with legitimate questions about her words and actions, bigots.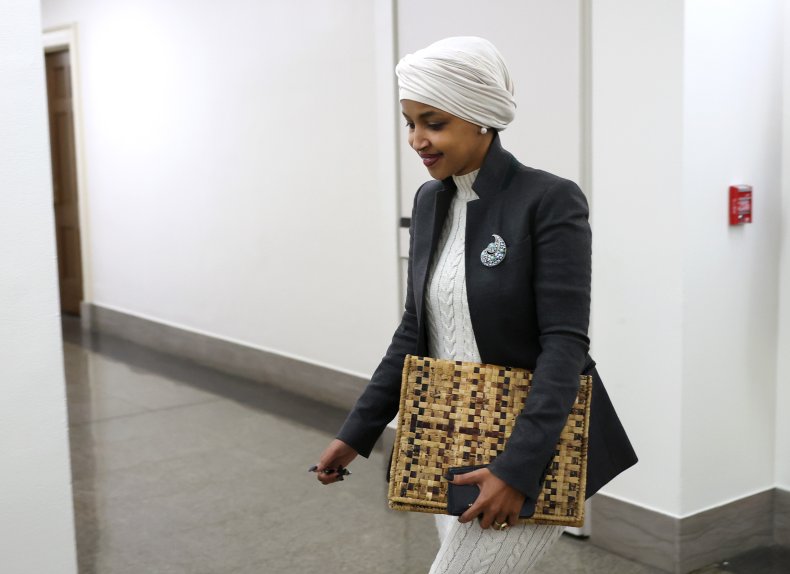 Put it all together and you have a figure whose affiliations and conduct were uniquely compromising—so much so that it should be unconscionable to put that person in any position in the U.S. government, let alone one touching on pressing matters of national security.
Yet by dint of being elected, Rep. Omar never had to pass a background check to assume such a position.
So, when Democrats tapped her for the House Foreign Affairs Committee, they imperiled us all.
That Rep. Omar's rhetoric and policies have proven consistent with her anti-American, anti-Western allies and supporters was entirely predictable—and, in fact, was predicted.
The U.S. House therefore is no doubt a better institution today with Rep. Omar booted from the Foreign Affairs Committee.
That the House condemned Rep. Omar by name, and condemned her vile rhetoric specifically, rectifies a great wrong done four years ago by House Democrats, who, in March 2019, circled the wagons for Rep. Omar in watering down a resolution that originally would have done the same—but instead, under pressure from progressives, broadly condemned anti-Jewish, anti-Muslim, and anti-minority bigotry.
And it would have been political malpractice for Republicans not to strip Rep. Omar, as well as her colleagues Reps. Adam Schiff (D-CA) and Eric Swalwell (D-CA), from their committee assignments, given the standard to which Democrats have held Republicans. Concerns about a tit-for-tat escalation went out the window the second Democrats booted Republicans from committees; indeed, failing to respond in-kind would have signaled weakness, inviting further aggression and more brazen political assaults. (N.B. while House Republicans may have stripped deserving Democrats of their committee assignments, they have done little if anything to deter behavior such as the Democrats' creation of kangaroo court committees, in violation of House rules, that issue frivolous subpoenas aimed at harassing Republican colleagues, such as the January 6 Select Committee.)
Nevertheless, the issues I detailed in American Ingrate about Rep. Omar remain. Law enforcement has seemed unwilling to pursue an investigation into the congresswoman on the merits, while it simultaneously undertakes all manner of politically charged investigations into other officials. Voters have failed to punish Rep. Omar, despite her background and record, by removing her from office altogether. Failing that, House Republicans have done perhaps the next best thing by beginning the process of disempowering her in stripping her of her powerful committee assignment: HFAC. They would do well to probe deeper into Rep. Omar's background to assess if still further action is merited.
Ben Weingarten is deputy editor for RealClearInvestigations. He also contributes to The Federalist, the New York Post, The Epoch Times, and other publications. Subscribe to his newsletter at weingarten.substack.com, and follow him on Twitter: @bhweingarten.
The views expressed in this article are the writer's own.