House GOP Defends Trump's 'Prudent' Ukraine Actions, Calls Dem Claims 'Speculation' in 123-Page Impeachment Report
House Republicans defended President Donald Trump's actions in Ukraine, asserted there was "no quid pro quo" and condemned last month's Democrat-led impeachment hearings in a 123-page draft report prepared by Congressmen Devin Nunes, Jim Jordan and Michael T. McCaul.
Citing a long-standing plan by the Democrats to impeach Trump and a failure to provide any hard evidence of wrongdoing, the document called the impeachment proceedings "an orchestrated campaign to upend our political system."
"Publicly available—and irrefutable—evidence shows how senior Ukrainian government officials sought to influence the 2016 U.S. presidential election in opposition to President Trump's candidacy, and that some in the Ukrainian embassy in Washington worked with a Democrat operative to achieve that goal," the report read. "While Democrats reflexively dismiss these truths as conspiracy theories, the facts are indisputable and bear heavily on the Democrats' impeachment inquiry."
The Democrats are "alleging guilt on the basis of hearsay, presumptions, and speculation—all of which are reflected in the anonymous whistleblower complaint that sparked this inquiry," the report stated. "The Democrats' narrative is so dependent on speculation that one Democrat publicly justified hearsay as 'better' than direct evidence."
The GOP document asserts that Trump "has a deep-seated, genuine, and reasonable skepticism of Ukraine due to its history of pervasive corruption." Because of this, Trump's hesitation to meet Ukrainian President Volodymyr Zelenskiy or provide financial assistance to Ukraine is "entirely prudent," the Republicans claimed.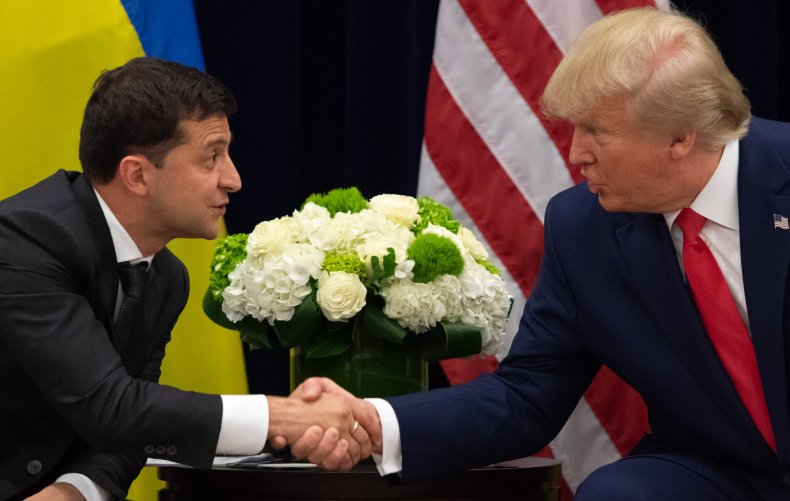 The Republicans also described the whistleblower's testimony as "fundamentally flawed" since the whistleblower allegedly acknowledged having no firsthand knowledge.
The formal impeachment inquiry, announced by House Speaker Nancy Pelosi in late September, centers around a July phone call between Trump and Ukrainian President Volodymyr Zelenskiy, during which the U.S. leader asked his foreign counterpart to probe the family of former Vice President Joe Biden.
Democrats and some impeachment witnesses have alleged that Trump withheld millions of dollars in aid to Ukraine to pressure Zelensky to investigate his domestic political rival. However, the president has repeatedly denied the claims.
"The motivations, biases, and credibility of the anonymous whistleblower are necessary aspects of any serious examination of the facts in questions," the Republican report claimed. "The evidence presented does not prove any of these Democrat allegations and none of the Democrats' witnesses testified to having evidence of bribery, extortion, or any high crime or misdemeanor."
After two weeks of public impeachment hearings last week in the House Intelligence Committee, the inquiry will move to the Judiciary Committee this month. The next phase will see the committee hold a hearing on Wednesday with legal scholars and academics to discuss whether the president committed an impeachable offense in his dealings with Ukraine.
Despite the president's assertion that there was no quid pro quo, top Ukraine diplomat William Taylor told impeachment investigators that he was "embarrassed" when asked by Ukraine to explain why the foreign aid to fend off Russia was not being released.
Newsweek reached out to Pelosi for comment but did not receive a response in time for publication.