House GOP, Dems Tout '4/20' Cannabis Bill, Matt Gaetz Rips 'War on Drugs'
GOP Congressman Patrick McHenry, a longtime opponent of marijuana legalization efforts, joked Monday on the House floor that his colleagues are pushing a quick vote on a bipartisan cannabis banking bill because "for those of you who don't know, tomorrow is 4/20."
Update 7:05 p.m. EST: The Safe Banking Act of 2021 passed the House Monday evening with overwhelming bipartisan support 321-101, receiving the required two-thirds majority. All 215 House Democrats who voted chose "yea" as well as 106 Republicans who also voted "yea." The 101 "nay" votes were all House Republicans. Three Democrats and five Republicans did not vote Monday.
McHenry's quip isn't likely to change the large majority of House lawmakers from both parties who on Monday expressed vehement support for the SAFE Banking Act and blasted the federal government's ongoing "war on drugs." Colorado Democratic Rep. Ed Perlmutter reintroduced the cannabis banking bill which would prevent regulators including the Federal Deposit Insurance Corporation (FDIC) from penalizing financial institutions which provide services to legal marijuana or hemp-related businesses. Additionally, ancillary businesses would be allowed to use credit cards and checking accounts without fear of federal intervention.
Perlmutter offered final remarks during the pre-vote debate, detailing the tax headaches faced by all-cash businesses in the legal cannabis industry. Marijuana Business Daily estimates the cannabis industry will generate $20 billion in 2021 alone. Democratic Senate Majority Leader Chuck Schumer has for weeks said he plans to introduce a separate, comprehensive marijuana legalization bill "soon."
Some GOP lawmakers including McHenry on Monday reiterated their continued opposition to the bill, citing that cannabis is still officially prohibited by the Drug Enforcement Administration (DEA) as a Schedule I illegal substance. McHenry said the bill undermines law enforcement's anti-drug efforts.
Numerous credit unions and the American Bankers Association joined 101 House Republicans and every Democrat in backing H.R. 1996, the Secure and Fair Enforcement Banking Act of 2021. A vote for passage is expected to occur Monday night, just hours ahead of the so-called "stoner holiday" of April 20. This same bill has successfully passed the House on three previous occasions but Democrats hope to finally push it through the Senate this time around.
"We need to get this to the Senate. They need to take whatever tact they want to take, but we got to make our communities safer, these businesses safer," Perlmutter told the bipartisan House supporters of the legislation Monday. "American voters have spoken and continue to speak—and the fact is, you can't put the genie back in the bottle. Prohibition is over."
Before yielding his time to fellow Republicans who support the bill, McHenry took a swipe at the impending calendar date of "4/20" Tuesday. He conceded that "I know there is more than sufficient support to pass this" but expressed his concern that the legislation is "kneecapping" law enforcement's anti-drug actions. Even in some of the 16 states where recreational marijuana is fully legalized, there are restrictions on the sale and distribution of weed products as well as the risk of being shut out or prosecuted by the federally-backed banking industry.
"I do believe my colleague was quite intentional about the date he wanted to actually have the vote here on House floor...For those of you who don't know, tomorrow is 4/20, being the operable date," the North Carolina Republican joked.
Florida GOP Congressman Matt Gaetz is among the House GOP supporters of the bill and a firm critic of the federal government's decades-long "war on drugs."
"It seems the war on drugs is like so many of the other forever wars that this Congress confronts: deeply unpopular in all parts of the country, except Washington D.C. So, I commend the majority party for bringing this bill to the floor."
Montana Republican Matt Rosendale requested a recorded vote set for Monday evening.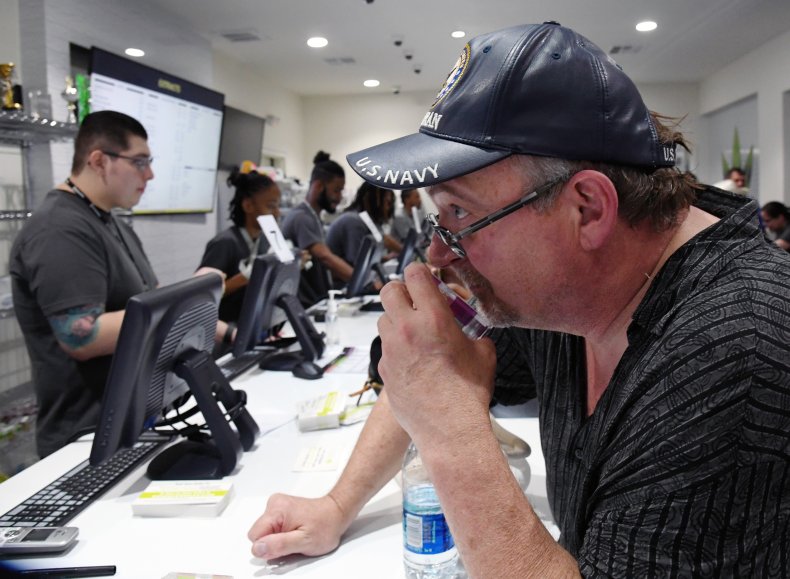 "The #SAFEBankingAct is a big deal for the thousands of employees, businesses & communities who've been forced to deal in cash. It's past time to align state & federal law on this issue & I look forward to #SAFEBanking once again passing the House w/broad, bipartisan support," Perlmutter tweeted Monday afternoon.
Newsweek reached out to Perlmutter's office for additional remarks about the bill Monday afternoon prior to the final vote.