House Homeland Security Committee Chair Calls for Capitol Rioters to Be Put on No-Fly List
The chairman of the House Committee on Homeland Security has called for the Transportation Security Administration (TSA) and the FBI to ban those involved in Wednesday's insurrection that breached the U.S. Capitol building from flying on airplanes.
Rep. Bennie Thompson (D-Miss.) issued a statement Thursday urging the agencies to add the "violent perpetrators involved in the domestic terrorist attack on the U.S. Capitol" to the no-fly list. Hundreds of supporters of President Donald Trump, angered over the president's election loss, stormed the building as Congress was meeting to officially certify President-elect Joe Biden's victory. Multiple people were killed or injured in the chaos, which also included pipe bombs being placed in other areas of Washington, D.C.
"Given the heinous domestic terrorist attack on the U.S. Capitol yesterday, I am urging the Transportation Security Administration and the Federal Bureau of Investigation to use their authorities to add the names of all identified individuals involved in the attack to the federal No-Fly List and keep them off planes," Thompson said. "This should include all individuals identified as having entered the Capitol building—an intrusion which threatened the safety of Members of Congress and staff and served as an attack on our Nation."
"We already saw reports of 'unruly mobs' in air on the way to Washington, D.C.," he added. "It does not take much imagination to envision how they might act out on their way out of D.C. if allowed to fly unfettered. This is an action that TSA and the FBI, by law, are able to take but, to my knowledge, have not yet taken. Alleged perpetrators of a domestic terrorist attack who have been identified by the FBI should be held accountable."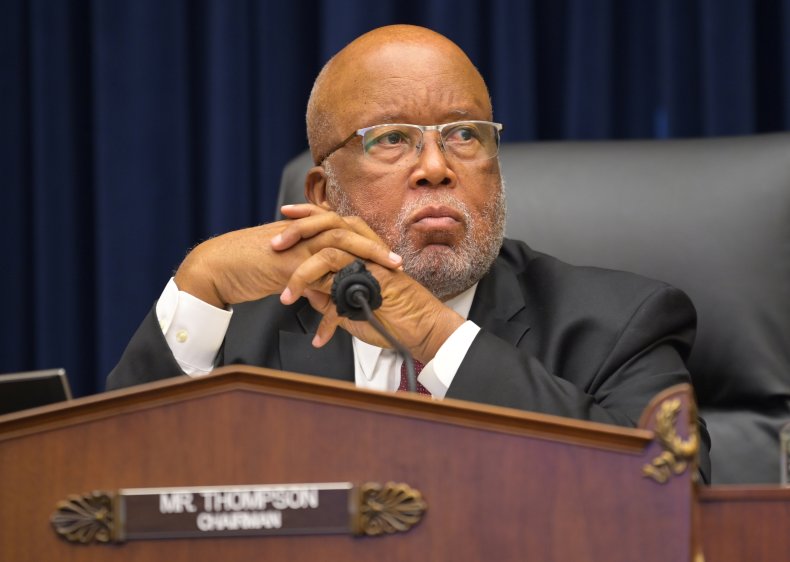 Thompson has also called for Trump to be "removed from office immediately" for inciting the violence carried out by some of his supporters, echoing several similar calls from lawmakers in the wake of the Wednesday's insurrection.
It is not clear that any of the pro-Trump rioters who took part in storming the Capitol have made any direct threats involving airplanes. Prior to the riot, viral videos circulating on social media showed Trump supporters harassing Sen. Mitt Romney (R-Utah) at an airport and on a plane headed to Washington over his vocal opposition to the president's attempts to overturn the will of the voters.
The no-fly list is a subset of names included in the government's Terrorist Screening Database, also known as the terrorist watchlist. Individuals are placed on the list when "there is reasonable suspicion to believe that a person is a known or suspected terrorist," according to the FBI's Terrorist Screening Center.
The list has been controversial for allegedly singling out Muslims and others unfairly and has at times included people who were incorrectly placed on it. Names on the list are not public information and the exact number of people listed is unclear, but estimates suggest that it includes at least tens of thousands. However, only a small percentage are believed to be U.S. citizens.
"The TSA is always on high alert," a TSA spokesperson said in a statement to Newsweek. "We prepare for all contingencies. For security reasons we do not discuss the precise details of our multiple layers of security, both seen and unseen. Travelers may notice additional law enforcement and canine presence, especially when events justify an increased security posture.
"TSA is, of course, always at the ready to accommodate FBI requests and Congressional authorizations related to the no fly list," they added.