Representative Ted Lieu, a California Democrat who will serve as an impeachment manager during President Donald Trump's pending Senate trial, called out Republican leadership in the upper chamber of Congress for not moving quicker to start the process.
Senate Majority Leader Mitch McConnell is reportedly open to voting to convict Trump for inciting a violent insurrection against the U.S. Capitol on January 6, but he has dismissed the idea of starting the trial before the Senate reconvenes January 19. That's one day before President-elect Joe Biden takes office, and there are concerns that the trial could overshadow the new administration's first days in office.
"We're calling on Mitch McConnell to have the trial as soon as possible," Lieu said Thursday morning in an interview with MSNBC. He pointed out that the lone article of impeachment against Trump, for inciting an insurrection, passed with bipartisan support, as 10 Republican representatives voted alongside their Democratic colleagues.
"And what is the Senate doing that is so important and so urgent right now? Nothing. They're at home. They could have a trial on Friday," Lieu said. "They could have it next Monday. So we're calling for Senator McConnell to bring the Senate in so we can have the trial."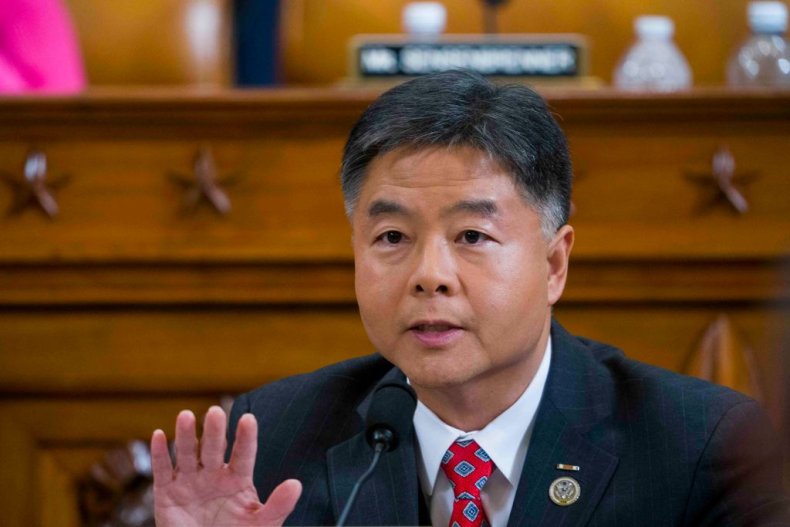 By a 232-197 vote, the Democratic-controlled House of Representatives decided Wednesday afternoon to impeach Trump a second time. Ten GOP lawmakers, including House Republican Conference Chair Liz Cheney of Wyoming, voted in support of the article of impeachment. A number of other Republican House members condemned the president's actions but raised concerns about the impeachment process or suggested censure was a better alternative.
Senate Minority Leader Chuck Schumer, who is expected to become the new majority leader later this month when Democratic Senators-elect Jon Ossoff and Raphael Warnock of Georgia take office, had urged McConnell to reconvene the Senate this week to begin Trump's trial. But following the impeachment vote, McConnell dismissed the idea, saying there would not be adequate time to hold a full trial before Trump leaves office.
"Given the rules, procedures, and Senate precedents that govern presidential impeachment trials, there is simply no chance that a fair or serious trial could conclude before President-elect Biden is sworn in next week. The Senate has held three presidential impeachment trials. They have lasted 83 days, 37 days, and 21 days, respectively," McConnell said in a Wednesday statement.
"Even if the Senate process were to begin this week and move promptly, no final verdict would be reached until after President Trump had left office. This is not a decision I am making; it is a fact," he said. Biden will be inaugurated in less than a week, on January 20.
In a letter to his GOP colleagues on Wednesday, McConnell suggested he has not ruled out convicting the president. "I have not made a final decision on how I will vote and I intend to listen to the legal arguments when they are presented to the Senate," the Kentucky Republican said.
For Trump to be convicted in the Senate, a two-thirds majority of senators must vote in favor. That means all 50 members of the Senate's Democratic caucus and at least 17 Republicans would have to vote against the president. It's unclear if enough Republican senators are willing to publicly rebuke a president of their own party in such an unprecedented manner.
No president has ever been convicted in a Senate trial, and GOP Senator Mitt Romney of Utah is the only senator in U.S. history to have supported the conviction of a president from that lawmaker's own party. Romney cast that vote last year, during Trump's first impeachment trial, which ended in acquittal on February 5.
Trump's second impeachment came after a violent mob of the president's supporters stormed the U.S. Capitol on January 6 as Congress met to count the Electoral College votes and certify Biden's victory. Ahead of the riot, which left five people dead, Trump urged his supporters at a Washington, D.C., protest to march to the federal building and to "fight like hell and if you don't fight like hell, you're not going to have a country anymore."
As the violence unfolded, Trump released a video telling his supporters he loved them and calling them "very special." He has since condemned the violence and urged his supporters to remain peaceful going forward.
In backing impeachment, Cheney blasted Trump, blaming him squarely for the violence that occurred.
"The President of the United States summoned this mob, assembled the mob, and lit the flame of this attack. Everything that followed was his doing. None of this would have happened without the President," the No. 3–ranking House Republican said in a Tuesday statement.
"The President could have immediately and forcefully intervened to stop the violence. He did not. There has never been a greater betrayal by a President of the United States of his office and his oath to the Constitution," Cheney said.
Fellow GOP Representatives John Katko of New York, Adam Kinzinger of Illinois, Anthony Gonzalez of Ohio, Fred Upton and Peter Meijer of Michigan, Jaime Herrera Beutler and Dan Newhouse of Washington state, Tom Rice of South Carolina and David Valadao of California voted to impeach Trump as well.
Newsweek reached out to a McConnell press representative for comment but did not receive a response in time for publication.