House Intelligence Committee Report Recommends Repealing Law That Experts Say Trump Campaign Violated
House investigators have released a highly anticipated report on Russia's election interference. Among the recommendations in the report, the lawmakers called for the repeal of a federal statute barring private citizens from negotiating with foreign countries for the United States without authorization.
Friday's report by the House Intelligence Committee came almost two months after the panel said it had finished its investigation into Russian meddling in the 2016 presidential election and possible links to political campaigns. Investigators found no evidence that President Donald Trump's campaign coordinated with Russia, the report said, a finding that the president was quick to point out on Twitter on Friday.
The report also called for Congress to repeal the Logan Act, a statute that says private citizens cannot negotiate with foreign countries on behalf of the U.S. unless they are authorized to do so.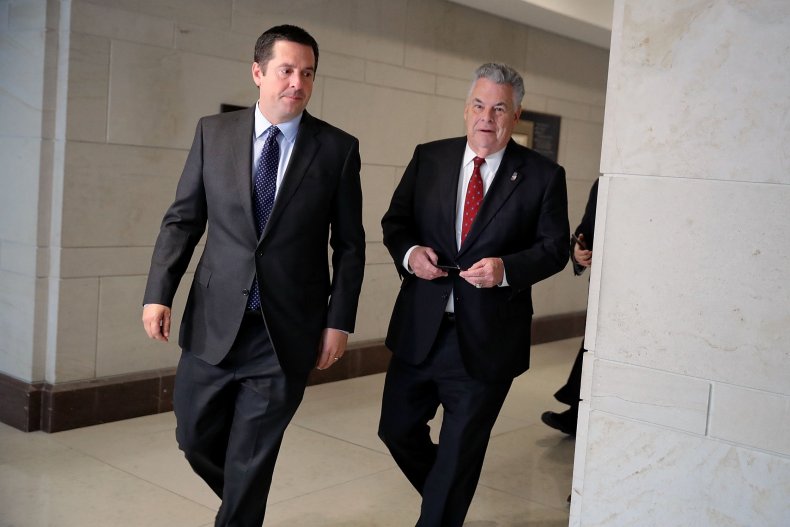 The statute has come up in discussions about Russia's election interference and possible coordination with the Trump campaign, which the Senate intelligence committee, the Senate Judiciary Committee and special counsel Robert Mueller continue to investigate. Former Trump campaign members such as former national security adviser Michael Flynn have pleaded guilty in the Mueller probe to lying to federal agents about their contacts with foreign nationals. Law scholars such as Daniel Hemel and Eric Posner of the University of Chicago Law School have said that those contacts could constitute Logan Act violations.
Since Congress passed the Logan Act in 1799, there have been no convictions for violating it, the report pointed out.
Democrats on the committee have said that their Republican counterparts rushed the investigation and closed it prematurely. In a statement on Friday following the public release of the report, Representative Adam Schiff, the top Democrat on the panel, blamed Republicans for the "superficial and political nature" of the conclusions. Schiff said the Democrats will continue investigating the matter.