An Austrian bank implicated in various money laundering scandals became the subject of a House Intelligence Committee hearing this week when Democratic Representative Jackie Speier of California asked about its connections to Russia and the financing of a failed Trump real estate project.
"I'm curious about the Raiffeisen bank in Austria," Speier said to Heather Conley, an expert on Europe and Eurasia at the Center for Strategic and International Studies and author of the Kremlin's Playbook, which looks at Russian economic influence in Europe. "You spend a whole chapter [of your book] on Austria and the banks. Can you express to us the relationship between Russia and the Raiffeisen Bank?"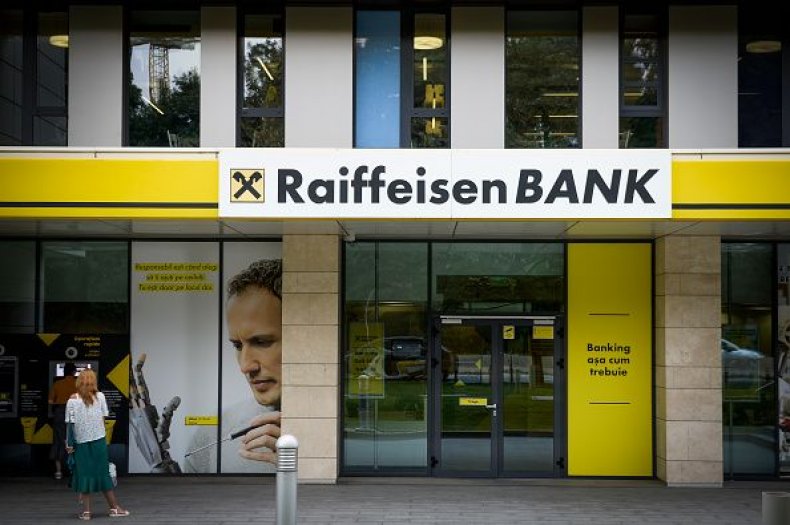 The Austrian bank is just one in a handful of European banks, including Danske Bank and Deutsche Bank, that have received increased scrutiny over the past several years following allegations of money laundering and Russian influence. Raiffeisen was named in a Hermitage Fund report submitted to prosecutors in Austria this month that contained allegations of money laundering. The bank also helped finance a 2007 Trump Tower project in Canada.
"What we're seeing in the banking structures is really Austria's ability to amplify that Russian funding and take it elsewhere within Europe. So Austria is very powerfully placed, their banking system, across Central Europe, in the Western Balkans," Conley told the House Intelligence Committee on Thursday. "Raiffeisen bank, because of its size and great importance to the region, amplifies non-transparency."
Speier, meanwhile, highlighted that the bank, which was also named in an extensive investigation into Russian money laundering published by the Organized Crime and Corruption Reporting Project this month, was involved in a Trump real estate project in 2007.
"The Raiffeisen Bank actually funded a Toronto Trump Project for $300 million, and never came back after that project went bankrupt, to secure what it could in bankruptcy, in terms of the return of their funds," Speier added.
The exchange highlighted Congress's focus on President Trump's past business practices, as the Democrat-held House continues to investigate the president's ties to Russia.
"In the case of Toronto, in 2001 the Trump Organization licensed the Trump name to businessmen with links to Eastern Europe who reportedly sold a stake in a Ukrainian steel mill in 2010 to individuals linked to the Russian government. Questions have been raised about whether Kremlin money was used to finance parts of the Trump Toronto project. The question of why Raiffeisen never reclaimed the millions it lost in the tower also remains.
"From 2007 to 2014, money flowed out of Russia like wine from a broken bottle. In short order, between 2007 and 2014 there were two boom and busts. Anyone with an ounce of sense was trying to get money out of Russia and into a western currency. The wealthy were concerned with potential additional sanctions as well as the value of the ruble when the Russian government would eventually have to quit supporting. Those fears were well founded," Burke Files, a financial investigator, told Newsweek.
"Be it Deutsche Bank, Danske Bank, Raiffeisen or even Citibank—all prospered with the flight capital from Russia be it earned legally or illegally."
4/26, 9:50 a.m.: This story has been updated to remove a reference to Alex Shnaider, who was inaccurately identified.