House Judiciary Wants to Limit Trump's Power After Stone Commutation
House Judiciary Committee Chairman Jerrold Nadler is expected to propose on Thursday markups on measures designed to limit President Donald Trump's ability to issue pardons and commutations.
Nadler's announcement comes as a response to Trump's commutation of the sentence of former adviser Roger Stone. Stone had been sentenced to 40 months in a federal prison in connection with his alleged involvement with Russia meddling in the 2016 presidential election. In July, Trump commuted Stone's sentence making him a free man. President Trump faced criticism after commuting Stone's sentence, with some lawmakers alleging that Trump should not be able to interfere in cases in which he is implicated.
"President Trump and his friend Roger Stone did what they said they would do," Nadler said in a Friday statement. "Stone misled federal investigators, intimidated a witness, and was convicted for obstruction of justice—he would not testify to the President's wrongdoing. In exchange, President Trump made sure that Stone will never spend a day in prison."
"This quid pro quo is unacceptable," Nadler continued. "Congress must act."
The Judiciary Committee is expected to consider the Abuse of the Pardon Power Prevention Act (APPPA) which would require the Department of Justice to provide the Committee with materials relating to any offense allegedly committed by Trump or members of his family.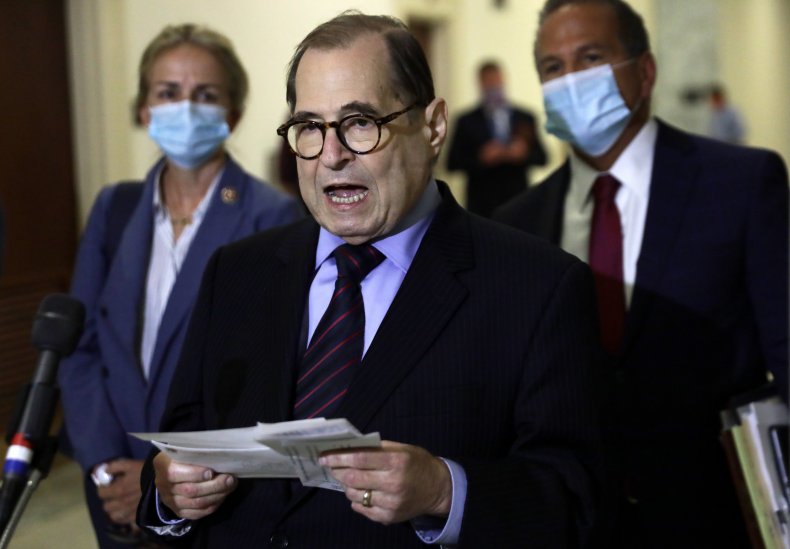 Also expected to be considered is the No President is Above the Law Act (NPALA). Under the NPALA, the statute of limitations would be paused for any crimes allegedly committed by a sitting president.
"Reelection should not be a get-out-of-jail-free card," Nadler wrote, adding that the measures could be "applicable to anyone who may hold the office in the future."
Newsweek reached out to the White House for comment.
Stone attempted to gain a retrial after it was discovered that the foreperson on the jury that convicted him had posted anti-Trump sentiments on her social media outlets. That motion was denied by presiding Judge Amy Berman Jackson.
Prosecutors had originally suggested a jail sentence for Stone of upwards of nine years. After Trump tweeted about the severity of the sentence, the Department of Justice indicated they would recommend a lightening of Stone's jail term. Because of the DOJ's perceived intervention in the sentencing at Trump's behest, four federal prosecutors recused themselves from Stone's case.
Some lawmakers reacted negatively to the announcement of Stone's commutation. Republican Utah Senator Mitt Romney referred to the act as "unprecedented, historic corruption" in a Saturday tweet.
Republican Pennsylvania Senator Pat Toomey said in a Saturday statement that although the President has the "legal and constitutional authority" to commute sentences, he believed that "commuting Roger Stone's sentence is a mistake."
Trump has come to Stone's defense in the past by saying that Stone should not have been charged. On Saturday, Trump tweeted that it was "the other side that are criminals, including Biden and Obama, who spied on my campaign—AND GOT CAUGHT!"
The Trump administration called the charges against Stone "the product of recklessness borne of frustration and malice" by prosecutors "desperate for splashy headlines to compensate for a failed investigation" in a July statement.