House Majority Leader Believes Congress Can Pass Stimulus 'in the Next Few Days,' Despite McConnell Rejecting Latest Proposal
House Majority Leader Steny Hoyer of Maryland said on Wednesday that he believes there is a chance legislators will reach agreement on a new economic relief package in the coming days.
Legislators on Capitol Hill are hoping to pass a new deal before the end of the year as the coronavirus epidemic continues to rage throughout the U.S. Republicans and Democrats have remained divided on the size and scope of a second bill since President Donald Trump signed the Coronavirus Aid, Relief and Economic Security (CARES) Act into law in late March.
Treasury Secretary Steven Mnuchin said on Wednesday that Trump is willing to sign the relief proposal that Senate Majority Leader Mitch McConnell began circulating amongst fellow Republicans on Tuesday. But economists told Newsweek the plan does not go far enough. Meanwhile, McConnell rejected a different $900 billion proposal that a bipartisan group of senators introduced earlier this week.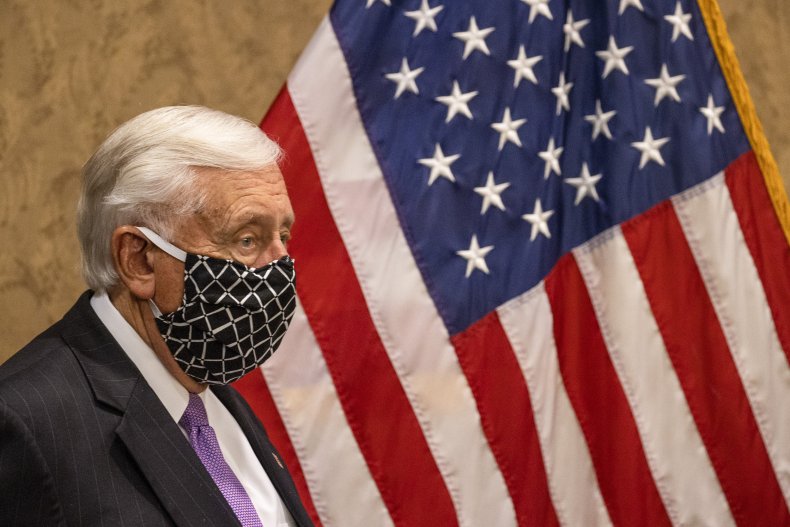 Despite the continuing disagreement between the two parties, Mnuchin and House Speaker Nancy Pelosi were in discussions earlier this week regarding how to move forward with another stimulus bill, marking their first official conversations on the topic since October. Hoyer, a Democrat, said the discussions amongst lawmakers, as well as the new proposals unveiled in recent days, were steps in the right direction.
Hoyer said on Wednesday that "all these actions are positive in terms of working toward a compromise that can be supported by the House, the Senate and the president of the United States," according to The New York Times. He told reporters he is "hopeful that in the next few days that we will be able to come to an agreement on a bill that responds to these major crises at least in the short term."
During a Monday meeting, Hoyer and McConnell agreed that reaching an agreement by the end of this week would be ideal, Bloomberg reported.
Newsweek reached out to McConnell's office for comment but did not receive a response in time for publication.
By Wednesday, more than 13.7 million people in the U.S. were diagnosed with the coronavirus and more than 272,000 people had died from COVID-19, according to a Johns Hopkins University data tracker. Many Americans who lost their jobs during early shutdowns triggered by the health crisis were still out of work in early December as the country endures its worst economic downturn since the Great Depression.
Congress came together quickly in the spring to pass the CARES Act, a historic $2.2 trillion relief package that provided economic support for businesses, gave one-time stimulus checks to qualifying Americans and temporarily expanded unemployment insurance benefits. While House Democrats passed a new $2.2 trillion stimulus bill earlier this fall that sought to revive the federal unemployment benefit that expired at the end of July and provide financial support to businesses and individuals, the bill did not find approval in the Republican-controlled Senate. McConnell and other top Republicans have preferred stimulus proposals with smaller price tags.