Trump Era Gets its First Gun Hearing: House To Consider Legislation On Silencers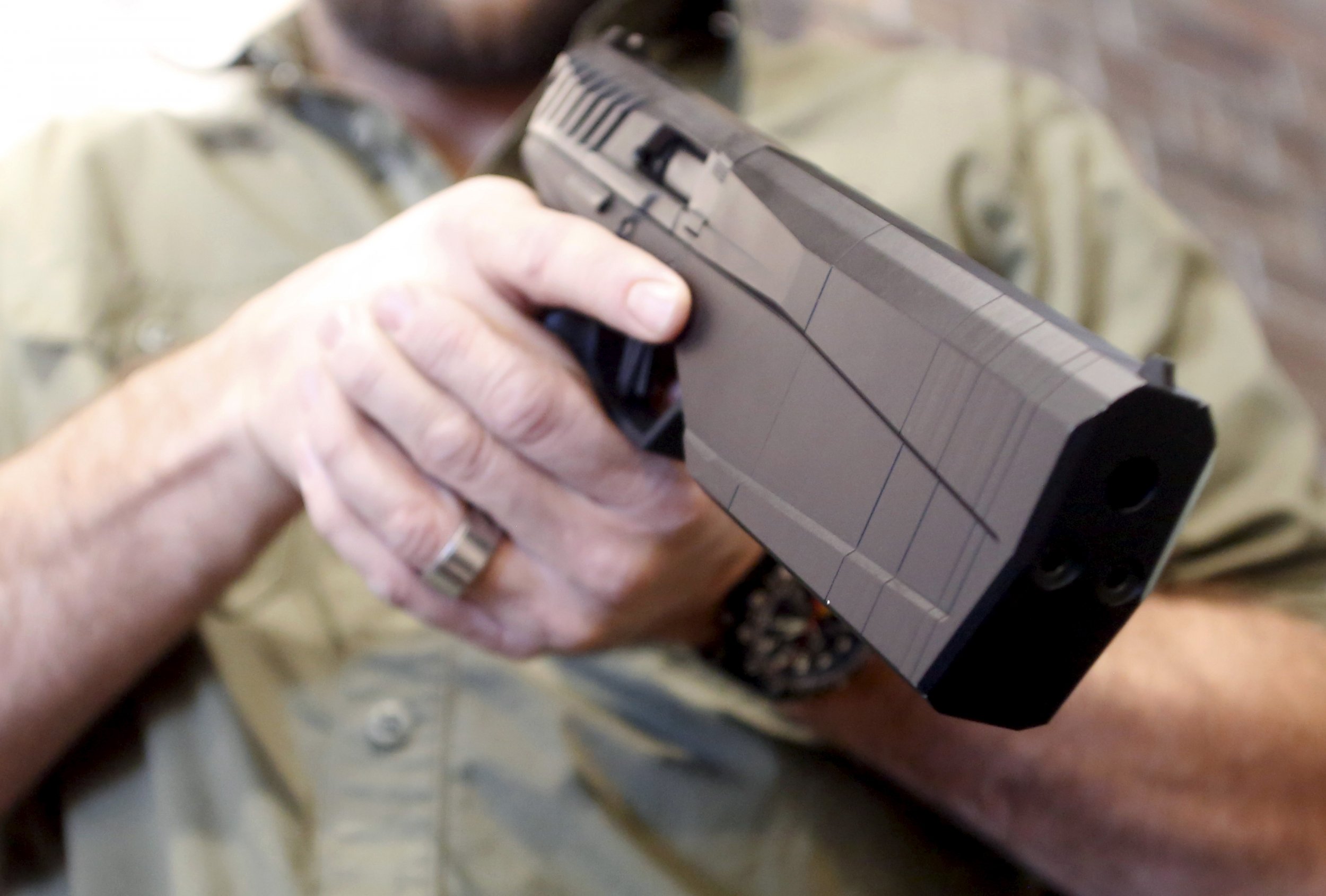 After the Wednesday morning congressional shooting in Virginia that injured House Majority Whip Steve Scalise, the House Committee on Natural Resources has canceled its first hearing to directly raise gun rights issues since President Donald Trump took office.
Related: Do lead-based bullets kill twice?
The committee was set to consider a proposal that would eliminate regulations to make it easier to buy gun silencers,also called suppressors. It's unclear when the hearing will next take place. But the members are expected to eventually consider the Sportsmen's Heritage and Recreational Enhancement Act, a broad bill introduced by Representative Jeff Duncan (R-S.C.) that also includes his stand-alone bill, the Hearing Protection Act. In January, Duncan introduced the controversial measure to lift restrictions on silencers by eliminating a $200 transfer tax and pre-empting state or local laws that regulate the accessory.
Silencers are legal but regulated by an 83-year-old federal law, as well as on a state-by-state basis. Under the 1934 National Firearms Act (NFA), purchasers of certain shotguns and rifles, as well as machine guns and silencers, must apply with the U.S. Bureau of Alcohol, Tobacco, Firearms and Explosive; pay a $200 tax; submit a photograph and fingerprints; and pass a criminal background check. The entire application process can take months to complete. In 42 states, it's legal to buy and possess gun silencers. The American Suppressor Association vows to legalize ownership in the eight remaining states​.
Silencers are becoming increasingly popular as hunters and other gun owners adopt them for hearing protection. In September, Donald Trump Jr. visited a Utah-based company that manufacturers gun silencers. "It's a health issue, frankly," the president's son said at the time, according to The Washington Post.
Under Duncan's measure, silencers would only be subject to the same kind of regulations as handguns, standard rifles and shotguns. Potential buyers would still have to pass a background check when purchasing from a licensed dealer, but they wouldn't if they bought it from a private or unlicensed seller. This, critics argue, would allow criminals, felons, domestic abusers and other Americans who pose a risk to public safety to obtain silencers. Additionally, Duncan's measure, which is backed by the National Rifle Association (NRA), would eliminate the registration requirement on silencers.
Similar legislation stalled in Congress last year. But now that Republicans control both the House and Senate—and with Trump in the White House—gun rights advocates hope for a different outcome this year. The bill currently has at least 148 co-sponsors, including two Democrats from Texas and another from Minnesota.
Both sides in the debate say it's about safety. Proponents of Duncan's measure have framed it as a public health issue related to gun owners' hearing, saying that increased availability of silencers will help curb hearing loss for those who don't use ear protection.
Duncan did not immediately respond to Newsweek's request for comment. Upon introducing the measure in January, he said, "This legislation is about safety—plain and simple. I'm very active in sport shooting and hunting, and I can't tell you how better off the shooting sports enthusiasts would be if we had easier access to suppressors to help protect our hearing."
Meanwhile, advocates from the major gun-safety groups strongly oppose Duncan's legislation. They view the proposed easing of restrictions on silencers as a public safety threat because they fear an individual might not recognize the sound of gunshots if a silencer is attached to a firearm, or be able to identify where the sound is coming from and take cover in a safe place. They argue that the long-standing NFA has been effective in keeping silencers out of criminals' hands while still allowing law-abiding citizens to access them.
Many law enforcement officials also oppose the legislation because, they say, silencers could obscure the sound of gunfire and mask muzzle flash, making it nearly impossible for them to locate the source of criminal gunfire. Unsuppressed gunfire serves as a warning to innocent bystanders to stay away.
"The bottom line is that this so-called 'Hearing Protection Act' would be a boon for gun manufacturers, and a disaster for law enforcement and public safety. It isn't about public health, it's about profits," said Shannon Watts, founder of Moms Demand Action for Gun Sense in America.
U.S. Representative Don Beyer (D-Va.) called the timing of the hearing "depressingly tone-deaf" amid the anniversaries of the Orlando, Florida, nightclub and Charleston, South Carolina, church shootings, on Monday and Saturday, respectively.
On Wednesday morning, Duncan was at the Congressional Baseball Game practice in Alexandria, Virginia, and left early, before the shooting that injured Scalise. He told reporters he "had an interaction with who I believe was the shooter, based on the profile that I saw on TV," according to CNN video.
The NRA has said the Hearing Protection Act is a top priority, along with national concealed-carry reciprocity, under the Trump administration. Several other gun bills have already passed through Congress and been signed by Trump, including one revoking a regulation that prevented certain Social Security recipients with mental health conditions from buying guns, which was implemented under Barack Obama. And Trump's interior secretary, Ryan Zinke, took his first step on behalf of gun rights advocates when he rescinded a ban on lead-based ammunition and fishing tackle during his first day in office.