United States Postmaster General Louis DeJoy faced a barrage of accusations Monday from a hostile House Oversight Committee that questioned whether he is actively working to undermine the national election by disrupting mail service through operational changes he has ordered.
DeJoy, a GOP megadonor who has contributed hundreds of thousands of dollars toward President Donald Trump's re-election efforts, dug his heels in during his daylong testimony, insisting that he will not reconnect hundreds of mail-sorting machines that USPS has decommissioned because they're not needed, despite mail delivery delays.
"I am not engaged in sabotaging the election," DeJoy told lawmakers, adding that he "will not" put the machines back into operation.
But he left himself some wiggle room.
DeJoy's testimony before the congressional panel comes in the wake of his Friday grilling before a Senate committee. His Monday appearance marked yet another contentious event where he denied the changes he's implemented have caused delayed mail and are in any way associated with hindering the processing of mail-in ballots.
"How can one person screw this up in just a few weeks?" Rep. Stephen Lynch (D-Mass.) asked DeJoy. "I understand you bring private sector expertise. I guess we couldn't find a government worker who could screw it up this fast."
Lynch, a lawyer by training, pursued the issue of intentionality in his questioning and remarks.
"Either through gross incompetence, you have ended the 240-year history of delivering the mail reliably on time," Lynch told DeJoy, "or the second conclusion we could gather is you're doing this on purpose and deliberately dismantling this once proud tradition."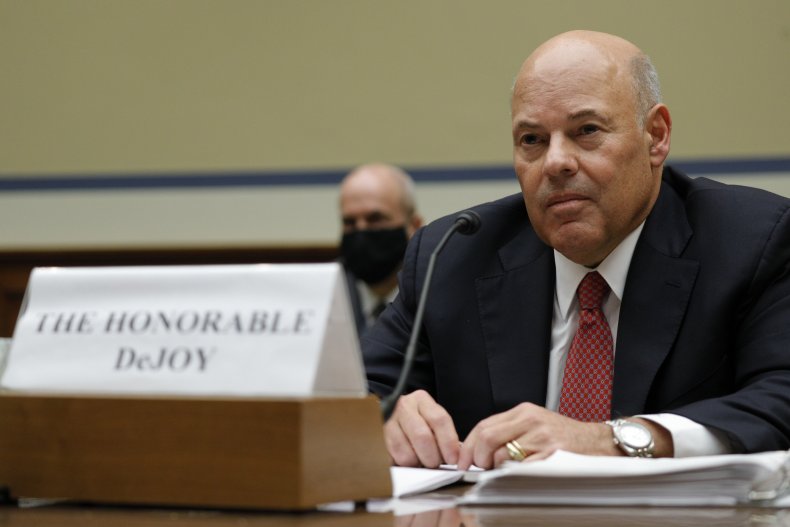 Another congressman pursued the money trail.
Rep. Jim Cooper (D-Tenn.) questioned whether the mail delays "fit Trump's campaign goal of hurting the post office" and whether they were "explicit campaign contributions."
Cooper asked DeJoy if he expected similar treatment to other Trump associates who have run afoul of the law.
"Mr. DeJoy, is your backup plan to be pardoned like Roger Stone?" Cooper asked, a question that drew audible groans from Republicans and a laugh from DeJoy.
And in a series of questions posed by Rep. Katie porter (D-Calif.), DeJoy, a former logistics expert, conceded that he does not know the price to mail a postcard.
"I'm concerned about your understanding of this agency," the first-term lawmaker said.
Dejoy was not unequivocal in his assertions, however. Although he reiterated that he would not permit the nearly 700 decommissioned mail-sorting machines to be reconnected at this time, he offered a quid pro quo: If Congress provides USPS with $1 billion, he will allow the high-speed devices to be put back in service.
He also testified that he did not order the machines to be taken offline—a move that could help determine the outcome of the presidential election and contests up and down the ballot—and claimed it was a lower-level employee whose identity he intentionally chose not to discover.
"I have purposely tried not to find out who that was," DeJoy said. "That was not a directive from me. I will repeat for the 100th time: I have not removed any machines."
The Democratic-led House passed a bill on Saturday that would provide an emergency $25 billion for USPS ahead of the election and undo operational changes made to the federal agency by DeJoy that Democrats say will hamper mail-voting efforts. Twenty-six Republicans crossed party lines to vote with Democrats for the measure. The bill is not expected to be considered by the GOP-controlled Senate and has been blasted by Trump.
The Oversight Committee chairwoman, Rep. Carolyn Maloney (D-N.Y.), threatened DeJoy with a subpoena unless he turns over documents by Wednesday that she has requested pertaining to USPS's performance.
DeJoy's refusal to change course comes as some USPS employees are putting their jobs on the line by defying directives and plugging the mail-sorting machines back in. DeJoy continues to insist that a decline in overall letter mail volume is why the mail-sorting machines are no longer needed.
Another congressman said the issue comes down to a lack of trust.
"I'll be candid: I don't trust you right now," Rep. John Sarbanes (D-Md.) told DeJoy. "I don't know whether I don't trust your judgement, or I don't trust your motives."