House Passes Defense Bill as Republicans Revolt Against Veto-Wielding Trump
On Tuesday, the U.S. House of Representatives passed the 2021 National Defense Authorization Act (NDAA) despite President Trump's threats to veto the defense spending bill without certain concessions.
Trump had objected to a provision in the act that called for the renaming of U.S. military installations that had named after Confederate Army leaders. The repeal of Section 230, which protects social media platforms from being considered the publishers of third-party content, was not included in the NDAA. On Tuesday, Trump reiterated his claims that he would veto the NDAA.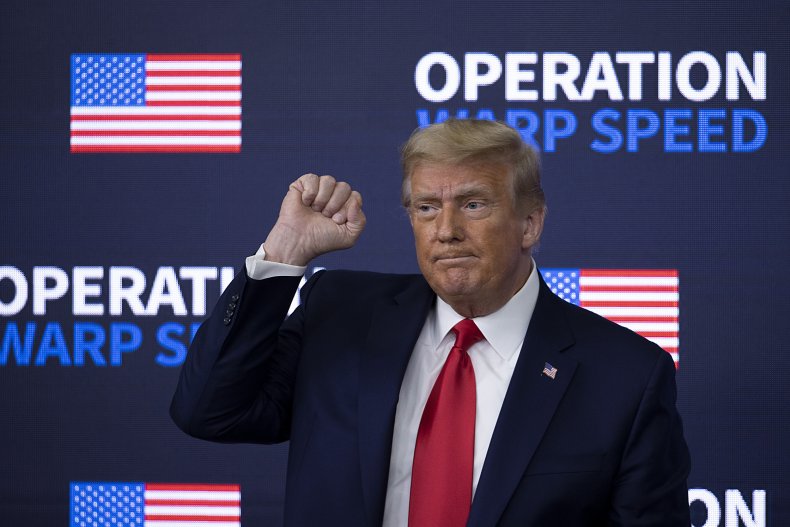 "I hope House Republicans will vote against the very weak National Defense Authorization Act (NDAA), which I will VETO," Trump tweeted. "Must include a termination of Section 230 (for National Security purposes), preserve our National Monuments, & allow for 5G & troop reductions in foreign lands!"
With 355 representatives voting for the NDAA and only 78 representatives voting against it, the NDAA received more than the two-thirds majority necessary to override any attempt to veto the act. Next, the NDAA will go to the U.S. Senate.
When contacted for comment, the White House directed Newsweek to the statement of administration policy concerning the NDAA, which was released Tuesday.
"Unfortunately, this conference report fails to include critical national security measures, includes provisions that fail to respect our veterans and our military's history, and contradicts efforts by this Administration to put America first in our national security and foreign policy actions," the statement read.
Before the vote, Democrat House Speaker Nancy Pelosi said the NDAA "upholds our values, honors our troops and keeps the American people safe. And I hope that it will be swiftly signed into law."
Texas Republican Representative Chip Roy said he voted against the NDAA because Democrats had included policy provisions that could be dealt with as separate issues.
"This ought to be single-issue legislation focused on defense policy," Roy said in a Tuesday statement. "Instead it contains several policy provisions, like Section 230 repeal, that go well outside of that realm. We owe it to the American people to deliberate this on its merits as a standalone bill, as we should do with all of our legislation."
Despite Trump's warnings of a veto, Senate Majority Leader Mitch McConnell indicated on Monday that the Senate would "receive and pass a conference report on the annual defense authorization" before the end of the year. Some lawmakers said that if Trump attempted to veto the NDAA during the upcoming Congressional winter recess, they would reconvene to override Trump's decision.