'An Affirmation That Congress Is Keeping Its Promise': House Votes to Renew 9/11 Victims Fund Through 2092
Nearly two decades after several terrorist attacks killed thousands of people on American soil, the U.S. House of Representatives voted to effectively extend indefinitely the September 11 Victim Compensation Fund (VCF)—the pot of money provided to 9/11 first responders suffering from medical issues, including cancer, and which was scheduled to expire next year.
The measure overwhelmingly passed the Democratic-controlled House with a vote of 402-12. Eleven Republicans and one Independent voted against the measure. Nineteen lawmakers—nine Democrats and 10 Republicans—did not vote.
The bill will now head to the Republican-controlled Senate, where Majority Leader Mitch McConnell has vowed it will be voted on and passed before Congress' August recess, according to a group of first responders who met with the Kentucky Republican privately last month. In a statement following the measure's passage, McConnell said his chamber will "consider this important legislation soon."
Senate Minority Leader Chuck Schumer, a Democrat, urged McConnell in a statement to "vote ASAP and not let other Republicans push them to the back burner like the last time."
The legislation would provide federal funding for first responders of 9/11 who've fallen ill through fiscal year 2092, in addition to providing compensation to their families after death. The bill is making its way through Congress in the wake of passionate testimony last month by several first responders and comedian Jon Stewart over lawmakers' handling of the funding and a failure to have already reauthorized the measure.
"I can't help but think what an incredible metaphor this room is... behind me, a filled room of 9/11 first responders, and in front of me, a nearly empty Congress," Stewart, former host of Comedy Central's The Daily Show, told a half-empty panel comprised of House Judiciary Committee members. "Sick and dying, they brought themselves down here to speak to no one ... shameful."
One of the men whom the reauthorization of the VCF was named after, Luis Alvarez, sat beside Stewart to offer testimony of his own. He was a former New York City police detective who developed colorectal cancer from the three months of work he conducted at Ground Zero in the wake of the 9/11 terrorist attacks.
"This fund isn't a ticket to paradise, it's to provide our families with care," Alvarez told lawmakers. "You all said you would never forget. Well, I'm here to make sure that you don't."
Alvarez, 53, died from his battle with cancer on June 29—just 17 days after he testified to Congress.
"I was sitting right behind Jon and Luis, and the truth is, without Jon Stewart, the press doesn't pay attention to this incident," attorney Michael Barasch told Newsweek on Friday.
"With the passage of this bill, it will be an affirmation that Congress is keeping its promise," he said. "Not if, but when they die in the future, their families will get a full reward."
Barasch represents some 15,000 first responder families with VCF claims, including relatives of the late James Zadroga, an NYPD officer whose name appears on the original and the reauthorization 9/11 VCF bill, and the late Ray Pfiefer, a firefighter whose name was added with Alvarez's to the reauthorization bill.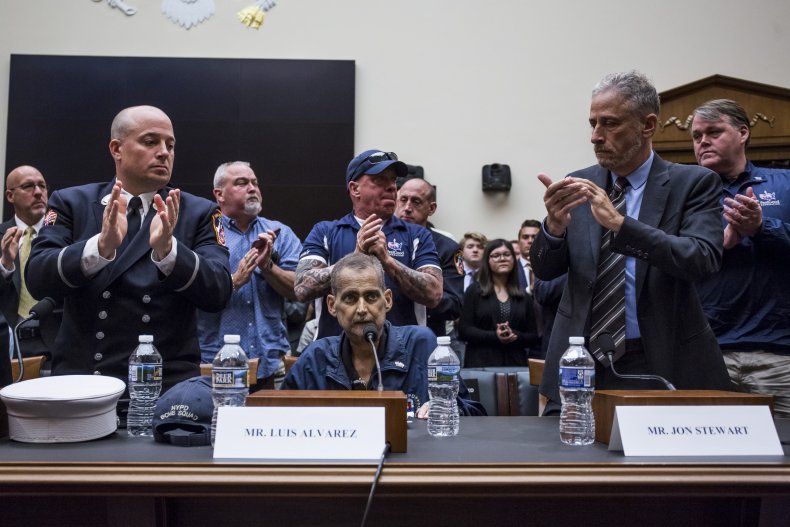 Zadroga was the first 9/11 responder to die, in 2006, from his exposure at Ground Zero. An autopsy revealed glass fragments and toxins in his lungs. Pfiefer died of cancer from his post-9/11 work in 2017.
"Without the press, we don't have the ability to shame those in Congress who love to wrap themselves in the flag and say, 'We will never forget our first responders,'" Barasch said. "But then they do forget—364 days a year."
He said that in recent weeks, several of his clients had seen their benefits drop to zero, as the fund began to run out of money with the continued addition of first responders who've developed illnesses linked to the horrific event and require medical treatment.
The former head of the Environmental Protection Agency under President George W. Bush has since admitted the government was wrong to tell people the air around Ground Zero in the immediate aftermath of the attacks was safe to breathe.
"That was a promise that they made: we will take care of you because the federal government made a terrible mistake when we assured everyone the air is safe," Barasch elaborated. "You and I—I'm a lawyer, you're a reporter—we could still do our jobs if we got cancer. You can't be a firefighter if you have lung cancer. You can't be a cop if you have cancer."
The Congressional Budget Office on Thursday said the VCF reauthorization will cost an estimated $10.2 billion over the next ten years—a price tag that Stewart said pales in comparison to the amount of money spent each year by the government.
"It's very difficult to watch a House and Senate with a trillion-dollar deficit try and balance that budget of $10.2 billion over ten years on the backs of 9/11 victims and first responders. It's like watching Joey Chestnut thrown down 70 hot dogs in Coney Island and then at the end of it not have a Coke because he's, you know, watching the calories," the comedian said during an event before the bill's passage of the competitive eater and recent champ of Nathan's Famous hot dog eating contest in New York.
"This is necessary, it is urgent and it is morally right," Stewart added. "This should be as simple as just refilling its credit card. These people deserve to have that portion of the burden removed from their lives, 'cause trust me: you're not fixing their problems."
This story was updated to include the roll call vote. It was further updated to include statements from Senate Majority Leader Mitch McConnell and Minority Leader Chuck Schumer.