House Praised For Passing Bill Giving Undocumented Farm Workers Pathway To Citizenship: 'Bipartisanship Lives'
House representatives are receiving praise for passing a bipartisan bill that would provide a pathway to citizenship for thousands of undocumented farm workers in the U.S.
The Farm Workforce Modernization Act passed in a 260-165 vote, gaining support from 34 Republicans and succeeding where other efforts to see a significant number of undocumented immigrants have failed.
While the bill could be shot down in the Republican-controlled Senate, immigration advocates have hailed its success among House Republicans as a positive sign.
"Bipartisanship lives, and for good reason," said Ali Noorani, Executive Director of the National Immigration Forum, in a statement shared with Newsweek.
"We need to see more of this kind of compromise, starting with this bill in the Senate. If we do, it will establish a foundation for future bipartisan immigration solutions," Noorani said.
The bill itself, the NIF chief said, "would provide reform critical to America's farmers and the stable workforce they need."
The measure would allow undocumented farm workers already in the U.S. to make restitution and eventually earn legal status.
It also seeks to reform and expand the H-2A temporary worker visa program, which the NIF has said would allow workers to be part of a legal and stable workforce in a sector that has struggled with labor shortages.
Speaking from the House floor on Wednesday, House Judiciary Chairman Jerry Nadler lamented that "unfortunately, our immigration laws have not been updated to reflect the needs of our 21st-century economy."
"Due in large part to these outdated laws, undocumented workers now comprise about half of the farm workforce," the New York Democrat said, according to CNN. "But they are living and working in a state of uncertainty and fear, which contributes to the destabilization of farms across the nation."
The below graph provided by Statista shows the size of the undocumented immigrant population in U.S. states, according to 2017 estimates.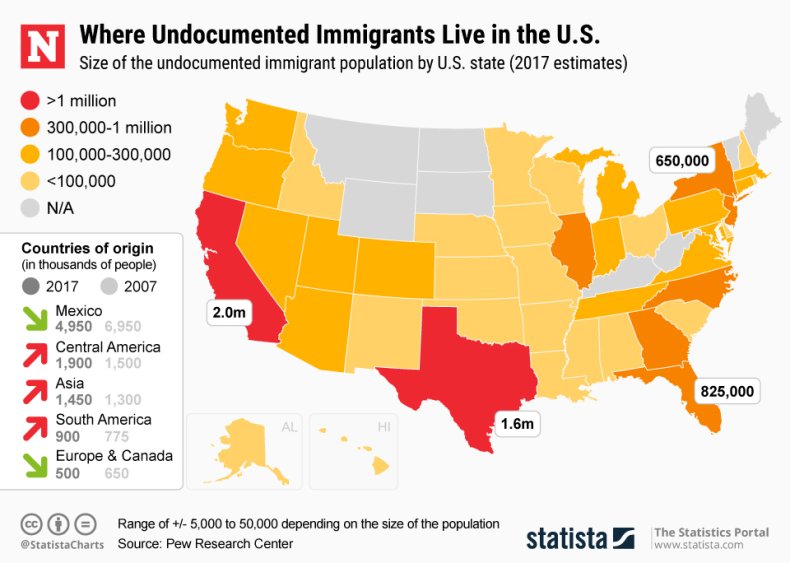 Under the Trump administration, undocumented immigrants have faced widespread enforcement operations targeting workplaces, including in the agriculture sector.
Communities in Mississippi, for example, are still reeling after the U.S. Immigration and Customs Enforcement (ICE) agency conducted raids at food processing facilities that saw hundreds of undocumented immigrants arrested.
By providing farm workers with a pathway to citizenship, those eligible for the program would not need to live in fear of being arrested at work.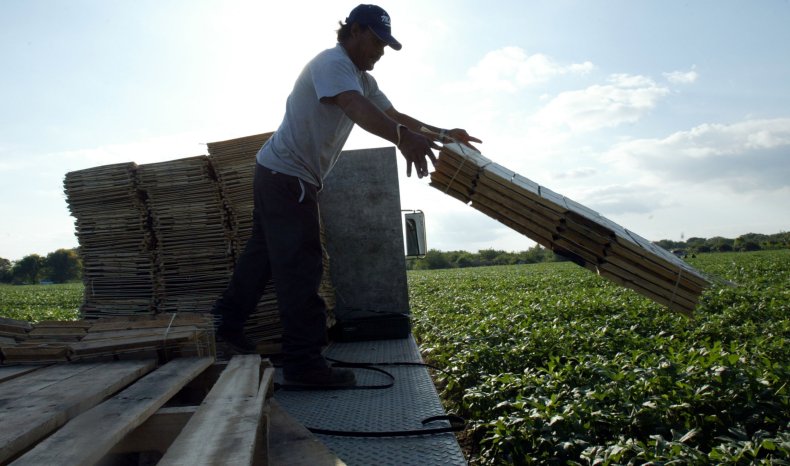 In a statement published online, United Farm workers Foundation Executive Director Diana Tellefson Torres praised farm workers for fighting for the bill, saying the "House vote for bipartisan legislation letting undocumented farm workers and their immediate family members earn legal status is the result of the tenacious leadership farm workers showed after traveling across the country to lobby on Capitol Hill."
"Legislators have voted in favor of protecting the people whose hands harvest the fruits and vegetables offered in congressional buildings' cafeterias and all of American's kitchen tables," Tellefson Torres said. "Whether it is through organizing in congressional districts or walking the halls of Congress, farm workers are a force that deserves recognition during the nine months it took to craft and get the legislation through the House."