House Prices Are Least Overvalued in These 11 States
Despite an incoming correction of the housing market announced by analysts, home prices remain high across the U.S. after two years of booming demand and low inventory.
In the past two years, the housing market has been growing unsustainably across the U.S., with low inventory leading competing homebuyers to engage in bidding wars that have inflated the prices of new and existing homes.
For aspiring first-time homebuyers, this is a hard time to purchase a home, especially as mortgage rates are now much higher than they were last year or even two years ago. Many homebuyers have been squeezed out of the market as a result of unaffordable prices and surging mortgage rates, which have in turn caused demand—and sales—to drop.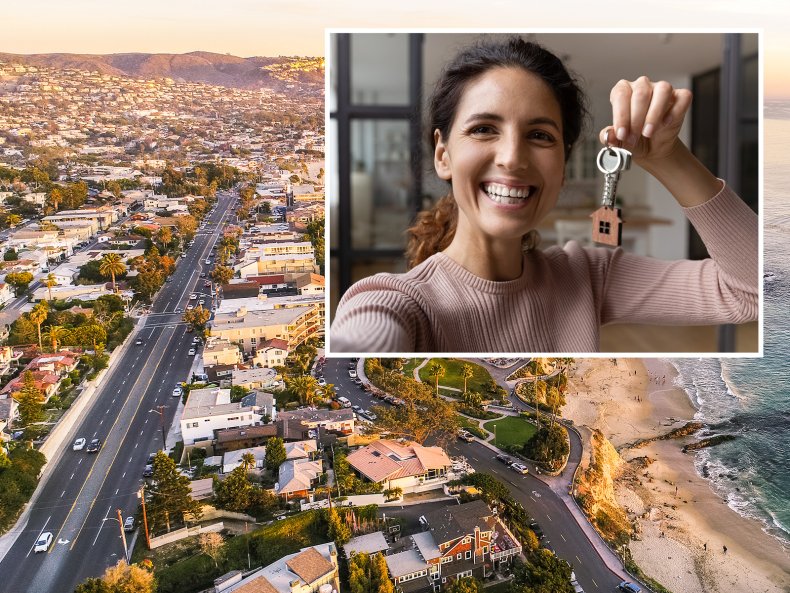 Overall, the overvaluation of the nationwide housing market, which reached a record-high of 27 percent in the month of June, has dropped significantly to 23.3 percent as of September (the latest data available), according to Moody's.
But whereas the entire nationwide housing market remains overvalued—Fitch Ratings estimates the over-valuation at a lower figure of 12.2 percent—not every state has experienced the same home price growth and the same overvaluation.
The states where house prices remained more stable during the pandemic years are also the ones which are now the least overvalued—and the cheapest.
"Those are going to be areas that either have not had significant home price growth, or areas where rent as an alternative for homeownership is keeping pace with rises in home prices," Kevin Kendra, managing director of Fitch Ratings, told Newsweek.
These are the least overvalued housing markets in the U.S., according to Moody's Analytics:
Maryland (-5.2 percent as of September 30)
Illinois (1.7 percent as of September 30)
New York (6.0 percent as of September 30)
California (6.3 percent as of September 30)
Alaska (6.4 percent as of September 30)
West Virginia (6.5 percent as of September 30)
Pennsylvania (8.5 percent as of September 30)
Connecticut (9.8 percent as of September 30)
Delaware (10.3 percent as of September 30)
New Jersey (12.3 percent as of September 30)
District of Columbia (12.7 percent as of September 30)
These states, as well as the rest of the country, are now experiencing a drop in prices due to the combination of high mortgage rates, skyrocketing home prices and low inventory, but because prices haven't grown as much as in the most overvalued states to begin with, the drop has been less significant.
"The price declines are going to be unusually broad-based, because the run-up in prices during the pandemic was unusually broad-based," Mark Zandi, chief economist at Moody's Analytics, told Newsweek.
"So we're going to see price declines affect more parts of the country than we've seen historically, even in the financial crisis. Those markets that saw the biggest run-up in price and where prices were already high are going to see the most significant decline in prices because it's going to take those declines to restore affordability," Zandi added.
Moody's Analytics forecast home prices to drop by 10 percent next year, as a consequence of how unaffordable the market has gotten for many potential homebuyers. In case of the country entering a recession in 2023, Moody's expects home prices to drop by as much as 20 percent nationwide.