For House Republicans, Benghazi Never Went Away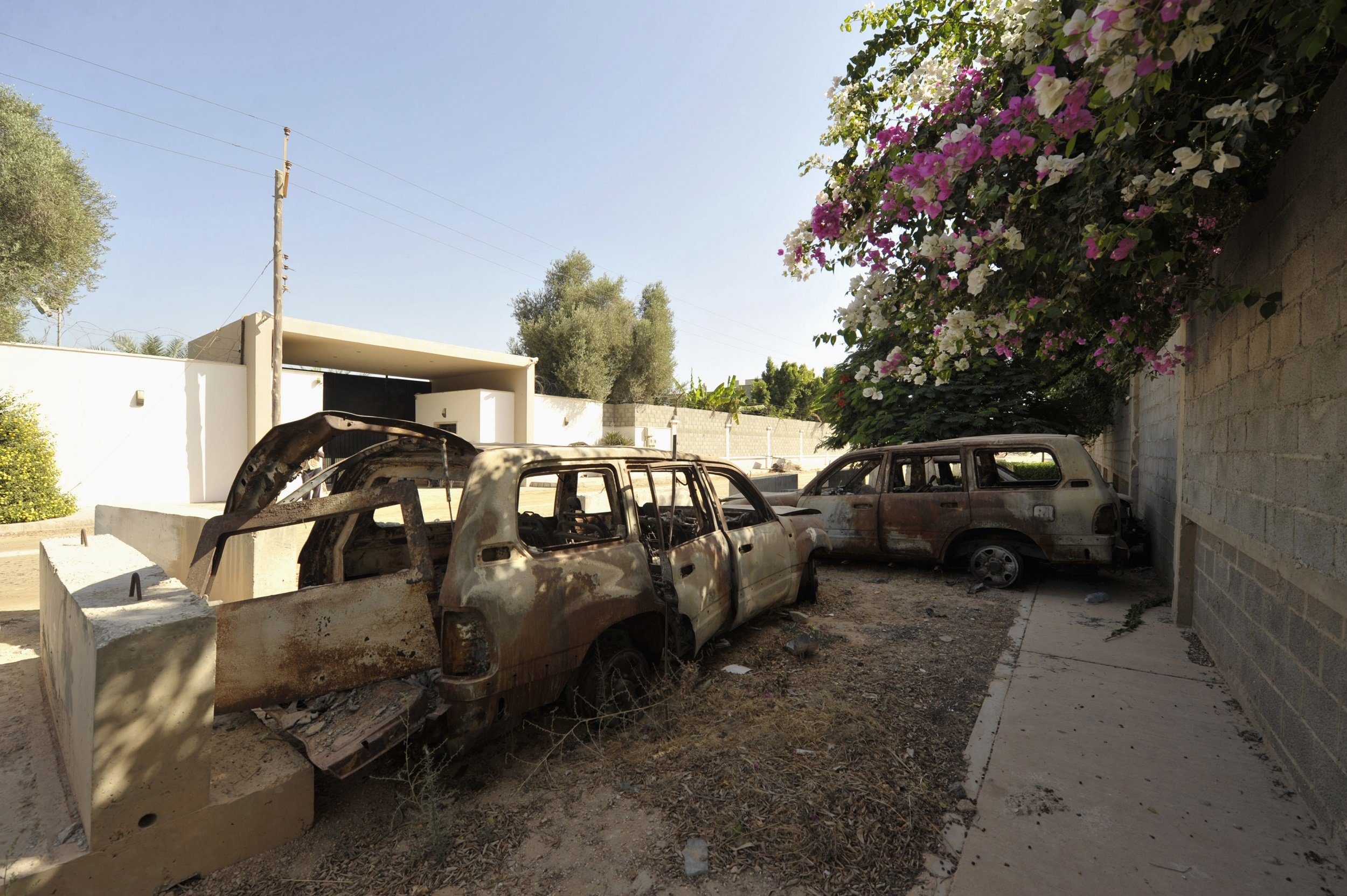 In a highly partisan Washington, Republicans are doubling down on an issue they have long seen as a political winner: Benghazi.
Six months before the November midterms, Republicans in Congress are ramping up their investigation into the terrorist attacks in Benghazi, Libya, on September 11, 2012 that left Ambassador Christopher Stevens and three other Americans dead.
On Friday, House Speaker John Boehner, R-Ohio, announced that the lower chamber would vote to create a select committee to investigate the attacks, taking the House's investigation to "a new level." At the same time, Representative Darrell Issa, R-California, chairman of the House Oversight and Government Reform Committee that has been investigating the attacks, announced he would use his subpoena power to force Secretary of State John Kerry to testify about the attacks.
The new moves come after the conservative watchdog group Judicial Watch released emails this week that Republicans argue are evidence of previously unknown White House involvement in covering up the attacks' origins. One of the main points of inquiry for Republicans has been the now-infamous talking points used by then-U.N. Ambassador Susan Rice when she gave a series of television interviews the Sunday morning after the attacks suggesting it was an anti-Islam video that set off the attacks.
Republicans say there is a "smoking gun" in an email from White House adviser Ben Rhodes suggesting one goal for Rice is "to underscore that these protests are rooted in an Internet video, and not a broader failure of policy." But as several news outlets have pointed out, Rhodes did not change the talking points; even before Rhodes sent his email, the Central Intelligence Agency added the line about the protests.
Part of the continued Republican outrage is over the fact that the Rhodes email was not released to Issa's committee last year when it subpoenaed documents related to the controversy. Judicial Watch finally obtained them through a Freedom of Information Act (FOIA) request and released them on April 30. The Oversight Committee also received the documents two weeks ago.
"It is disturbing that this highly important e-mail showing a White House role in pushing a false narrative was only turned over after it was discovered by the department's FOIA office in response to a specific request," said Frederick Hill, spokesman for the committee. "While he had promised cooperation, by hiding subpoenaed documents from Congress, Secretary Kerry is failing to meet his legal obligations."
"Americans learned this week that the Obama administration is so intent on obstructing the truth about Benghazi that it is even willing to defy subpoenas issued by the standing committees of the people's House," Boehner said in a statement Friday announcing the new committee. "These revelations compel the House to take every possible action to ensure the American people have the truth about the terrorist attack on our consulate that killed four of our countrymen."
Democrats believe that escalating investigations into the Benghazi deaths is an attempt by the GOP to distract from the serious issues Congress should be dealing with.
"Benghazi, Benghazi, Benghazi," House Minority Leader Nancy Pelosi, D-California, said when asked about the issue Thursday. "If you all want to sit around and talk about Benghazi, you can sit around and talk about Benghazi. But the fact is that's subterfuge, and they don't want to talk about jobs, growth, immigration reform, voting rights, you name it."
Democrats have also complained that Benghazi is a way for Republicans to stack the deck against Hillary Clinton, who was secretary of state at the time and is expected to run for president. It's also an issue that helps galvanize base Republican voters in an election year, though Republicans insist their enquiries about Benghazi aren't about politics.
"Some guy said this about me yesterday on the left: The only reason I cared about this was because I have six Tea Party opponents. Well, if that's true, I'm the biggest scumbag in America," Senator Lindsey Graham, R-South Carolina, said Thursday in a radio interview.
"The scumbags are the people in the White House who lied about this," Graham, who has been one of the Senate's main agitators over the Benghazi attacks, added later in the interview.
In March, Democrats on the Oversight Committee called on their Republican colleagues to put an end to the Benghazi questions, arguing in a letter to Issa that "to date, the committee's investigation has been characterized by wild and unsubstantiated political accusations that turn out to be completely inaccurate after further investigations."
The Pentagon estimated recently that compliance with six separate investigations into the Benghazi attacks have cost the agency millions of dollars and thousands of hours of personnel time.