With House Republicans in Chaos, Can Paul Ryan Save Washington?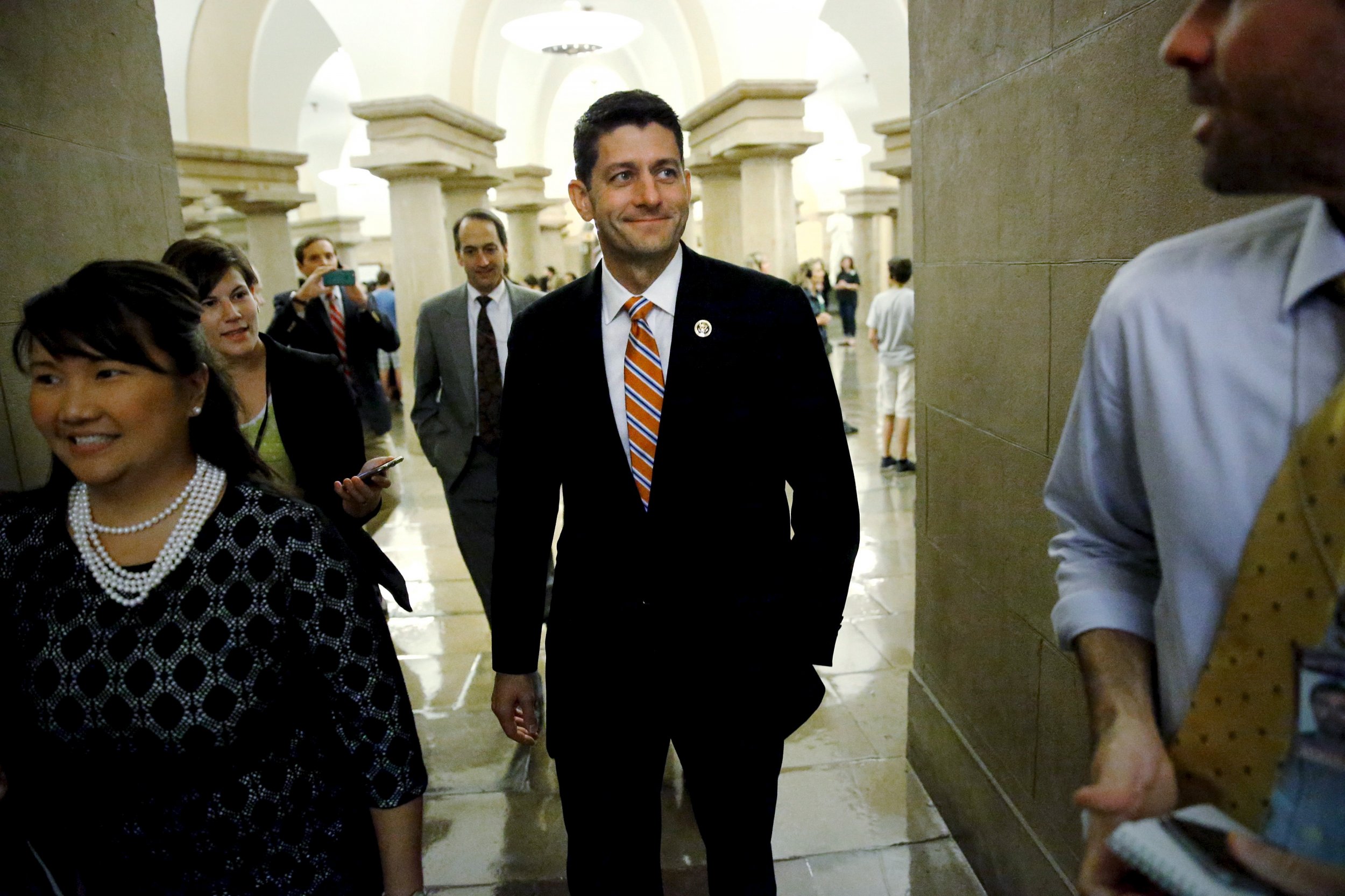 With House of Representatives plunging into a leaderless abyss, there's only one man that the deeply divided Republican Party agrees can save them: Paul Ryan. The problem is the Wisconsin Republican and 2012 vice presidential nominee isn't sure he wants the job.
In the wake of Majority Leader Kevin McCarthy's surprising decision to drop out of the speaker's race Thursday, Ryan has put out repeated statements insisting he's not interested in the slot. But he's being inundated with requests to reconsider, and friends and colleagues suggest he may just come around.
"It's my understand that he's giving it second thoughts and has not yet determined his answer," Republican Congressman Fred Upton of Michigan told reporters at the Capitol on Friday, adding that he expects a decision in a matter of days.
Upton and others believe Ryan, the wonky chairman of the tax-writing Ways and Means Committee, is the best person to bring the conference together. He has credibility with the right wing thanks to his long record of going after government spending. But he's also a proven deal maker, who helped President Obama rally enough votes to advance free trade legislation earlier this summer, earning the respect of the establishment.
"He needs to do this for the team, that's what we're all telling him," Upton said. And it's not just Ryan's fellow members of Congress. Upton related that former Massachusetts Governor Mitt Romney, Ryan's 2012 running mate, called him Thursday to urge him to consider running for speaker. "There's a lot of people that are weighing in. I mean, I wasn't asked to weigh in, I picked up the phone and called him. That's what a lot of people are doing. This is not an orchestrated effort," Upton said.
"I think Paul's going to run, he's certainly the best choice," veteran Republican Congressman Tom Cole told Newsweek Friday. "I think he could not help but actively consider it, I think a lot of people in the conference and outside the conference are undoubtedly urging him to reconsider. My instinct is he will, but it's only my instinct."
An aide to one conservative leader indicated her boss also thinks Ryan would be a great pick. And Jason Chaffetz, the Utah Republican who launched his bid for speaker over the weekend, told Roll Call newspaper Friday that he would drop out if Ryan ran. However the House Freedom Caucus, a group of roughly 40 hardline Tea Party-inspired Republicans, are sticking with their endorsement of Florida Congressman Daniel Webster for speaker.
There are plenty of signs that Ryan is still not yet sold on the idea. Cole said Ryan gave no indication of a change of heart at House Republicans' closed door meeting Friday morning. In fact, he's been actively trying to duck all the pressure colleagues are laying on him. "I talked to him on the floor yesterday," Upton told reporters Friday at the Capitol. "He said, 'I gotta go sit next to [fellow Wisconsin Congressman Jim] Sensenbrenner.' Part of that is Sensenbrenner is known to be such a grouch that he figured if he sat next to him, no one would confront him on the floor."
Even if Ryan decides to throw his hat in the ring, it's not at all clear he can really end the dysfunction plaguing the Republican majority, and Congress as a whole.
Cole and Upton were optimistic that Ryan is the solution. "He's had a very productive record as chairman of the Budget Committee and now Ways and Means," said Upton. "He knows the characters, his word is good. I've been in White House meetings with him with the president. People listen."
But Pennsylvania Congressman Charlie Dent, a moderate, wasn't entirely convinced. "Paul Ryan can absolutely win, he'll be able to get to 218 votes, no question about that," Dent said. "That's not the question. The question is can the next speaker, be it Paul Ryan or anyone else, change the dynamics here. That's the issue."
"The job of the next speaker is going to be to make the House and Congress functional," Dent continued. "Functionality is the key thing." With votes on the horizon on issues like transportation spending, raising the debt ceiling and cutting a funding deal to keep the government open—all issues that divide Republicans—it will require almost a superhuman feat to placate hard line conservatives in the House chamber and also pass legislation that can win the backing of President Obama. It's certainly not an enviable task.
"Believe me, who wants to be drafted for this job right now?" Cole said. "I think it really is something [Ryan]'s tried to avoid. But sometimes the job finds the person, I think that's what's happening."