House Republicans Want to Fine Members for Recording From Chamber Floor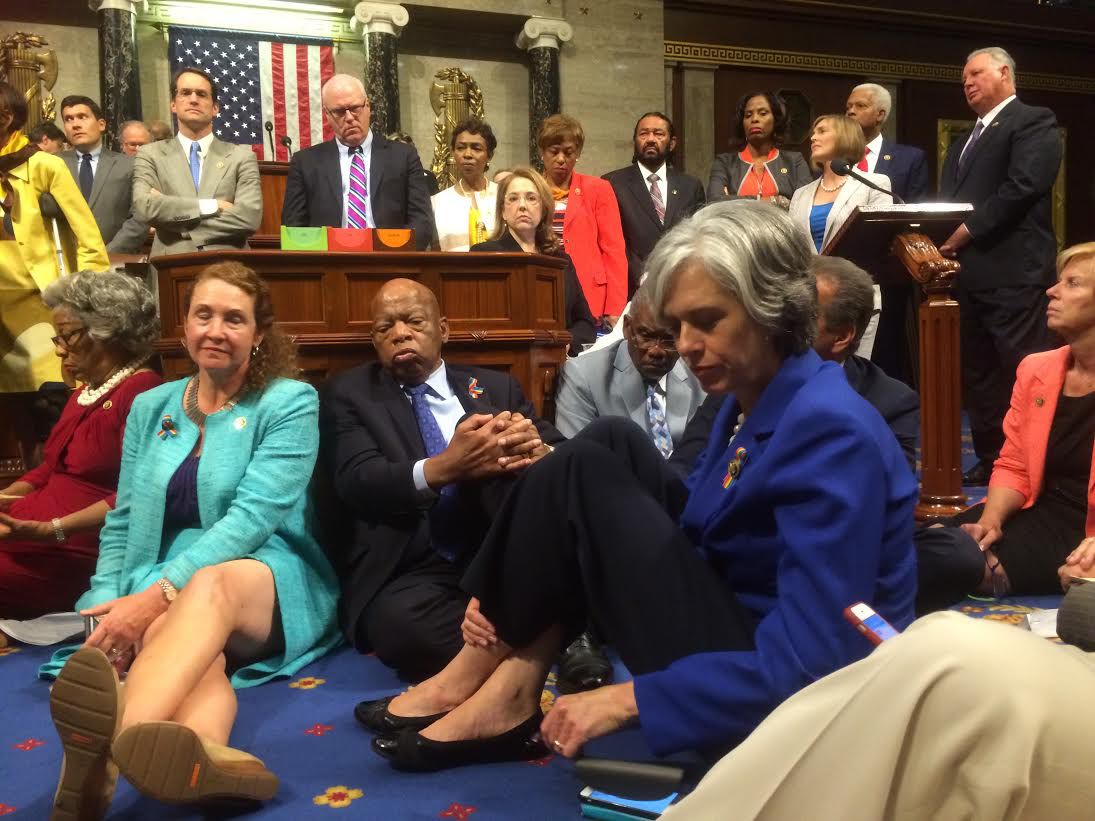 House Republicans have proposed a new set of rules that would punish members for taking photos or video from the floor of Congress, six months after Democrats used social media to broadcast their sit-in protest from the chamber floor.
Related: Democrats end gun vote protest
The draft rules would allow the sergeant-at-arms to fine members $500 for the first offense and $2,500 for subsequent offenses for live-streaming or posting photos from the House chamber. The money would come directly from lawmakers' net salaries. The sergeant-at-arms also could refer members to the Committee on Ethics for "disruptive" behavior. Speaker Paul Ryan has backed the new rules.
In June, U.S. Representative John Lewis of Georgia led the revolt to call out congressional inaction on gun control measures and demand stronger gun laws, just 10 days after the country's worst mass shooting, at the Pulse nightclub in Orlando, Florida. When the Republican lawmaker presiding over the chamber ordered the House's C-SPAN camera and microphone turned off, the legislators used their cellphones to post photos and video footage to their Facebook and Twitter accounts.
The protest wasn't broadcast on TV because the House wasn't in session. The Democrats' effort proved unsuccessful when Republicans retook control of the floor and adjourned the House for the July 4 recess. At the time, Ryan called the sit-in "nothing more than a publicity stunt."
The House currently prohibits most uses of electronic media in the chamber. But legislators are almost never cited for the offense. Drew Hammill, spokesman for House Minority Leader Nancy Pelosi, said in a statement Tuesday that Democrats won't stop demanding stronger gun laws. "House Republicans continue to act as the handmaidens of the gun lobby, refusing to pass sensible, bipartisan legislation to expand background checks and keep guns out of the hands of terrorists," he said.
U.S. Representative Eric Swalwell of California, a Democrat who participated in the June protest, suggested he will continue to record subsequent House protests despite the new rules. Another House Democrat, Elizabeth Esty of Connecticut, said Ryan "should be focused on preventing gun violence, not on silencing those who stand up to the gun lobby."
The House will debate and vote on the new rules when Congress returns from the holiday recess on January 3.
House Republicans Want to Fine Members for Recording From Chamber Floor | U.S.