House Republicans Push Back Against Report Saying Remote Voting Technology Exists
In a Wednesday press release, three Republican members of the Committee on House Administration described a proposed remote voting program for representatives, that's being touted by some Democrats, as being "unproven, unsecure, and unconstitutional."
A report published Tuesday by Committee on House Administration Chairperson Zoe Lofgren concluded that the technology existed for the House to conduct remote voting. Although the House authorized voting by proxy in May as a safety measure during the COVID-19 pandemic, Lofgren's study revolves around an expansion of that system. Some members of the GOP have decried any form of proxy voting. Wednesday's statement alleged that Democrats would use the remote voting system to avoid in-person discussion of the issues.
"By shielding themselves from substantive policy debates and questions from the Capitol Hill press corps," the statement reads, "Democrats appear ready to silence the voices of millions of Americans and overturn centuries of House precedent just to protect their own political futures."
Wednesday's joint statement was released by Committee on House Administration Ranking Member Rodney Davis, House Republican Leader Kevin McCarthy and House Rules Committee Ranking Member Tom Cole.
Although a full proposal concerning remote voting has not been introduced, the report issued by the Administration Committee said that not only did the technology for the process exist but that "a tool could be developed to further establish the House's flexibility and resiliency to operate during the pandemic." According to the report, remote voting would serve as a safety and health protection factor for lawmakers.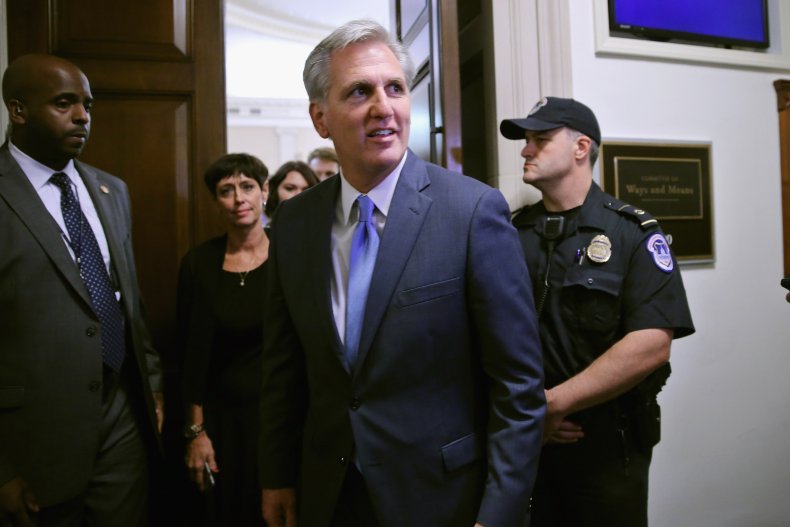 Although Davis was mentioned in the study as being "confident" that the proper technology exists, Davis alleged in a Wednesday letter to Cole and House Rules Committee Chairman Jim McGovern that an assessment of that nature was "premature."
"While I stand firmly against allowing members to vote remotely because I would believe it would fundamentally change this institution and not for the better," Davis wrote, "I believe it is premature to state we have operational technology to implement a secure process."
In May, the House enacted a temporary policy allowing proxy voting. Under that policy, which has been extended three times by Democratic House Speaker Nancy Pelosi, members of the House at the Capitol can submit votes for up to 10 other lawmakers who are not present. McCarthy filed suit to block the policy in May, but his lawsuit was dismissed by a Washington, D.C. federal court in August.
Newsweek reached out to Speaker Pelosi's office for comment.
In a May speech on the House floor about proxy voting, Texas Republican Representative Louie Gohmert said the concept was "wishy-washy."
"They didn't do that in the Spanish Flu days," Gohmert said. "They didn't do it in the Civil War, but now we're going to do it?"
In July, Gohmert announced he had tested positive for COVID-19, but he claimed to be fully recovered in September.
According to the statistics site GovTrack, 49 members of the House of Representatives are currently participating in proxy voting.