House Republicans Request Immediate Hearing into James Comey's 'Reckless Conduct' From IG Report
Two House Republicans on the Oversight Committee are requesting that the chairman, Democrat Elijah Cummings, immediately conduct a hearing on a new report from the Justice Department's internal watchdog regarding James Comey's conduct as the former FBI director.
The DOJ's office of inspector general, headed by Michael Horowitz, concluded in a lengthy report on Thursday, as part of a broader ongoing probe into the origins of the Russia investigation, that Comey "violated department and FBI policies" in leaking documents containing unclassified information to the press after he was fired that detailed private conversations he had with Trump as president and a candidate.
"Because Comey's compilation and dissemination of sensitive FBI information led directly to two-plus years of political turmoil and vitriolic partisan attacks on the President, the OIG's report demands congressional attention," GOP Representatives Jim Jordan, the committee's top Republican, and Mark Meadows wrote to Cummings in a letter. "In light of the great costs to our country stemming from Comey's reckless conduct, we respectfully request that you immediately schedule a hearing with Inspector General Horowitz to examine the OIG report about Comey's misconduct."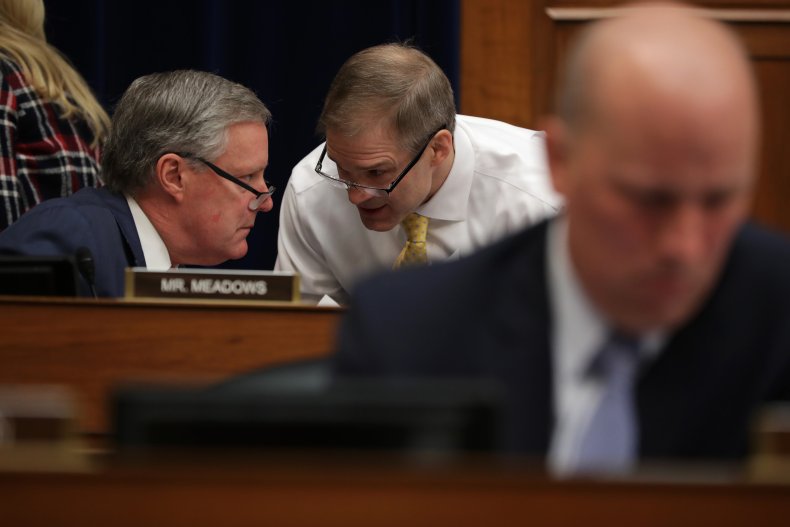 A spokesperson for Cummings did not immediately respond to Newsweek's request for comment and whether the Maryland Democrat is considering holding a hearing about the matter once Congress returns from August recess the second week of September.
Comey, who was fired by Trump in May 2017, has testified to Congress that he leaked his memos of conversations with the president because Trump's remarks and actions were worrisome, and that he wanted to spur the launch of an independent counsel to investigate Russian election interference and potential involvement of the Trump campaign. Robert Mueller was appointed as an independent counsel to conduct the probe, which concluded earlier this year and did not determine one way or another as to whether Trump committed obstruction of justice. It did conclude there was insufficient evidence of a criminal conspiracy between Trump and his campaign to work with Russia to win the 2016 presidential election.
Although the DOJ has declined to prosecute Comey, Horowitz' report strongly rebuked the former FBI director's decision to break protocol, saying he "had several other lawful options available to him to advocate for the appointment of a Special Counsel, which he told us was his goal in making the disclosure."
"By not safeguarding sensitive information obtained during the course of his FBI employment, and by using it to create public pressure for official action," the report stated, "Comey set a dangerous example for the over 35,000 current FBI employees — and the many thousands more former FBI employees — who similarly have access to or knowledge of non-public information."
Jordan and Meadows, both members of the conservative House Freedom Caucus who are some of Trump's staunchest defenders, pointed to some of Cummings' previous comments made to Horowitz during a June 2018 hearing about Hillary Clinton's email use. At the time, Cummings stated that while he may not have liked what he discovered from Horowitz' report about the former secretary of state's misuse of her government email, he respected the independent and non-partisan investigation.
"You lauded his integrity and promised to examine his work whether you agreed with his findings or not," the Republicans wrote to Cummings.
Since the release of the IG report, Trump has said Comey "should be ashamed of himself!" and suggested there has never been someone "more thoroughly disgraced and excoriated than James Comey." The White House, meanwhile, labeled him a "proven liar and leaker" in a separate statement.
The IG report dispelled claims by Republicans that Comey leaked classified information to the media, a portion of the damning report that Comey honed in on as vindication from wrongdoing.
"DOJ IG 'found no evidence that Comey or his attorneys released any of the classified information contained in any of the memos to members of the media,'" he said in a series of tweets. "I don't need a public apology from those who defamed me, but a quick message with a 'sorry we lied about you' would be nice."