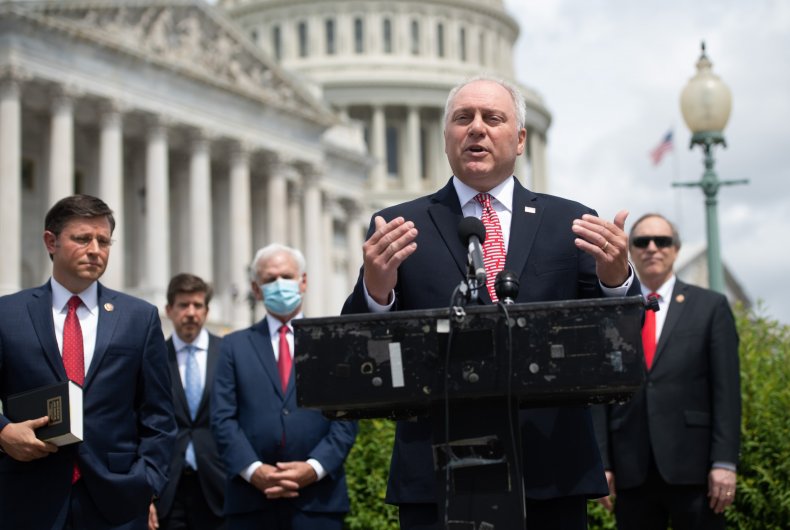 House Republicans have filed a lawsuit that would upend any action Congress takes this week under a historic remote voting system implemented in response to the coronavirus pandemic.
"It's really important that we show up here to work at the Capitol to do our job as we're calling on Americans all across the country to safely reopen," U.S. House Minority Whip Steve Scalise (R-Louisiana) told reporters Wednesday. "This is not constitutional. The Constitution makes it clear that we have to have a majority of members present for a quorum to do business."
The move complicates a dilemma House members had tried to solve: How to conduct business while reducing lawmakers's risk of catching COVID-19.
The federal district court hasn't immediately acted on the lawsuit or an immediate injunction Republicans are seeking to suspend the use of the new Democrat-backed proxy voting plan that allows members to cast up to 10 ballots for other members temporarily during the pandemic.
Democrats have argued that the House has the discretion to operate under its own rules and the lawsuit should be thrown out.
"This Republican lawsuit is about one thing only: forcing the House to stop doing its job and prevent it from helping the American people get through this crisis," House Majority Leader Steny Hoyer (D-Massachusetts) said in a statement. "The Constitution gives each chamber of Congress the ability to set its own rules, and the courts have given us wide latitude to do so. The rule change to allow remote voting in order to maintain public health fits within those bounds."
Before the lawsuit was filed, Scalise sent notice to Republican members of the chamber that they should be at the Capitol and vote in person or submit their vote for the Congressional record but should not use the proxy voting system that would allow them to remain in their districts and submit their votes for another member to cast on their behalf.
In the lawsuit, Scalise and other House GOP leaders argue that in Congress' 231-year history, neither the House or Senate has instituted a process to allow members to cast votes on the floor without being in the chamber—that includes the Civil War, the September 11 terrorist attacks and the Spanish Flu epidemic of 1918.
"This is an unprecedented event but we've faced unprecedented events as a nation before," U.S. Representative Mike Johnson, who chairs the conservative Republican Study Committee, told Newsweek.
Johnson, an attorney who practiced constitutional law and was a member of President Donald Trump's impeachment defense team, said he believes proxy voting is unconstitutional.
"The clear and express language of the Constitution prohibits it," he said. "It is by definition a deliberative body and to deliberate, you have to be present."
Rep. Jim McGovern, D-Massachusetts, fired back at such constitutional questions during a debate on the House floor on Wednesday.
"I don't look at the Spanish Flu of 1918 as some sort of model of what we should do now," he said on the floor. "People died."
McGovern said canceled flights and surges across the country have created extenuating circumstances and new hardships for some members.
"It's not meant to displace the way we do business here on a regular basis," he said.
The rift over the historic voting measure—adopted as the coronavirus death toll in the United States reached 100,000—is the latest in a long-simmering battle between Republican and Democratic leaders, with tensions often stoked by the feud between House Speaker Nancy Pelosi (D-California) and President Donald Trump.
House Republicans included four constituents as plaintiffs in their lawsuit, arguing that the remote voting proposal violates their constitutional rights.