A home real estate listing on Zillow has gone viral due to the variety of wall art, including one sign that has drawn quite the reaction.
The Twitter account "Zillow Gone Wild" posted the listing Monday morning and has been "liked" over 27,000 times. The 3,600-square-foot home in Onalaska, Wisconsin, has four bedrooms, and three baths and is going for $420,000.
A tree swing and American flag sign accentuate the appeal of the home in a "neighborhood close to town with a country feel," as the listing states. But the brown-colored abode surrounded by trees galore is turning heads for other reasons.
As the tweet says, the home belonging to a family of five "is a good example of what happens when your Michael's obsession goes one sign too far." One room, for example, has wall art that includes "Gather," "Blessed," and "Welcome to our crazy fun loud happy home."
The kitchen includes large signs that read "Eat" and "Pantry" in different fonts. A sign in an area designated for young children has a message of motivation: "Keep exploring."
"Love to have every room in my house labelled with its purpose so nobody gets confused," one Twitter user joked. "'Why did I come in here again?' *Looks at giant 'EAT' sign on the wall* 'Oh, right.'"
But it's a sign above the bed in what is likely the master bedroom that has drawn interest and plenty of comments. Simply stated, it says "Welcome to Poundtown" in black letters over a white background.
"I'm not sure Michael's sells this particular sign, 'Welcome to Poundtown,'" a Twitter user joked in reply.
Another user took the infamous "Live, Laugh, Love" home decor and adjusted it to "Live, Laugh, Poundtown."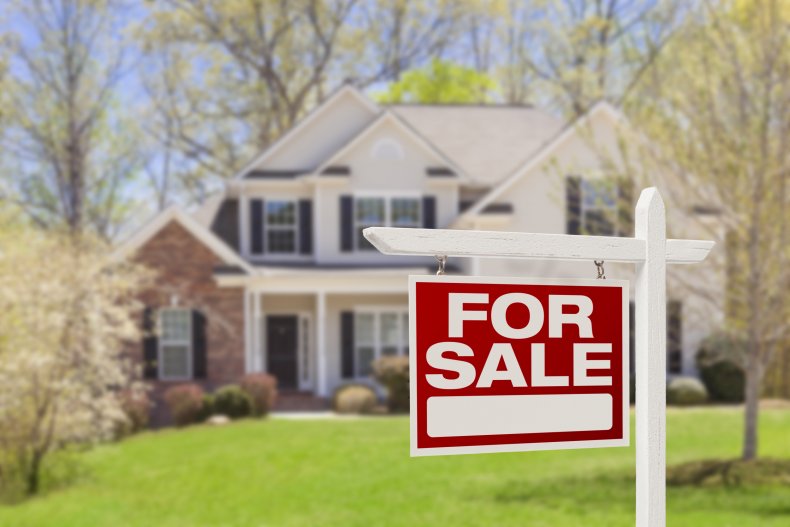 Aside from that provocative display, others were fixated on the microwave – which looks as if it is 3 feet long – as well as the price of the home itself.
According to Zillow, the typical middle price tier value of homes in Wisconsin is $254,680 and is seasonally adjusted. Wisconsin home values have gone up 14 percent over the past year, the site adds.
Data compiled by the U.S. Census Bureau and the U.S. Department of Housing and Urban Development, the median sales price for homes nationally was about $408,100. The highest costs regionally were in the Northeast, while the lowest was in the South–about $1,600 cheaper than in the Midwest.
The average U.S. sales price was approximately $477,900. The cheapest average sale price was about $408,099 in the Midwest, about $20,000 cheaper than home costs in the South.
On April 15 Fannie Mae released its new home price index, which showed a 20 percent increase in national home prices during the first quarter of this year. It represents the fastest annual pace in the 47-year history of the index.
"I know a lot of people are fixed on the bedroom sign there, which is of course extremely distasteful, but whole house feels weird and fake to me," one Twitter user replied to the post. "Like Id never put an 'eat' sign in the kitchen, like why on earth would you put a sign exclaiming the most basic function one would do."
"This seems like a wife who is coping with a husband who has early dementia," another user joked. "Every room has to have instructions."