House, Senate Agree on Russia Trade Ban as Putin Moves Further Into Ukraine
Congressional committee leaders on Monday announced a bipartisan agreement to suspend normal trade relations with Russia and Belarus.
The agreement was announced by House Ways and Means Committee Chairman Richard Neal and ranking member Kevin Brady, as well as Senate Finance Committee Chairman Ron Wyden and ranking member Mike Crapo.
"As Russia continues its unprovoked attack on the Ukrainian people, we have agreed on a legislative path forward to ban the import of energy products from Russia and to suspend normal trade relations with both Russia and Belarus," the lawmakers said in a statement.
"Taking these actions will send a clear message to Putin that his war is unacceptable and the United States stands firmly with our NATO allies," the statement continued. "While Congress needs to do more, as the congressional leaders with jurisdiction over our nation's trade policy, we are committed to using the tools at our disposal to stop Russia's unconscionable and unjust war on Ukraine and to hold Belarus accountable for its involvement."
Moscow has been aided by Belarus in its invasion of Ukraine. Russian troops on Monday continued their attack on the city of Irpin, located west of the capital of Kyiv. Four Ukrainian civilians were killed trying to evacuate the city.
The committee leaders also agreed that their bill would give President Joe Biden the authority to increase tariffs on products from Russia and Belarus, as well as the power to restore normal trade relations, subject to certain conditions and approval from Congress.
The legislation would also require the U.S. Trade Representative to seek a suspension of Russia's participation in the World Trade Organization, and halt Belarus from accessing the organization.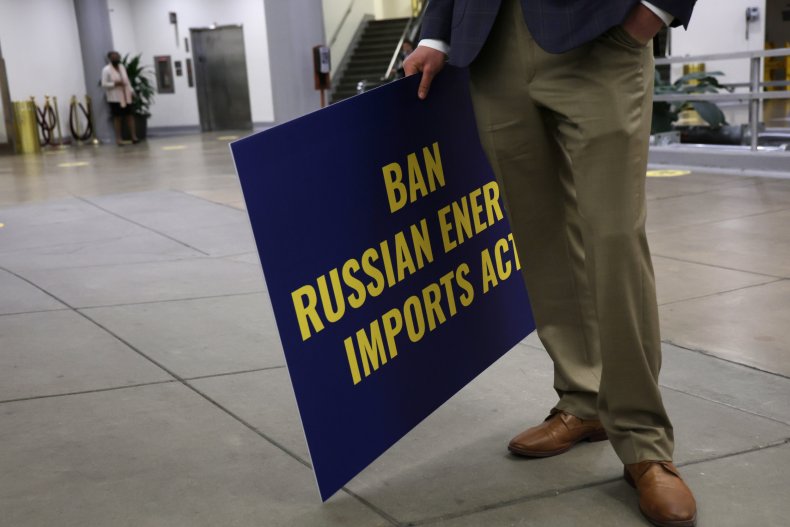 House Speaker Nancy Pelosi also said Sunday that the chamber is exploring options to restrict trade with Russia, specifically banning Russian oil imports.
Lawmakers on both sides of the aisle have called on Biden to sanction Russia's energy industry, but the administration has argued that doing so could also hurt Americans at the gas pump.
Pelosi said in a letter to colleagues that "the United States need not choose between our democratic values and our economic interests. The Administration and the Congress remain laser-focused on bringing down the higher energy costs for American families and our partners stemming from Putin's invasion."
To offset gas prices, which have reached a national average of $4 per gallon, the administration has announced plans to release 60 million barrels of oil in global reserves, half of which would come from the U.S. Strategic Petroleum Reserve.
This week, Congress is also expected to approve the White House's request for $10 billion in emergency humanitarian and defense aid for Ukraine.
Update 03/07/22, 1:45 p.m. ET: This story was updated with more information and background.