House Sends Equality Act to Senate, Where GOP Could Block Its Passage
On Thursday, House Democrats and three Republican representatives passed the Equality Act, a bill that would grant national civil protections against LGBT discrimination. The bill now heads to the Senate where Republicans are expected to block its passage into law.
The House bill, which passed by a vote of 224-206, would add sexual orientation and gender identity to existing federal civil rights laws including the Civil Rights Act of 1964 and several others. It would ban anti-LGBT discrimination in employment, education, housing, public accommodations, jury selection, credit and federal programs.
All but three GOP House members voted against the Equality Act. The bill now heads to the Senate where it will need a filibuster-proof 60 votes to pass. The threshold requires 10 Republicans to support it, but that's considered unlikely.
Republicans argue that the Equality Act is a threat to religious freedom that would force people of faith to do business with LGBT people, even if it conflicts with a person's sincerely held religious beliefs.
Other Republicans have said that expanding transgender rights will unfairly allow transgender girls and women into sports and social spaces traditionally reserved for cisgender females.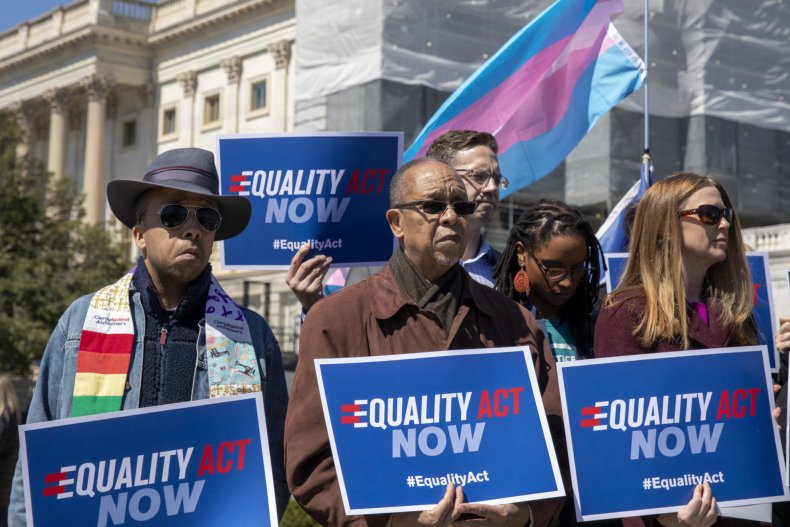 Republican Maine Senator Susan Collins co-sponsored the Equality Act in 2019. However, she said that she won't support it in 2021 because promised revisions weren't made to the bill. She hasn't specified what revisions she means.
On Thursday, Wisconsin Representative Mark Pocan slammed his Republican colleagues for opposing the Equality Act with a "nasty and hateful" spirit.
"A vote against the Equality Act is a vote for discrimination, plain and simple," Pocan said during his floor speech.
Democratic Senate Majority Leader Chuck Schumer of New York also criticized Republican comments when debating the bill, calling them "despicable."
"[Republican] attacks on trans people and the transgender community are just mean," Schumer told reporters on Thursday. "Mean, and show a complete lack of understanding, a complete lack of empathy."
Meanwhile, the Human Rights Campaign, the nation's largest LGBT rights organization, celebrated the bill's passage in the House.
"We have broad, unprecedented support for the Equality Act: From an overwhelming majority of voters and hundreds of members of Congress to an unprecedented number of businesses and organizations," HRC President Alphonso David wrote on Thursday.
"No matter what opposition from extreme lawmakers we may hear in the coming weeks, know that millions support us," David continued.
The Equality Act has been introduced in every session of Congress since 2015. Former President Donald Trump opposed the bill as a potential threat to parental and religious rights.
Newsweek contacted Collins' office, the Human Rights Campaign and GLAAD for comment.