House Unanimously Approves Congressional Gold Medal for 13 Heroes Killed in Kabul
The U.S. House of Representatives passed a bill Monday posthumously awarding the Congressional Gold Medal to 13 American soldiers killed during a bombing in Kabul, Afghanistan, in August.
The bill, which was co-sponsored by over 300 members of the House, passed via unanimous and rare bipartisan vote, and the legislation will now go to the U.S. Senate for consideration.
The Congressional Gold Medal is the legislative body's "highest expression of national appreciation for distinguished achievements and contributions by individuals or institutions," according to the Senate website.
The action by Congress comes after 11 Marines, one Army soldier, and one Navy sailor were killed at Hamid Karzai International Airport over the summer in a suicide bombing perpetrated by terrorist group ISIS-K.
The attack was part of a rash of violence that occurred in the immediate aftermath of the American military withdrawal from Afghanistan. In addition to the 13 soldiers, over 180 other people were killed and an additional 150 were wounded in the blast.
The day marked the single greatest loss of U.S. military members in one day since 2011, according to Reuters.
President Joe Biden condemned the attack and vowed to bring the perpetrators of the bombing to justice.
"To those who carried out this attack, as well as anyone who wishes America harm, know this: We will not forgive," the president said in a speech after the attack. "We will not forget. We will hunt you down and make you pay."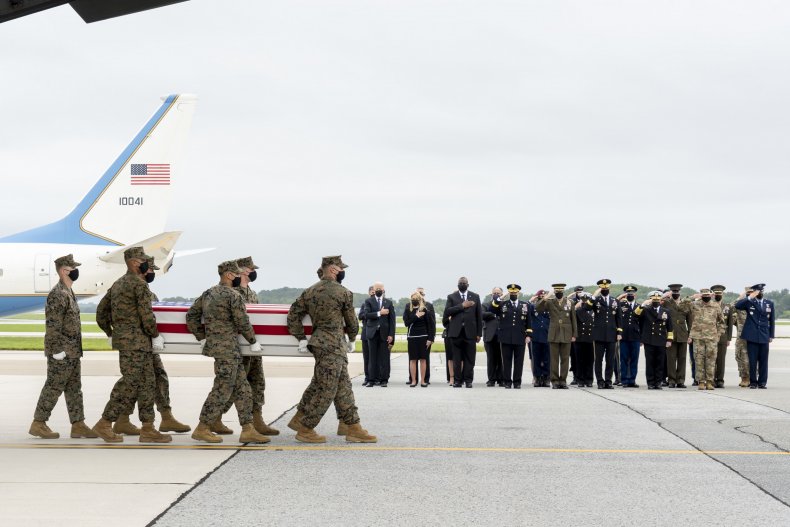 Awarding the service members with the Congressional Gold Medal was initially sponsored by Representative Lisa McClain (R-Mich.), who wanted to "make sure we honor these service members who paid the ultimate sacrifice."
"Their sacrifice for our country and its allies will never be forgotten and I'm encouraged by the overwhelming bipartisan support for this legislation, which has 325 co-sponsors. I urge the Senate to quickly pass this bill so we can properly honor these fallen service members," Representative McClain told ABC News in a statement.
"Awarding the Congress' highest honor is a small token of appreciation," she continued.
A number of additional Congress members also expressed their appreciation for the soldiers' sacrifices on the House floor Monday.
"I cannot think of anyone more deserving of such a distinction," Representative David Cicilline (D-R.I.) stated. "These brave service members represent the very best of America, knowingly putting themselves in harm's way to help evacuate thousands from the region."
Additionally, two senators have already introduced a companion bill in their chamber of Congress. Senator Elizabeth Warren (D-Mass.) and Senator Steve Daines (R-Mont.) drafted bipartisan legislation to award the medals.
"These individuals demonstrated incredible courage throughout their careers, and we owe it to them to pass legislation to recognize their heroic service with the Congressional Gold Medal," Warren said.
"As the U.S. concludes 20 years of combat in Afghanistan, I believe it's fitting that Congress commemorates their sacrifice in this moment with the Congressional Gold Medal," added Daines.
The Senate bill has already been co-sponsored by a number of other high-profile senators, including Bernie Sanders (I-Vt.) and John Hickenlooper (D-Colo.).
ABC also stated that should the bill pass in the Senate as expected, the 13 medals will go on display in the Smithsonian Institution.
Newsweek has contacted the U.S. Marine Corps for comment.