House to Vote Marjorie Taylor Greene's Committee Removal, Forcing GOP to Decide On One of Its Own
The House of Representatives is going to vote on removing Representative Marjorie Taylor Greene from her committee assignments, forcing the GOP to cast judgment on one of their own.
Greene, a conservative lightning rod, faced criticism for alleged Facebook activity that endorsed and promoted conspiracy theories and calls for violence against Democrats. Democrats have given up on waiting for Republicans to take action on their own and if votes fall along party lines, Republicans will be powerless to stop Greene from being kicked off her committee assignments.
Republican House leader Kevin McCarthy called the comments "disturbing" and said he would have a conversation with Greene. However, after having a conversation with McCarthy, Representative Steny Hoyer said it was "clear" there was no alternative to holding a floor vote on the Democrats' resolution to remove Greene from the Education and Labor Committee and the Budget Committee.
That vote will take place on Thursday.
Newsweek reached out to Representatives Marjorie Taylor Greene and Kevin McCarthy for comment but did not receive a response in time for publication.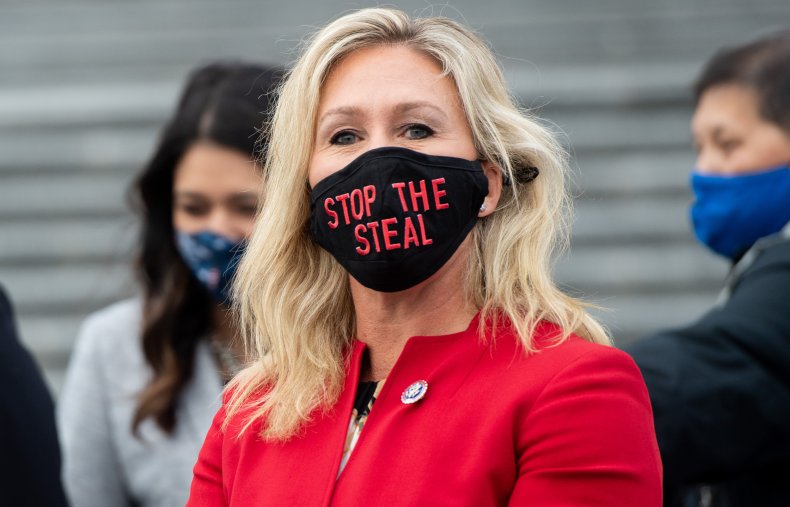 Representative Debbie Wasserman Schultz introduced the resolution on Monday and posted on Twitter that Greene's actions are "irresponsible and dangerous." Her comments, she said, go beyond civil political discourse.
Greene's endorsed QAnon, a conspiracy theory group that believes prominent Democrats are Satan worshippers and former President Donald Trump is the savior. She also endorsed or floated the possibility that several mass shootings, including the shootings at Marjory Stoneman Douglass High School and the Route 91 festival in Las Vegas, were staged to promote an anti-Second Amendment agenda.
House Democratic Caucus Chair Hakeem Jeffries told reporters Wednesday that he supports Greene's removal but doesn't believe a full vote should be necessary. He called Greene "totally out of control" and advocated for McCarthy to "handle this problem."
"Why would Kevin McCarthy continue to associate himself and the Republican conference with someone who [Senate Minority] Leader [Mitch] McConnell has described as a 'cancer'?" Jeffries said.
Greene vowed in several Twitter posts to "never back down" and said Democrats didn't want her on her committees because her "identity" and "values" are "white, woman, wife, mother, Christian, conservative, [and] business owner." Regardless of what McCarthy did, she added it wouldn't be enough for the "hate America Democrats."
"They are only set out to destroy Republicans, your jobs, our economy, your children's education and lives, steal our freedoms, and erase God's creation," Greene wrote. "And the bloodthirsty media are their henchmen who help them by relentlessly attacking anyone in their path."
This isn't the first time McCarthy's had to address a controversial member of his party. In 2019, McCarthy removed Representative Steve King from his committees over comments he made about white supremacy.
While Democrats have the votes needed to remove Greene from her assignments, they're going to have a tough time getting her kicked out of Congress altogether. Unlike committee removal, which requires a simple majority, expelling a member from Congress requires a two-thirds majority, meaning Democrats would need support from 69 Republicans.