House Votes 'Yea' on Raising Age to 21 for Purchase of Assault Rifles
The House of Representatives has approved legislation in favor of raising the age to purchase a military-style rifle, like the one used in Uvalde, Texas, to 21.
Lawmakers voted 228-199 to include the provision in a package of gun control measures approved earlier by the House Judiciary Committee. The vote comes in response to pressure for Congress to respond to a string of mass shootings, including a massacre at Robb Elementary School on May 24 in Uvalde. While the measure passed with some Republican support, it faces an uncertain future in the evenly divided Senate.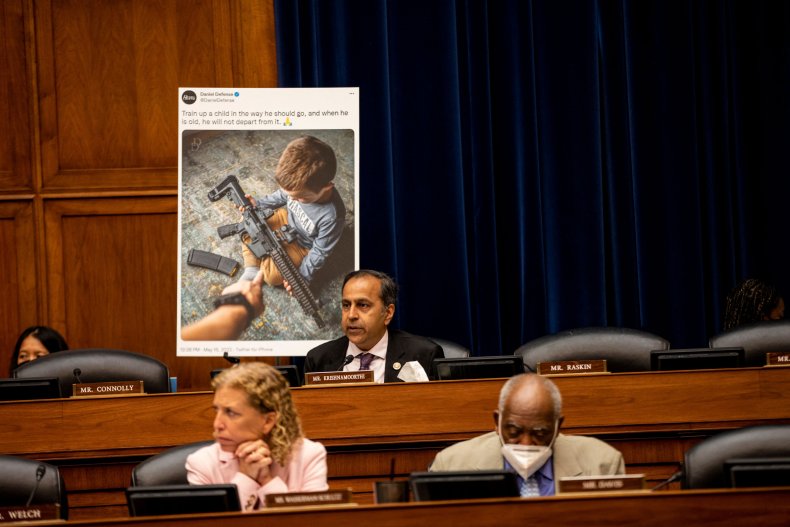 Representative Anthony Brown, the Maryland Democrat who authored the provision, said on the House floor that shooters in massacres in Uvalde, Buffalo, New York, Florida's Marjory Stoneman Douglas High School and others were committed by males under age 21.
"Right now, you must be 21 in this country to buy a handgun, and you only need to be 18 years old to buy a semiautomatic rifle capable of committing unspeakable tragedies," Brown said on the floor. "I served in the military. I trained with these weapons. I know what they can do. These weapons of war have no place in our neighborhoods, let alone in the hands of an untrained 18-year-old boy."
While he said the legislation wouldn't stop the country's gun violence problem, it would be worth it if it "can save one life or one community from this carnage."
Title I of the Protecting Our Kids Act prohibits federally licensed federal gun dealers from selling to anyone under the age of 21 any "semiautomatic centerfire rifle or semiautomatic centerfire shotgun that has, or has the capacity to accept, an ammunition feeding device with a capacity exceeding 5 rounds."
Christian Unkenholz, communications director for Brown, told Newsweek in an email that the age requirement would generally not apply to pump-action shotguns or hunting rifles.
The measure stopped short of an outright ban on AR-15 rifles and other military-style weapons favored by some gun control advocates.
Those include President Joe Biden, who last week in a primetime speech asked Congress to reinstate the ban that lawmakers allowed to expire in 2004. If Congress wouldn't restart the ban, the president asked for lawmakers to at least enhance background checks and raise minimum purchase for semiautomatic rifles to 21.
Ten Republicans voted to include the provision raising the minimum age in the bill. Two Democrats voted against it.
Republicans who spoke against the legislation said it was an overreach by the federal government.
"The bill raises the legal age of gun ownership to 21," Minnesota Representative Michelle Fischbach said on the floor. "This provision is very likely unconstitutional."
Kentucky Representative Thomas Massie said the provision would raise the age to buy a long gun, including rifles and shotguns, to 21, which he called "immoral" and unconstitutional.
"Why is it immoral?" he said. "Because we're telling 18-, 19- and 20-year-olds to register for the draft. You can go die for your country. We expect you to defend us, but we're not going to give you the tools to defend yourself and your family."
Update 6/8/22, 8 p.m. ET: This story has been updated with additional information and background.