House Where Triple Murder Occurred 20 Years Ago Has Halloween Decorations Depicting Slaying
Nearly 20 years after a triple homicide rocked a Michigan neighborhood, the home's owners have sparked outrage in the community for their Halloween display.
In 2003, Jon Siesling beat his mother and teen sister with a baseball and stabbed them with a kitchen knife in their Walker, Michigan home before turning the blade on his 6-year-old-sister when began crying after discovering the crime scene. Years later, neighbors of the Walker Avenue NW home are shocked by the holiday imagery outside.
The home's yard features three gravestones surrounded by police tape with a baseball bat and evidence marker near the porch. The front door is decorated with silhouettes of people, bloody handprints and the words "HELP US" written in red. The home's front window also includes images of bloody handprints and splatter.
Amanda, who did not want her last name published and is the builder of the display, said that she grew up in the house and it's been in her family for decades. She didn't understand her neighbors' outrage.
"It's a Halloween decoration," she told MLive Media Group.
Amanda told the news outlet that she still remembers cleaning up the bloodbath after investigators completed their work at the home. She said there is still blood inside that she cannot get rid of.
The Sieslings rented the home and were friends of her family when the murders occurred.
She said that everyone in the area knows what happened at her residence and just reciting her address causes people to raise their eyebrows. Sometimes, people drive slowly past her home, stare, point and even yell things as they go by.
While some view the home as the setting of a "Walker legend," to Amanda, it's the place where she raised her kids.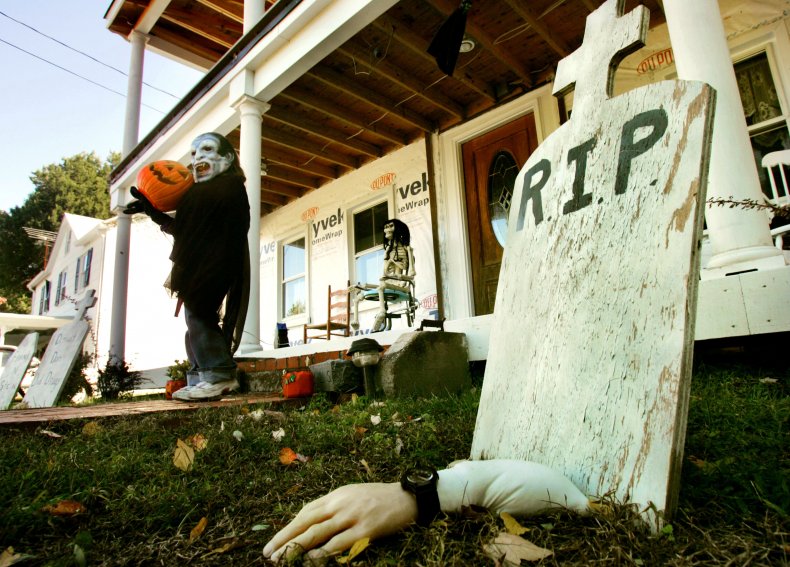 "We know some people might look at and say, 'Oh my God, oh my God.' This is my way of saying, 'We are well aware. Stop screaming at us when you're driving past my house,'" Amanda said.
Siesling was 17 when he struck his 42-year-old mother, Sharon Siesling, with a baseball bat on January 22, 2003. He slit her throat when she attempted to crawl up the stairs and then murdered his sister, 15-year-old Katelin, the same way.
His youngest sister, 6-year-old Leah, just came in from playing outside when she saw the blood and began to cry. Siesling stabbed her in the neck and put her to bed.
His father, Jan, was working as a truck driver on the road when the murders occurred. The family said he was never the same after the murders of his wife and two daughters.
Kathy Gordon, a classmate of Katelin's, said that the display dishonors the victims.
She remembers how hard the tragedy affected the school and bus drivers even avoided the street the morning after the murders because of the caution tape. Gordon said that her bus had no choice but to go on that street and when she saw the scene, it was like something out of a movie.
"It is just disgusting, especially since this crime hits close to home," Gordon said. She added that it made her "want to vomit" and that it's "truly unacceptable."
Amanda said that her display was not intended to hurt anyone and that it even helped bring closure to her daughter who was a friend of the youngest victim.
"That family that lived there, that family was our friends," Amanda said. "I'm not going to sweep it under the rug and act like it didn't happen. Leah was a friend of my daughter. We went to their funerals."
She added that her family takes time to remember those who were killed during the anniversary of the killings and that Sharon "was a great friend to my mother and also a friend of grandma."
Siesling, now 36, is considered a "juvenile lifer" and is serving a life sentence without parole, although he was able to pursue a lesser sentence because of his age at the time of the murders. Last month, Siesling said he wouldn't commit any more crimes if he was released.
Kent County Circuit Judge Mark Trusock ruled that the state's sentence would remain and Siesling's sentence was not reduced. Trusock said he's seen "nothing ... as horrific as this case."
Amanda said that she doesn't think she's sensationalizing the killings because Siesling is the individual who "committed the ultimate atrocity."
"We're not heartless. We're not monsters. ... But it happened. This is my way of saying, 'I am absolutely aware of what happened here," Amanda said, adding that she welcomes a discussion with anyone who wants to talk to her about the display. "Come knock on my door. Then ask me what I had to clean up. Maybe this is my way of dealing with it."