An expert on U.S. militias has accused Representative Madison Cawthorn, a Nort Carolina Republican, of not listening to her testimony at a House hearing on extremism before offering a discordant condemnation of her views a short time later.
Dr. Amy Cooter, a Vanderbilt University professor, testified during a House Veterans Affairs Committee hearing on extremist militia members recruiting veterans on Wednesday. During the opening statement of her testimony, Cooter noted that she was a gun owner and had extensively interviewed militia members.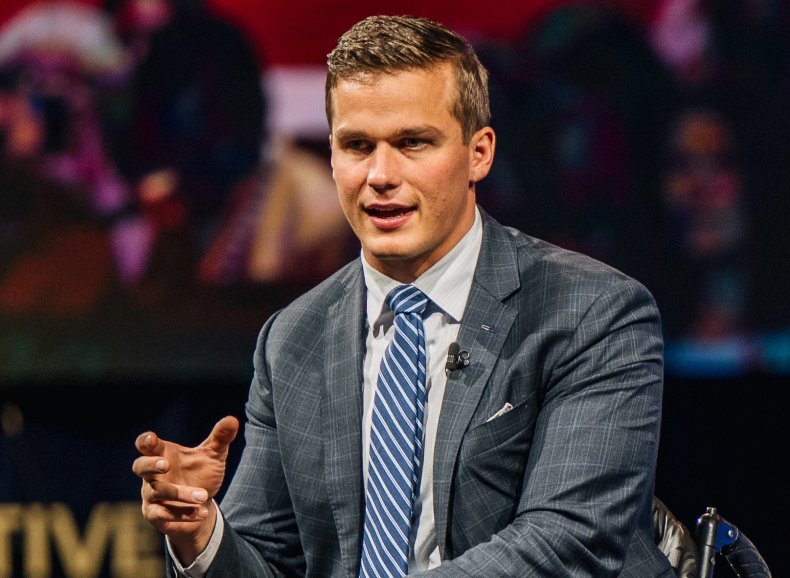 Cooter said that her research had found "the majority of militia members are law-abiding citizens" before expressing concerns about violent "extremist units" seeking recruits that include "some disenchanted veterans." Minutes later, Cawthorn condemned what he called a "disgusting" hearing while singling out Cooter's testimony for allegedly "attacking the idea of having militias."
"I just heard Dr. Amy Cooter with her opening statement start attacking the idea of having militias in our country," Cawthorn said. "I understand that she used some special words and things to say that 'oh no, I'm not against all militias.' But unfortunately having a militia is a protected right within our constitution under the Second Amendment. And I believe it is disgusting to say that there is extremism and that we need to root out extremists inside our military, inside our veterans."
"For you to come here and members of Congress to say, 'oh well, you know what—it's actually a high likelihood that people who are veterans who are in militias are actually extremists,' that is disgusting," he later added. "Dr. Cooter, I would like to point a question to you: Are you anti-militia?"
Cooter responded to Cawthorn by saying that she suspected he had "actually missed all of our opening statements," while pointing out that she has been accused of being a "militia apologist" but was speaking specifically about a minority of extremists within militias.
"Mr. Cawthorn, I believe that you actually missed all of our opening statements and I would encourage you to review the film on that," said Cooter. "If you would have heard me, you would have heard me say I've been a gun owner since I was 21. I grew up in the foothills of Appalachia and I have very close personal contacts with militia members across the country."
"I'm frequently accused of being a militia apologist because I actually try to focus very frequently on how many of them are law-abiding folks," she added. "But the focus today is on that extreme element and the potential danger that that extreme faction specifically can pose to our veterans and to our country."
Cawthorn thanked Cooter for "saying that you don't think many members of militias are extremists" and remarked that he was "glad" she was a gun owner. The congressman then insisted that he did watch Cooter's opening comments before saying that he was "saddened" the hearing was taking place at all, due to it being "about finding extremists inside of our veterans."
After the hearing, Cooter tagged Cawthorn on Twitter while sharing a link to the text of her testimony, once again encouraging the congressman to review her statements. The professor also said that Cawthorn allegedly condemning her speech without having listened to all of it reminded her of behavior she sometimes encounters from students.
"I think I will wrap up my tweeting spree by using just a few more 'special words' to note that, as a professor, I am well accustomed to people having not done the readings, but I'd suggest at least looking to context cues before staking a claim on any given debate," Cooter tweeted.
Newsweek reached out to Cawthorn's office for comment.