Housing Market Crash Fears After Prices Fall for Fifth Month in a Row
In November 2022, house prices in the U.S. dropped for the fifth consecutive month, with prices down 0.1 percent, compared to October.
The latest data came from the new House Price Index, released by the Federal Housing Finance Agency (FHFA) on Tuesday.
Experts have predicted that the housing market is bound for a significant correction in the next two years. Some fear that house prices in the most-overinflated cities across the U.S. might fall as much as during the Great Recession of late 2007 to 2009.
In a note sent to clients earlier in January and obtained by The New York Post, Goldman Sachs wrote that home-price declines in Austin, Phoenix, San Diego, and San Jose, might see boom-and-bust declines of more than 25 percent.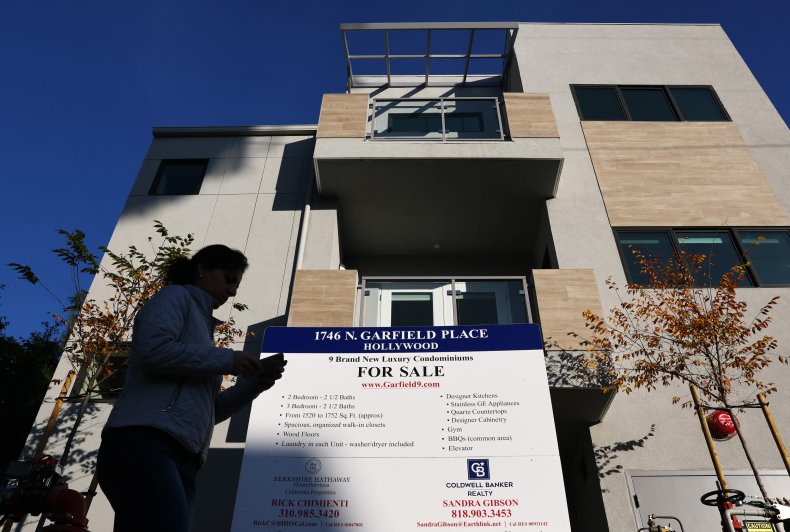 House prices reached record heights in 2022 as high demand and low inventory across the country stoked bidding wars between potential homebuyers.
However, as mortgage rates—once relatively low during the pandemic—suddenly surged and home prices remained high around mid-year, many aspiring buyers got squeezed out of the market, and home sales started to decline.
Many experts have predicted that this dynamic—which was deemed likely to continue as the Federal Reserve continues to try to slow down inflation—would lead to a correction of the housing market and a drop in house prices.
South Carolina financial planner Matt Frankel told Newsweek that, despite house prices remaining high across the U.S., "this is a much-slower growth rate than we've seen for the past couple of years."
He added: "When combined with mortgage rates about a full percentage point below their late 2022 highs, we're finally seeing signs of life in the housing market.
"We recently saw that pending home sales increased in December for the first time in six months, and home search traffic has picked up significantly in recent weeks," Frankel added. "While I doubt we'll see a significant and sustained plunge in home prices as we go through 2023, the relative stability reflected in these numbers is a very positive sign."
While home prices are still moving up compared to a year ago, they're now falling month-to-month in some housing markets, Frankel said.
"The FHFA and Case-Shiller indices look back to November, when the 30-year mortgage rate rose above 7 percent. The high mortgage rates forced some would-be buyers to the sidelines, and sellers dropped prices to cope with the reduced demand," he added.
However, though news of a month-on-month decline might sound significant regardless of its actual size after house prices reached skyrocketing numbers in 2022, year-on-year data paint a different picture. From November 2021 to November 2022, house prices rose by 8.2 percent, according to the FHFA.
The agency itself doesn't seem to share such an optimistic view on the market.
"U.S. house prices were largely unchanged in the last four months and remained near the peak levels reached over the summer of 2022," said Nataliya Polkovnichenko, Ph.D., supervisory economist, in FHFA's Division of Research and Statistics.
"While higher mortgage rates have suppressed demand, low inventories of homes for sale have helped maintain relatively flat house prices."