Landlords Believe They Are 'Victims' of COVID-19 Eviction Ban
Landlords in England have condemned the government's COVID-19 eviction ban and its extension, saying it does not take into account how property owners could themselves fall victim to the economic fallout from the pandemic.
"Not all landlords are rich, some have lost their jobs and many are relying on rent as their main source of income," an eviction and housing law specialist says, after a ban on evictions in England was extended by another four weeks, with one pensioner who relied on rent as her main form of income saying she felt she was the "victim".
A ban on evictions has been in place since March to prevent a sudden rise in private renters becoming homeless as the economy was bought to a standstill during COVID-19. The government in England has announced an extension to the ban which was due to expire on August 23, following a similar decision in Wales and longer extensions in both Scotland and Northern Ireland.
Hundreds of thousands of people have lost their jobs because of COVID-19, with those claiming government benefits increasing by six times the normal rate to nearly two million.
However, landlords say they not been afforded enough protection and some feel that they are being held hostage by tenants.
Half a million people are at risk of eviction and homelessness, according to charities and councils, the government may have extended the ban on evictions but given there is already a backlog of 40,000 cases that could take a year for county courts to deal with, how long could the current situation go on for?
One of those affected and worried about the future is 76-year-old Susan*, who relies on her rent and pension to cover her living costs while caring for her 78-year-old husband.
Susan says she has not received a full month's rent from one of her tenants since last November.
"It's been a nightmare, she [the tenant] should've been out on March 9, she's still there and not paid us rent since last November, all we've had is £200 and £100 in separate payments."
She has received full rent from her other three tenants in the property.
Susan feels that the current ban on evictions is being abused by some and says her tenant's anti-social behavior, which she says is "terrifying" for her neighbors is something that she can no longer put up with.
"I think we are victims," she says.
"She gets her rent from benefits, so she should have it, it was new when she moved in.
"There's been anti-social behavior, broken cupboards, she's been falling out with neighbors, it's terrible, we were owed £3,400 two weeks ago and she probably owes more now."
Susan feels that the government has completely abandoned people like her.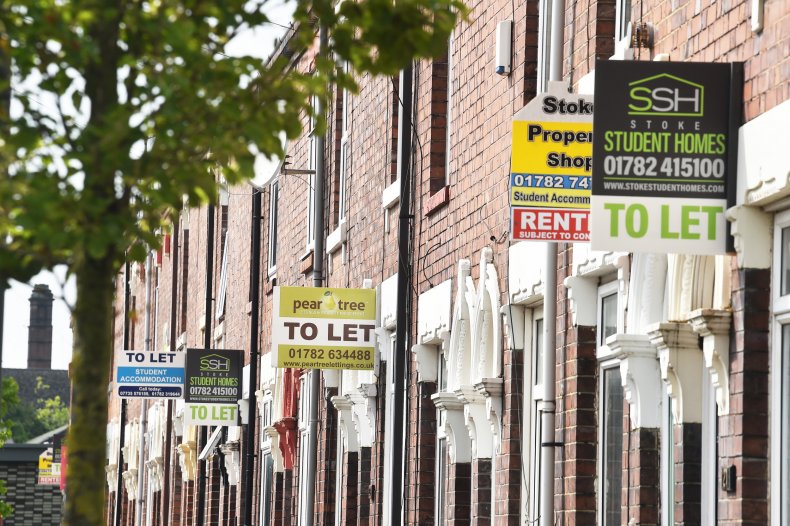 "We can't put up her with anymore, the anti-social behavior, she throws rubbish out the window, it lands on the front of the house, one of the other tenants is left to pick it all up, she's terrified the children next door."
Neither Susan nor her husband has visited the property since February after police warned them that for their own safety, it was better if their son collected the rent.
Paul Shamplina, the founder of Landlord Action, a lobby group for property owners which specializes in property law, tells Newsweek that many of his clients are not big property owners or as well off as many think, calling it a "misconception."
"'Landlord' is becoming a dirty word and it shouldn't be," he tells Newsweek.
"We've been encouraging landlords throughout the pandemic to work with your tenants, try payment plans, and try to sustain the tenancy.
"But most landlords only have one or two properties, and they're not big property companies and they're struggling, their business has been struggling and there is a perception that all landlords have got loads of money and they're wealthy and that's not really the case."
The group currently has 550 eviction cases stuck in the courts system dating from before the COVID-19 pandemic which are yet to be ruled on. That extends to a backlog of 40,000 total cases in England, the BBC has reported, as the courts were paused throughout the lockdown.
There are fears that courts will be unable to cope should a sudden surge in eviction notices occur when the eviction ban does end.
If any readers are at risk of eviction, Newsweek wants to tell your story. Email B.Mahmood@Newsweek.com.
There are an estimated 2.66 million landlords in Britain with 4.5 million households in England living in rented accommodation.
Homeless charity Shelter said that at the end of June some 174,000 renters had been warned by their landlord that they faced eviction.
It also estimated that a quarter of a million renters had fallen behind on their rent within that same time period.
The District Council's Network, a cross-party network of 187 councils across the UK has also warned of a "cliff-edge" scenario.
The network warned that nearly half a million people who spend over half their income on rent could be at risk of eviction if the ban ended this week. Among the most vulnerable were lone parents and 16 to 24-year-olds.
Shamplina believes that the underlying cause of homelessness for those from vulnerable groups is the lack of social housing.
"Landlords are relying on rent for their own income, pensions don't pay, some of them became accidental landlords, some of them had some money and put it into property to try and bring some rent in," he says.
"There are 170 rules and regulations that landlords have to adhere to, a lot of them aren't geared up or understand it. The biggest criticism of landlords that I have is that they need to treat it as a business and be more professional, a lot of them fall foul of regulations.
"They rely on the rent as an income and to pay their mortgage, the government... encouraged landlords to go and ask their mortgage companies if they can get a deferment.
"The problem is if you ask mortgage companies for a deferment for your mortgage, it goes against your credit rating so some landlords weren't asking for it.
"Landlords rely on that income, especially if they're older and their pensioners, everyone's fighting for survival and of course landlords are losing their jobs, they've been furloughed too."
So what's the long term solution to a problem that may not just disappear with a simple extension to the ban?
Shamplina says an initiative similar to the one launched in Wales where a loan scheme for tenants in rent arrears was set up might be beneficial.
The £8m Tenant Saver Loan Scheme is for private sector tenants who are not on benefits, with the government hoping it will stop an increase in homelessness.
Once a tenant's application for a loan is accepted, the money is paid directly to the landlord or agent and tenants will be able to pay back the amount over five years.
Balbir Chatrik, director of policy at homeless charity Centrepoint wants the government to strengthen the social security system and offer more loans to tenants and landlords.
He said: "The particular worry for us is that young people, already perhaps the hardest hit economically, will struggle to navigate the eviction process and find alternative accommodation. Arrears and evictions are expensive and a failure to support those affected during the pandemic risks shackling them with debt and, in some cases, homelessness for years to come."
The Ministry of Housing, Communities and Local Government has been contacted for comment
*Names have been changed on request to protect tenant and landlord identities