Houston and 2 Other Major U.S. Cities Increased Police Budgets Despite Defund Calls After George Floyd Protests
Three of the 10 most populous cities in the U.S. adopted budgets for the 2021 fiscal year that included more funding for their local police departments than the previous year's budget, according to The Wall Street Journal.
The city councils in San Diego, Phoenix and Houston approved their new budgets last month as protesters around the country called for changes to policing policies and for more accountability from officers and the departments that hire them. San Diego's police budget increase was largest at $27 million, Houston approved a $20 million increase and Phoenix's increase fell between $24 and $25 million, according to local media reports in each city.
Though each city argued boosting budgets for local police was necessary, their decisions to do so put them at odds with protesters. After the death of George Floyd, a Black man who died while in police custody in late May in Minneapolis, protesters took to the streets in the U.S. and around the world, demanding an end to violence against Black individuals and calling for widespread police reform. Some protesters called for governments to reallocate money set aside for law enforcement entirely in a movement known as "Defund the Police," which the Black Lives Matter organization officially announced on May 30.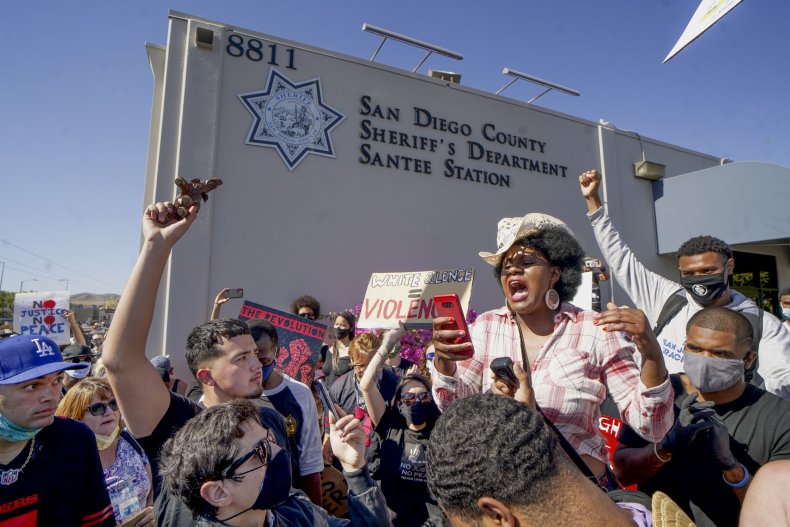 "We demand acknowledgment and accountability for the devaluation and dehumanization of Black life at the hands of the police," BLM said in its initial announcement. "We call for a national defunding of police. We demand investment in our communities and the resources to ensure Black people not only survive, but thrive."
Newsweek reached out to Black Lives Matter for comment but did not receive a response in time for publication.
Most U.S. government officials at the local and federal levels hesitated to support an outright defunding of law enforcement, but many have taken steps to revamp local police departments in light of the recent protests. In Minnesota, Governor Tim Walz announced an investigation into the last 10 years of policing policies and procedures at the Minneapolis Police Department in response to Floyd's death. After former President Barack Obama called on city leaders to review their police departments' policies, several mayors—including those in major cities Atlanta, Los Angeles, Dallas and Washington, D.C.—responded with declarations that they would do so.
Though San Diego and Phoenix both increased their police department's budgets, both cities took steps to review their policing procedures last month. As part of its new budget, the Phoenix City Council included funding to start and fund an Office of Accountability and Transparency, which will provide civilian oversight of the city's police department. In San Diego, the city council adopted a measure that will give its members greater oversight of how police funds are spent.