Houston Astros Defeat Washington Nationals, 4-1, in 2019 World Series Game 3
The road team in the 2019 World Series won again as the Houston Astros beat the Washington Nationals, 4-1, Friday night at Nationals Park in Washington. After dropping their first two games at home in Houston, the Astros cut the Nationals' lead in the series to 2-1 on Friday night in Washington.
Game 4 of the best-of-7 series will be Friday night in Washington at 8 p.m. ET, when the Astros look to even the series. Game 5 will be Sunday at the same time in Washington. If there is no series winner after five games, the World Series would shift back to Houston for Game 6 on Tuesday.
The Astros' bats came alive early Friday to get baserunners and ultimately stretch the Nationals' pitching staff.
George Springer opened the game with a hit for the Astros, but he was stranded to end the inning. The Nationals reciprocated that with a hit by Anthony Rendon in the bottom of the first but was also stranded.
Newsweek subscription offers >
The Astros took a 1-0 lead in the top of the second when shortstop Carlos Correa doubled to left and then scored on Josh Reddick's loft to left field for a single. Correa hustled from second and forced an errant throw to score the run.
Astros second baseman Jose Altuve doubled to start the third inning, and he scored on a Michael Brantley single to give the Astros a 2-0 lead.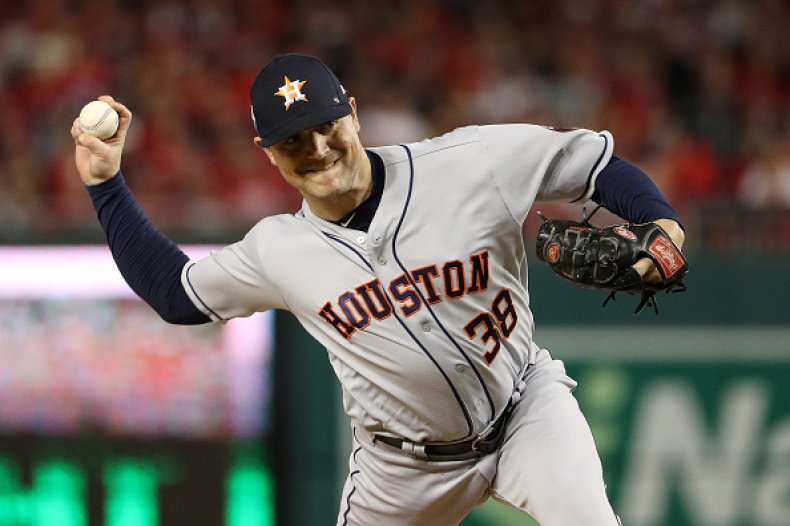 The Nationals got on board when Victor Robles tripled in the third inning to score veteran Ryan Zimmerman, who walked to begin the frame.
Newsweek subscription offers >
The Astros pushed across another run in the fifth after an Altuve double and Brantley RBI for an Altuve score to make it 3-1. The Astros got a big home run blast in the top of the sixth by Robinson Chirinos to make it 4-1.
Both teams had trouble reaching bases in the seventh and eighth innings, setting up the ninth.
The winning pitcher for Houston was Zack Greinke, who pitched 4.2 innings and struck out six while giving up one run. Anibal Sanchez took the loss for the Nationals, giving up four earned runs and 10 hits while striking out four.
The Nationals are playing their first World Series in franchise history since the Montreal Expos left Canada and settled into America's capital. Washington hadn't hosted a World Series since 1933, when the Washington Senators of the American League hosted a World Series they eventually lost.
The Astros are in their third World Series. The first was as a National League team in 2005, when they were swept by the Chicago White Sox. The Astros as an American League franchise won their first World Series in 2017 with a seven-game series win over the Los Angeles Dodgers.
Houston Astros Defeat Washington Nationals, 4-1, in 2019 World Series Game 3 | Sports