Houston Astros Fan Shot With T-Shirt Gun Sues Team for $1 Million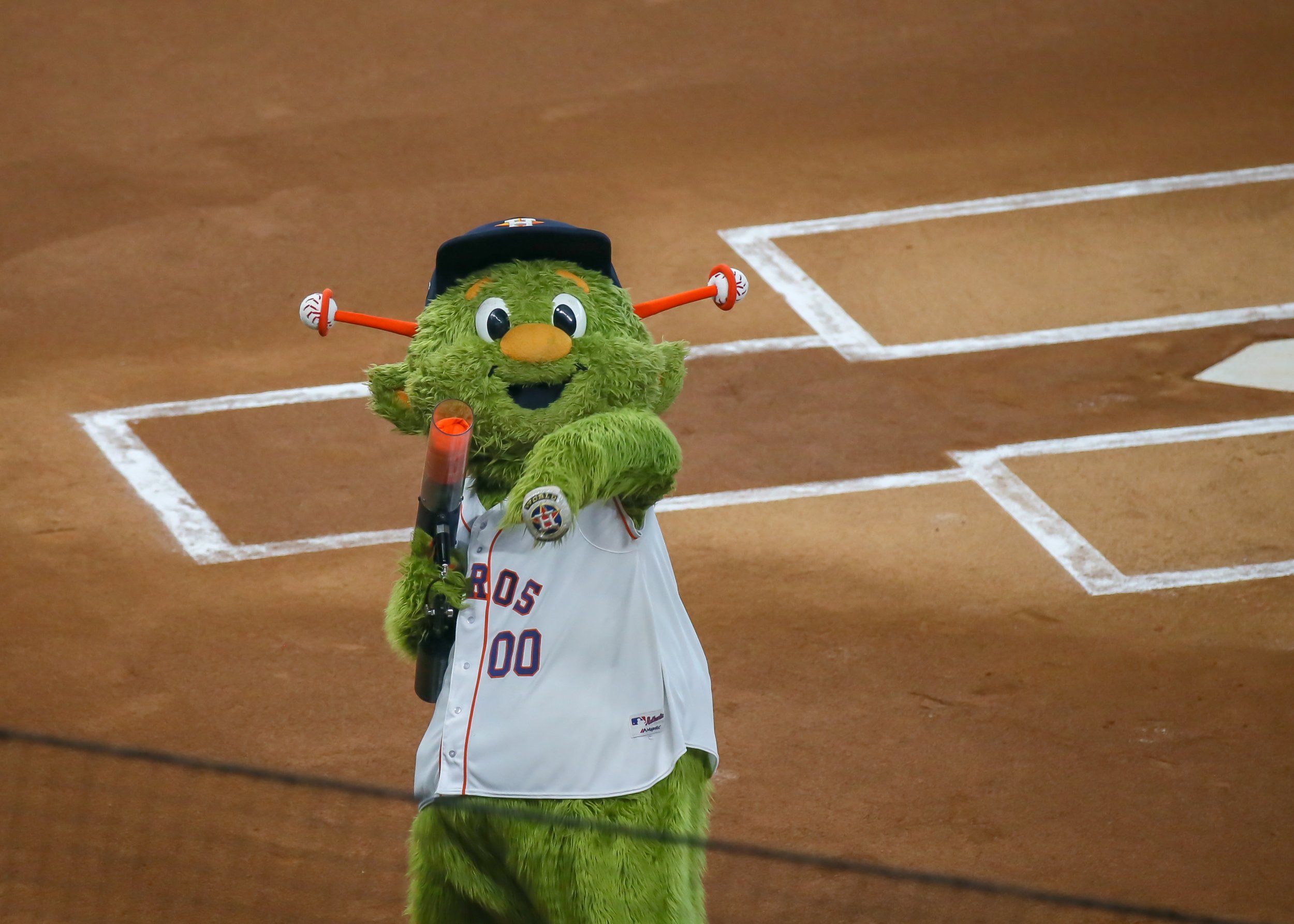 A woman is suing the Houston Astros for over $1 million after she broke her finger at a game last year.
According to CBS affiliate KHOU 11, Jennifer Harughty claims the injury was caused by a T-shirt fired into the stands by Orbit, the team's mascot.
The practice of firing T-shirts into the ground during breaks in play is a common sight across the four major leagues in the U.S.
However, in court documents filed on Monday, Harughty claims the Astros were reckless in the way the gun was handled during the game in question in July 2018.
According to the lawsuit: "Orbit took aim and fired a T-shirt into the stands where Harughty and her family sat.
"The T-shirt struck her left index finger head-on and with so much force Harughty's finger fractured."
The documents show the woman is seeking a compensation worth over $1 million to cover physical pain, loss of earnings due to her injury as well as mental anguish.
The lawsuit claims the team's staff were not properly trained to use the gun and failed to adopt adequate care when firing T-shirts into the crowd.
Harughty went to the emergency room and then underwent two surgeries to mend the fracture.
"The pressure and the force of the T-shirt, this knuckle couldn't withstand so it just shattered once it hit," she was quoted as saying by KHOU 11.
The Astros responded to the lawsuit with a statement refuting the allegations.
"The Astros are aware of the lawsuit with allegations regarding Orbit's t-shirt launcher," it said.
"We do not agree with the allegations.The Astros will continue to use fan popular t-shirt launchers during games."
"As this is an ongoing legal matter, we will have no further comment on this matter."
The unfortunate incident is not the first time fans have sued a team for an injury caused by a T-shirt gun. In 2009, a fan sued the Chicago White Sox after being injured when fellow fans jostled for position to catch one of the T-shirts that were fired in the crowd.
The White Sox eventually reached a settlement with the fan.
Meanwhile, a year later, the Kansas City Royals were sued by a fan who was injured by a flying hotdog thrown by the team's mascot, Sluggerrr.
John Coomer suffered a detached retina and sued the Royals claiming negligence in 2010. A year later, a jury found he was 100 percent at fault as he was looking at the scoreboard instead of looking at the mascot.
The case then returned to court as Coomer appealed and in 2015 a new jury concluded neither Coomer nor the Royals were at fault.
The former, however, was left disappointed as he had racked up a bill of $16,000 in medical expenses which was not reimbursed.