8 Dead, Many Injured at Travis Scott's Houston Astroworld Music Festival
At least eight people have died and many more have been injured at the Astroworld music festival in Houston.
Houston Fire Chief Sam Peña said that a "mass casualty" incident started as the crowd at the event at Houston's NRG Park began to "compress toward the front of the stage" around 9 p.m. Friday.
He told a news conference that the push had caused panic and injuries, and that "people began to fall out, become unconscious and it created additional panic."
Around 50,000 people attended the festival. Peña said that 17 people were taken to hospitals, 11 of whom were in cardiac arrest and that more than 300 people were treated at the field hospital set up nearby, KHOU News Houston reported. Some of the victims were children.
Organized by Houston-born rapper Travis Scott, the third annual festival was scheduled to run from Friday through Saturday but has now been canceled.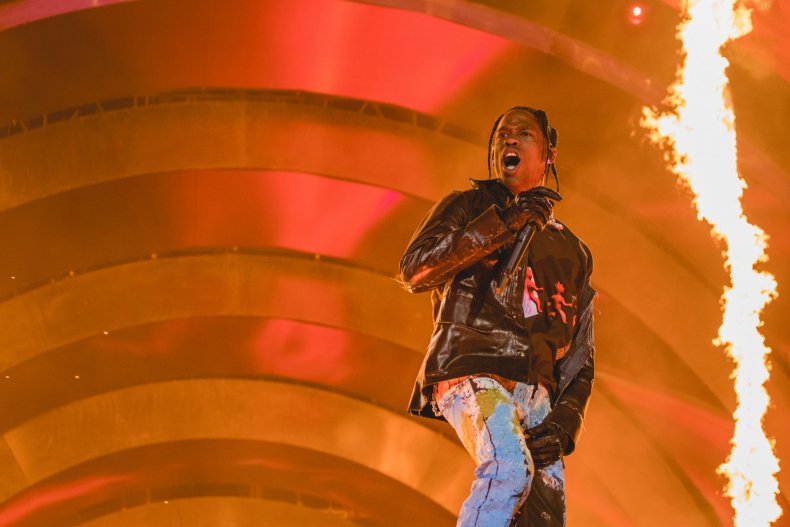 Scott, a Houston native had been on stage for the closing act of the night during which the rapper Drake, made a surprise appearance.
With the excitement and agitation among the crowd increasing, Scott stopped a number of times as he saw fans in distress and he asked security to step in, the Houston Chronicle reported.
Emergency vehicles drove through the crowd and the fevered atmosphere continued to grow until 9.38 p.m. when the "mass-casualty incident" was triggered.
Dozens of Houston Fire Department units responded and started performing CPR on those who were unconscious. Videos shared on social media showed the scenes of chaos and panic.
"It happened all at once," HFD Executive Assistant Chief Larry Satterwhite said according to the Chronicle, "it seemed like it happened over the course of just a few minutes."
Earlier in the day, hundreds of people had rushed the event's perimeter and knocked down metal detectors and a security screening area news outlet ABC13 reported.
Lina Hidalgo, county judge of Harris County, described what had happened as an "extremely tragic night".
"Our hearts are broken," she said. "People go to these events looking for a good time, a chance to unwind, to make memories. It's not the kind of event you go to where you expect to find out about fatalities."
"Nobody could dream of this," said Houston Police Department Chief Troy Finner, according to ABC 13.
He said that there would be no conclusion about whether there was "anything criminal" behind the crush until an investigation was carried out.
"Until we determine what happened, what caused the surge, we don't know," Finner said.
In response to a request for comment, organizer Live Nation referred Newsweek to a statement issued on social media which said that "our hearts are with the Astroworld family tonight, especially those we lost and their loved ones.
"We are focused on supporting local officials however we can," the statement said.
"As authorities mentioned...they are looking into the series of cardiac arrests that took place. If you have any relevant information on this please reach out to Houston police."
UPDATE 11/6/21 5:08 a.m. ET: This article has been updated with further information.
UPDATE 11/6/21 12:50 p.m. ET: This article has been further updated with a response to Newsweek from concert organizer Live Nation.