Houston Chronicle Editorial Criticizes Ted Cruz's 'Smugness' On California Power Outages
The Houston Chronicle slammed Senator Ted Cruz after his tweet mocking last year's power outages in California resurfaced as Texas grapples with loss of electricity following an unprecedented winter storm.
The Texas senator's August 2020 tweet was in response to the office of California's governor providing energy conservation advice as the state experienced summer blackouts.
"California is now unable to perform even basic functions of civilization, like having reliable electricity," Cruz wrote. "Biden/Harris/AOC want to make CA's failed energy policy the standard nationwide. Hope you don't like air conditioning!"
After Cruz's tweet went viral, the Republican senator addressed the backlash on Tuesday by tweeting: "I got no defense. A blizzard strikes Texas & our state shuts down. Not good. Stay safe!"
In a piece published on Tuesday, the Houston Chronicle's editorial board said the state experienced "no shortage of smugness," referring to Cruz "openly and pathetically" mocking California in his tweet. "How embarrassing for all of us," the editorial read.
Newsweek has contacted Cruz for comment.
The editorial also criticized Texas Governor Greg Abbott for appearing to shift the entire blame for the outages to the Electric Reliability Council of Texas, which he has called "anything but reliable."
"It was state and legislative leaders, after all, who helped create the system and continued to boast of its self-reliance even as experts warned of vulnerabilities, including scant accountability and lack of incentives to keep power-generating facilities in working order," the editorial said.
The board pinned Texas' power grid failure on "neglect," "failure to plan," and "not understanding that climate change has made once nearly unimaginable weather events entirely possible."
The graphic below, provided by Statista, illustrates the scale of blackouts in Texas compared to power outages in other states.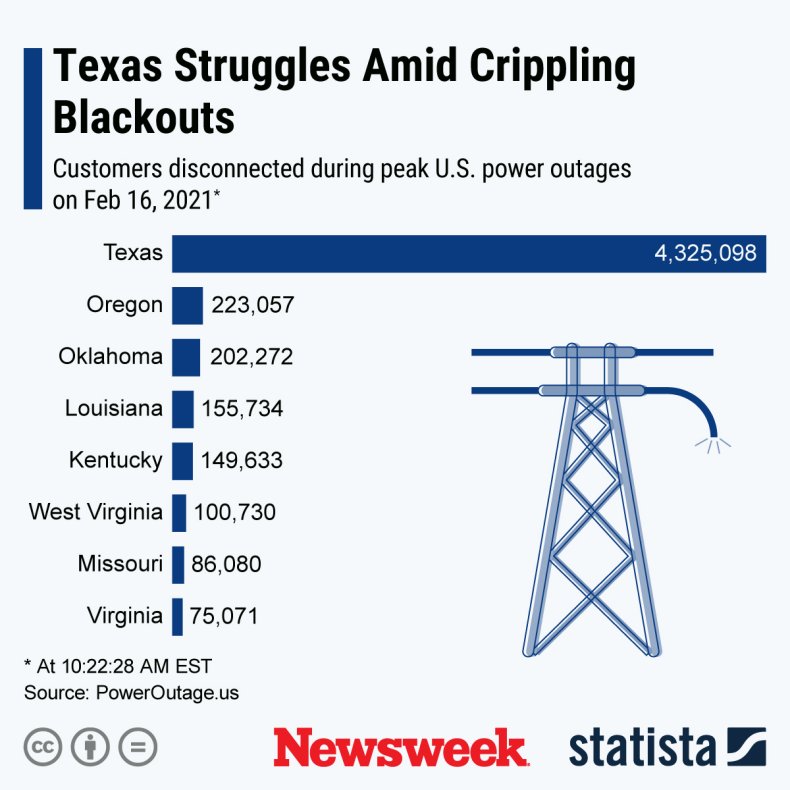 Cruz was not the only Republican Texas official whose politically-charged tweets on California's blackouts went viral in light of the Lone Star State's outages.
In response to a September 2020 advisory by Los Angeles Mayor Eric Garcetti urging his constituents to preserve energy, Representative Dan Crenshaw tweeted: "Alexa, show me what happens when you let Democrats control energy policy."
Texas Lieutenant Governor Dan Patrick shared a Forbes article on the role California's climate policies played in its blackouts. "This is what happens when the Democrats are left in charge," he tweeted.
Texas Attorney General Ken Paxton reacted to a CBS News report on Southern California's hot weather leaving some areas without electricity by tweeting: "California's politicians did this, not the heat."
The electricity outages saw Texans struggling to keep warm amid low temperatures and heavy snowfall.
On Tuesday, a woman and child died of carbon monoxide poisoning in Houston after a car was left running in their garage in order to generate heat.
The Houston Chronicle reported over 300 carbon monoxide poisoning cases were documented in Harris County, where Houston is mainly located. Many cases were caused by residents using barbecue pits and generators indoors as sources of warmth.