Democrat College Student Support for Elizabeth Warren Drops Ahead of Houston Debate
Elizabeth Warren, a top contender for the Democratic nomination for president, saw a dip in support among college students ahead of the next primary debate.
On Thursday, the 10 top candidate will face off at the third Democratic debate at Houston's Texas Southern University. To qualify, each had to garner at least two percent support in four Democratic National Committee-approved polls and have 130,000 unique donors.
The increase in the qualifying threshold from the last two debates locked out some candidates, including New York City Mayor Bill de Blasio and Marianne Williamson. Former Vice President Joe Biden and Senator Elizabeth Warren both qualified for the debate, making it the first time they'll share the stage together.
Polling numbers put Warren and Biden at the top of the pack for the Democratic nomination, but when it comes to college students who identify as Democrats, Warren has double Biden's support.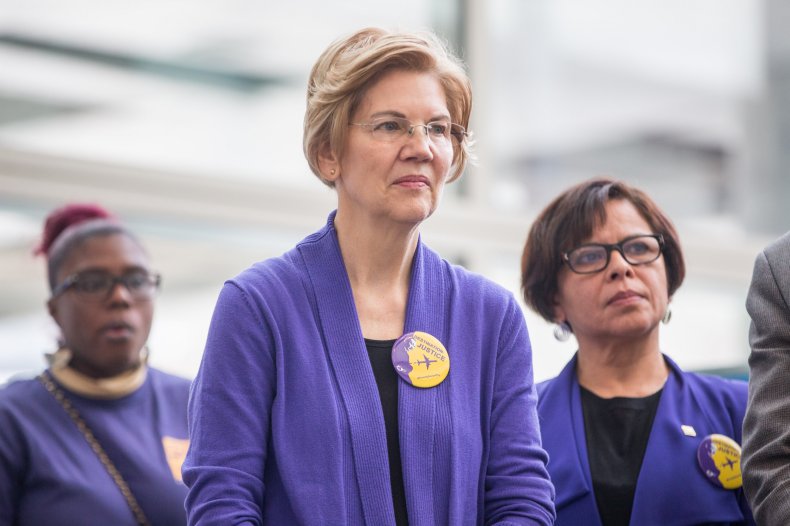 A recent poll by College Pulse, a survey and data analytics company, and Chegg, an education technology company, found 22 percent of college students supported Warren as the Democratic nominee, while 11 percent preferred Biden.
The September 3 poll results represent a four percent decrease for Warren from last week, though she still stands as the second most popular candidate among Democrat-leaning students. Senator Bernie Sanders was the top choice, garnering 28 percent support for the second week in a row.
Sanders won over weak Democrats and Independents who lean Democrat, but Warren was more popular among strong Democrats, according to the poll.
Months before the September debate, both Sanders and Warren released plans to tackle student loan debt and the cost of higher education.
Warren's plan would forgive student debt on an income-based scale, impacting an estimated 95 percent of borrowers. On Monday, Warren signed a letter to Stu Reed, president and CEO of Education Corporation America, which operated a for-profit college chain. The letter urged the company to not collect any outstanding debt from former students.
Sanders' plan would forgive all $1.6 trillion of student debt regardless of household income levels. To finance his plan, the senator proposed a tax on Wall Street transactions.
For Democrat students without financial aid, Warren was the best candidate, according to the Chegg/College Pulse poll. However, students with financial aid preferred Sanders.
Higher education has been a topic of the previous debates and, given that the third round is being hosted at Texas Southern University, it's likely to come up again.