Houston Flooding Map: Roads Washed Out as Area Hit With Severe Rain
Homes and roadways were flooded across Houston Thursday as heavy rainfall has continued to drench the city that is already struggling to control the spread of the coronavirus pandemic and deal with Texas' attempted reopening of the state.
Joshua Shideler, a spokesman for the Houston TranStar, the partnership organization that manages the city's transportation system, wrote in a statement to Newsweek that the organization is continuing to monitor substantial rainfall trends in the city.
"Grounds are saturated right now, and additional rainfall will likely result in increasing run-off and rapid rise on creeks and bayous with street flooding possible," Shideler wrote.
Houston TranStar reported that four locations were experiencing high water levels at the time of publication.
Police have closed parts of several roadways, according to a live map provided by the Houston TranStar.
In addition to harsh driving conditions, at least one home in a Houston community had been flooded Thursday morning, according to a tweet by Stephen Morgan, a meteorologist with Houston's Fox 26 channel.
Photos posted show a resident's home near Bear Creek Park had already taken on more than one inch of water.
Constant heavy rainfall throughout the past 24 hours had accumulated more than eight inches in some areas surrounding Houston, a live map provided by Harris County's flood warning system shows.
Hourly rainfall rates at around two inches will continue throughout much of Thursday, according to an alert by the National Weather Service.
The storms had put low-lying areas and roadways at risk of flooding, the alert stated.
The National Weather Service for Houston and Galveston had issued several flood warnings for the Houston area beginning early Thursday morning, according to its official Twitter page.
The warnings encourage residents to seek safety.
"We always remind folks to avoid high water, and never to drive into a flooded roadway," Shideler wrote in his statement to Newsweek. "Travelers have heard it a million times, but we will not stop communicating the importance of 'Turn Around Don't Drown' messaging."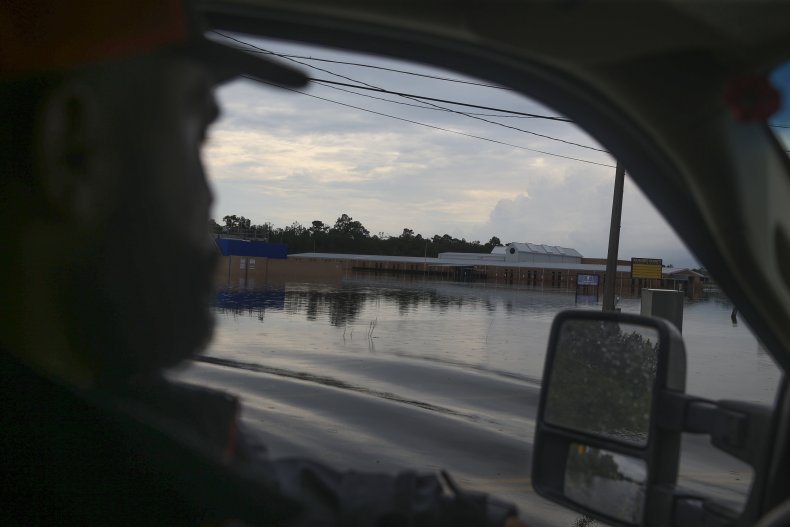 Thursday's hazardous conditions continue to threaten an area that has already been battered by the coronavirus pandemic and its attempts at reopening.
As the rains hit, Texas Governor Greg Abbott suspended the state's plans for reopening Thursday amid rising numbers of positive coronavirus cases.
"As we experience an increase in both positive COVID-19 cases and hospitalizations, we are focused on strategies that slow the spread of this virus while also allowing Texans to continue earning a paycheck to support their families," Abbott said in a statement.
Additionally, Abbott signed an executive order Thursday that would suspend all elective surgeries at hospitals in several counties, including Houston's Harris County, in an effort to free up more beds for coronavirus patients.