Houston Animals Are Lost, Cold and Suffering Too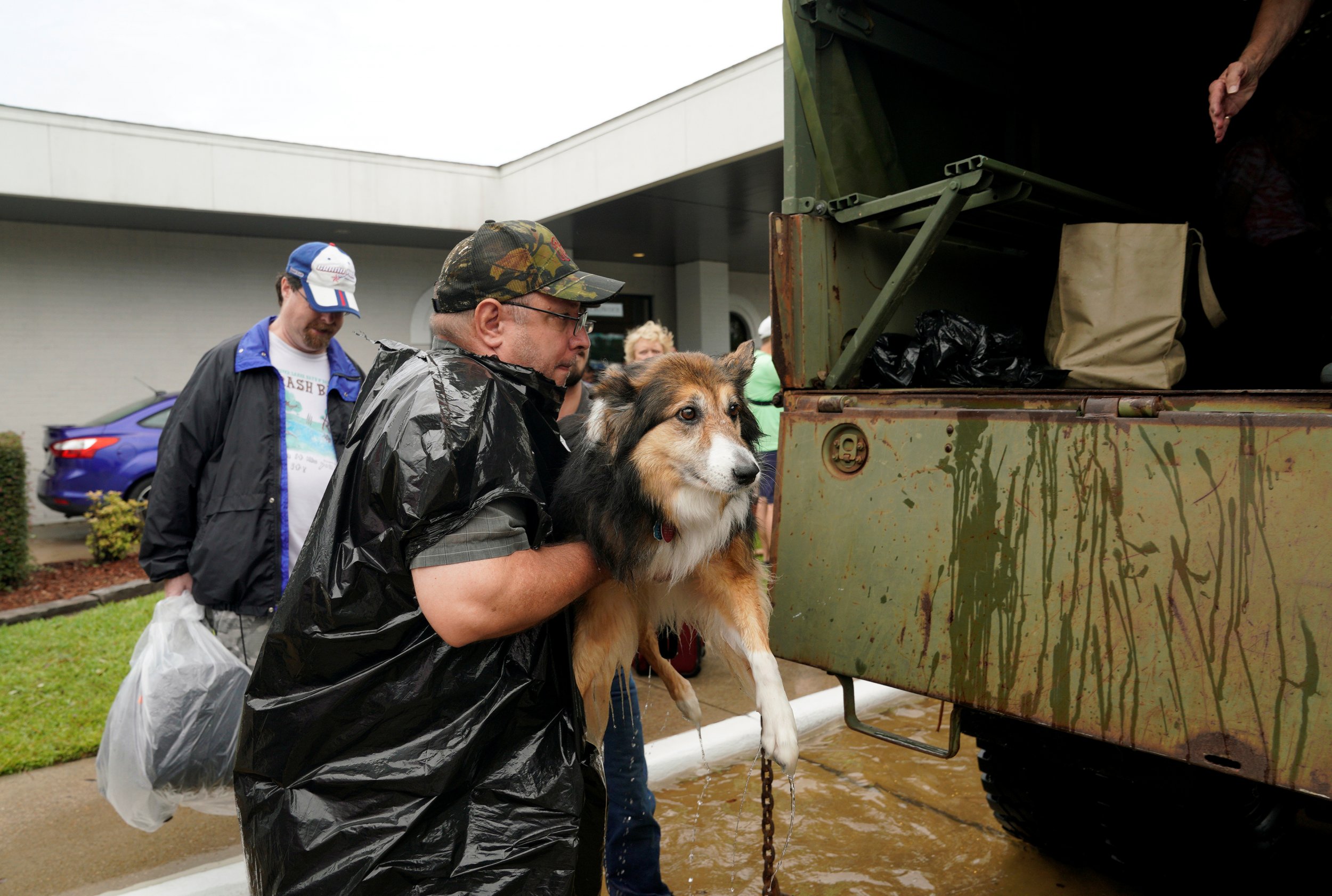 As human victims of Houston flooding struggle to find shelter, many of their dogs, cats, horses, cattle and other four-legged and winged creatures that depend on human care for survival are being abandoned and lost—but not forgotten.
With Noah's ark nowhere to be seen, Houston has become a city of lost, wet, shivering animals, often separated from their human families.
On Monday night, 9,021 humans slept in Houston's convention center, double the capacity. Although the center is allowing pets inside, many victims had to leave animals behind during harrowing escapes from rising waters by boat.
Hundreds of people have posted heartbreaking and sometimes dramatic stories of lost pets on Facebook pages devoted to tracking them.
Related: People are using Houston to criticize 'All Lives Matter'
There's Frank, the loyal English bulldog swept away in a swirling highway current as his owner, David Scherff, rescued a family in his boat while darkness fell.
There's Freddie, a white and black pit bull whose owner, Dawn Elvin, last saw him wearing a pack and a leash, running toward a flooding Houston bayou.
There's Samson the Longhorn, a beloved neighborhood pet in Spring, Texas, who got wedged into a sinkhole caused by rains.
Animal lovers across the nation are responding. On Tuesday morning, the first flight of Hurricane Harvey refugee dogs to the Northeast was scheduled to land at an airport in New Jersey. The animals are headed for St. Hubert's Animal Welfare Center in Madison, New Jersey, a shelter where they will be fed and cared for before being distributed to one of 15 sister shelters in the area.
Dozens of crated cats were landing in Oregon Tuesday morning, shipped from San Antonio's Animal Care Services, which has taken in about 200 evacuated pets.
The Humane Society of the United States, Wings of Rescue, the American Society for the Prevention of Cruelty to Animals (SPCA), GreaterGood.org and other organizations are flying homeless dogs and cats from Texas shelters to facilities in other parts of the country to make room for the influx of thousands of homeless animals being picked up in the hurricane-devastated areas. The relocated animals will be put up for adoption in their new areas, while the Texas shelters hold pets that otherwise would be lost or abandoned in the wake of the hurricane and floods.
"I've been a Texas resident my whole life, but this is the craziest I've ever seen," Katie Jarl, Texas senior state director of the Humane Society of the United States, told CBS Tuesday morning.
Besides dogs and cats, farm animals like horses and cows are in harm's way. One Facebook post Tuesday morning begged for immediate assistance for 40 horses stranded in 5 feet of water in a barn near Houston. Ranchers are driving their cattle to higher ground, but the toll on the state's beef industry remains unknown.
With boats and other vehicles all deployed for saving increasingly imperiled humans, the animals will not be top priority. But help is on the way. Volunteers are headed to the Houston area from as far away as California. RedRover, a national nonprofit group based in Sacramento, is sending 400 volunteers and 15 vets to the Lone Star State later this week to help. The organization, which focuses on rescuing and sheltering animals in crisis around the country, will work with the SPCA of Texas to care for pets and farm animals displaced by Hurricane Harvey, said spokeswoman Sheri Madsen.
The Humane Society of the United States has several Animal Rescue Team responders on the ground already and more headed to areas affected by the disaster. The HSUS works with city agencies that request its help. The HSUS has several vehicles, including a "disaster rig," on site at Corpus Christi and is assisting the Houston Humane Society and the SPCA of Texas.
The Facebook page Hurricane Harvey Animals Rescue Support is filled with heartrending requests for immediate assistance. Sightings include dogs chained to abandoned homes near rising waters, and rescue boats that have picked up families but don't have room for household pets.
The page is also a clearinghouse for people across the nation to connect if they are willing to take in animals.
Some of the animal stories have happy endings. Twenty-five neighbors and strangers alerted by a Facebook posting mobilized and saved Samson the Longhorn. "He had been in this hole for two to three hours. His body was so weak, cold and tired," Amanda Sheridan, who witnessed and aided in the rescue, told Chron.com. "His eyes were rolling in the back of his head, his body was shaking. It was such a scary thing to witness."
But David Scherff, who saved countless humans with his boat, has no idea whether his beloved white bulldog survived the waters.
And as the rains continue to fall, the Facebook rescue page is inundated minute by minute with increasingly desperate reports. One woman posted a picture of her two German shepherds with the explanation: "I had to leave these Beauties behind did you [sic] small boat and many people are neighborhood needing to be rescued. They look mean but they are harmless. If anyone sees them, please assist. We will be forever thankful. In the 77015 zip code, Normandy and Wood Circle. THEY ARE NOT CAGED. THE MOTHER IS CHIPPED. 247 Wood Circle Lane 77015. Not deep in the neighborhood. Next to a pink house."
Also Tuesday morning, Susan Hernandez of Leap of Faith Animal Rescue in Brookshire, Texas, posted an urgent plea for an ark: "WE ARE LEAP OF FAITH RESCUE IN BROOKSHIRE, TX...HOUSE IS FLOODING AND NEED A BOAT TO MOVE ANIMALS...PLEASE PLEASE SOMEONE HELP US!!"
Animal care groups say the best way animal lovers can help is by donating money to the Texas and Houston SPCAs.