Meet the Houston Police Chief Who Helped Stop Hurricane Harvey From Becoming a Katrina Crisis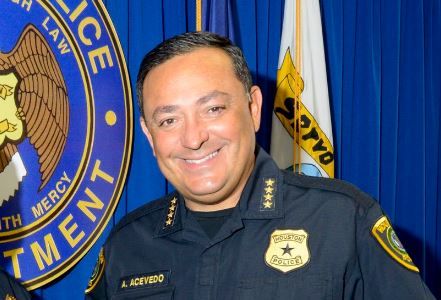 The police chief sped toward the Greenspoint neighborhood in North Houston on Saturday night, his Hummer slicing through the heavy rain on deserted streets. Two apartment buildings near the Greens Bayou had flooded, and Houston Police Chief Art Acevedo always leads from the front line.
The water level was near Acevedo's knees when he arrived, he tells Newsweek, but rose to his waist as he oversaw his officers rescuing hundreds of people from the buildings. "You got the baby?" Acevedo called to the officers as the floodwaters swirled around them in the night. "Where the elderly at? This way? We're going to go try to grab some elderly people!"
Acevedo has a reputation for on-the-ground leadership, a trait that was on display this past week as Hurricane Harvey caused at least 47 deaths—including one police sergeant—and Houston police rescued 3,500 people. "If you're in a building and you don't have eyes, sometimes you put your decision-making on people you've never even met," says the fast-talking Acevedo, who shook cockroaches out of his soaked uniform after hours in the water. "I'd rather be in the front lines with my officers."
The chief's ability to command his cops to report in uniform on Friday and work long shifts during the flooding likely saved lives, especially when compared with the New Orleans police department during Hurricane Katrina, when only a quarter of the officers in some police districts remained on duty during the worst of the storm. Houston Mayor Sylvester Turner, who spoke with Acevedo four or five times a day during Harvey, praised the police response Thursday, tweeting, "Our 1st responders saving lives every hour."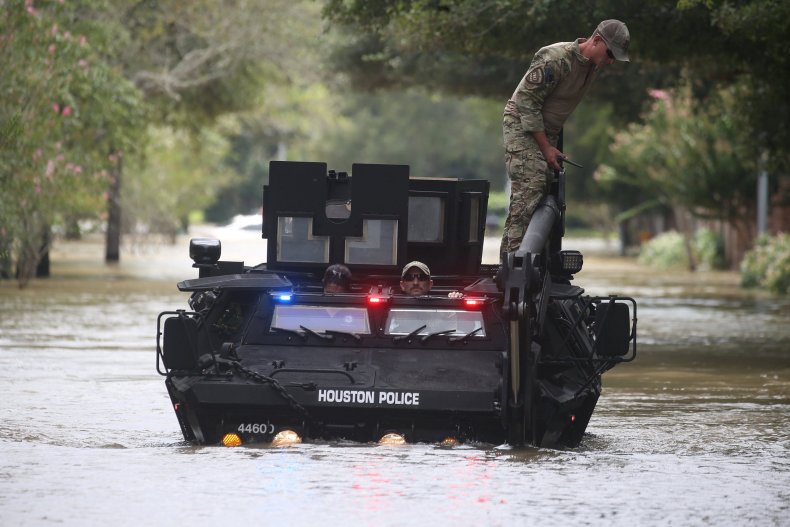 The Greenspoint neighborhood had been on Acevedo's mind since the mayor pointed out the apartments there were vulnerable to the rising waters, but the chief's approach to the situation was informed by a deadly flash flood he faced four years ago when he ran the Austin Police Department. The Halloween Flood of 2013 killed at least five people after two of the flood gauges that monitor water levels in Austin's Onion Creek malfunctioned—sandbagging the city's response.
"We relied more on technology and gauges that weren't working properly instead of relying on you," Acevedo told residents at a town hall meeting after the floods. "And for that I apologize from the bottom of all of our hearts."
Acevedo didn't repeat the mistake. He surveyed the Greenspoint apartment complex himself on Saturday so he could do his own risk assessment without relying on someone else. That afternoon he told his staff that gauges fail and that he wanted officers keeping "eyes on the bayou" and knocking on doors. Then, when the waters rose Saturday night, police officers were watching and ready to evacuate residents. "That's the method to my madness, and one of the reasons I did that was the lessons I learned during the Halloween Floods in Austin," says Acevedo.
The Cuban-born Acevedo also gained firsthand experience in flood zones while he was in Austin, walking through deep water to help people and pushing cars out of the way, says Austin police Chief Brian Manley, Acevedo's ex-chief of staff, speaking about the 2015 flood there. "We almost lost our car because the water rose so fast. When we got back to our car, the water was almost coming in the door panels," Manley tells Newsweek, adding that Acevedo can operate without sleep during a crisis, rarely exercises and loves fancy restaurants and a good steak. "He'd never ride shotgun. He'd have to drive! Everyone knew when you heard Austin One on the radio, the chief was on patrol," Manley says.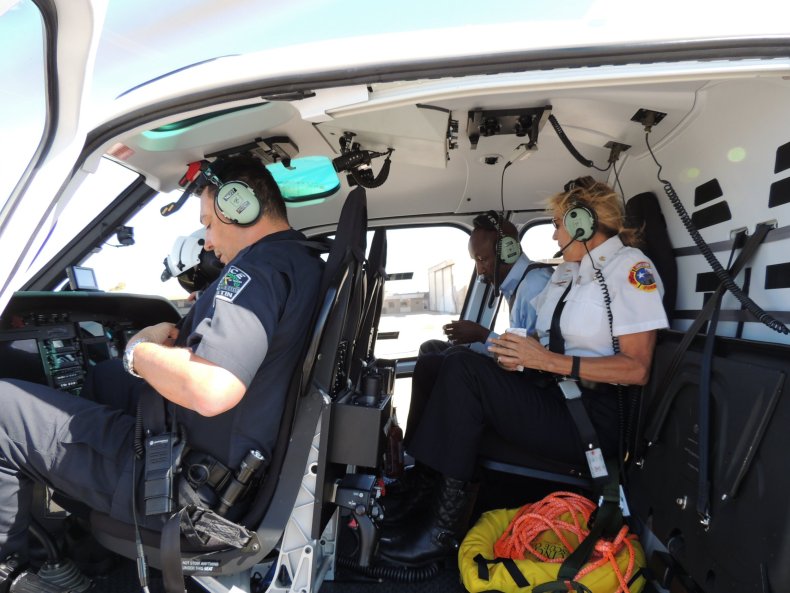 Acevedo's father was a police officer in Cuba. Acevedo's first job was as a patrol officer in East Los Angeles. He rose to assistant chief in the California Highway Patrol, where an ex-girlfriend filed a sexual harassment lawsuit against him (a judge dismissed the suit) and where he also won a $1 million whistleblower settlement against the highway patrol after alleging he faced retaliation for revealing improper conduct by top officials, according to the Dallas Morning News.
After taking over in 2007 as police department head in Austin—where he was the city's first Hispanic chief—Acevedo set a goal of improving relations between police and black and Hispanic communities. "He's been effective in terms of community relations.... He gets a standing ovation for that," Nelson Linder, president of the Austin branch of the NAACP, told The Austin American-Statesman newspaper last year. While most police chiefs keep their head down after a controversial shooting involving an officer, Acevedo always held a press conference as soon as possible.
"In every single case I can remember, he does an on-the-scene press briefing while the scene is being investigated," Cedar Park Police chief Sean Mannix, who was an assistant chief under Acevedo in Austin, tells Newsweek. "Art is about transparency. I believe that deep down in his core he believes that we work for the people and they deserve the information that we owe them." (The local police union, on the other hand, criticized Acevedo for not supporting his officers and said the most dangerous place in Austin was between the chief and a news camera, according to the Statesman.)
The friction between Acevedo and the union was revealed last year when the chief fired officer Geoffrey Freeman, who shot and killed an unarmed and naked teen. Acevedo berated his police commanders for disagreeing with his decision, according to a recording of the meeting obtained by the Statesman. "The union got all pissed off because I fired Freeman," Acevedo told his police commanders. "If you can't handle a kid in broad daylight, naked, and your first instinct is to come out with your gun, and your next instinct is to shoot the kid dead, you don't need to be a cop. I don't give a shit how nice you are."
Acevedo left Austin late last year for Houston—where black and Hispanic people make up almost 70 percent of the population—and where he was once again the city's first Hispanic police chief. He moved into an RV that will serve as his home until he buys a house and began "overhauling a frayed department," stated a Houston Chronicle profile in June.
Acevedo is a cop's cop and a savvy politician, intent on passing praise both up and down the chain of command. He says he took his direction from the mayor and that he believes God wanted Turner in the mayor's chair in 2017 because he was the best person to lead the city against the storm. After complimenting his boss, Acevedo commends the men and women of the Houston Police Department, whom he says worked without complaint, even when there were "copperheads in the water."
Acevedo speeds around Houston emitting a near-constant stream of tweets and is already thinking about how the city's response to "a natural disaster of biblical proportions" will be judged by history. "While our response may not be perfect," he tells Newsweek, "no one will ever to be able to question the heart of the Police Department, the mayor who leads them and the people they serve."