Almost all intensive care unit beds at Houston hospitals were occupied on Wednesday as Texas reported a record number of statewide patient admissions related to the novel coronavirus.
During a City Council meeting Wednesday morning, Houston Mayor Sylvester Turner said 97 percent of the city's ICU beds were filled. A report from the Texas Medical Center (TMC) said 27 percent of those beds were occupied by COVID-19 patients.
According to data published earlier this week by the TMC, a network of health care and research institutions based in Houston, 90 percent of the city's ICU beds were filled as of Monday. Virus patients accounted for more than one-quarter of those occupancies.
The TMC's latest report incorporated ICU admission numbers from seven affiliate hospitals in the Houston area: CHI St. Luke's Health, Harris Health System, Houston Methodist, MD Anderson Cancer Center, Memorial Hermann, Texas Children's Hospital and University of Texas Medical Branch. The hospitals can collectively admit 1,330 ICU patients at regular capacity, when 70 to 80 percent of total beds are typically occupied, according to the TMC.
The TMC's Monday report noted that an additional 373 beds could become available under its "sustainable surge" plan, a procedure that would indefinitely increase ICU capacities as needed during the pandemic. Another 504 beds could be added to Houston ICUs under an emergency "unsustainable surge" plan, which the TMC would implement to address a "significant, temporary" influx of patients, according to its report.
Newsweek reached out to the TMC for comment but did not hear back before publication.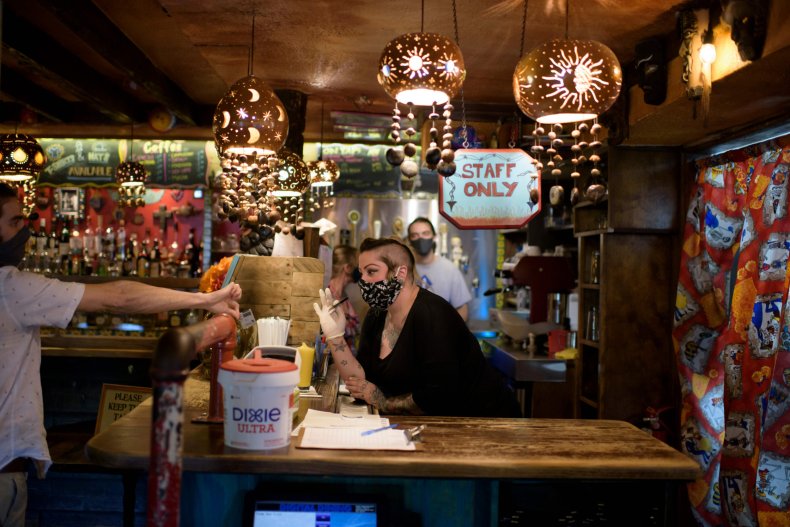 Houston's heightened ICU admissions were reported as cases and hospitalizations related to the coronavirus are spiking throughout Texas. Ongoing data released by the Texas Department of State Health Services show that of all the state's regions, the Houston area is one of the hardest hit in terms of virus incidence and hospital admissions. The latest DSHS data estimated that 179 ICU beds were available at medical facilities located in the Greater Houston area as of Tuesday afternoon.
The number of patients hospitalized with the virus peaked in Texas on Tuesday, as the DSHS confirmed more than 4,000 current admissions. The state has set new records for hospitalizations related to COVID-19 every day since June 12, when 2,166 patients were reported.
On Monday, the Houston Health Department said hospitalizations due to the virus had increased 177 percent throughout the surrounding county since May 31. It also noted a 64 percent increase in ICU patients who had tested positive for the virus.
Texas also saw its highest daily increase in virus cases on Wednesday, with 5,489 new diagnoses confirmed. The latest single-day record surpassed its previous high of 4,430 new cases reported last Saturday. Cumulative diagnosis data reflected in graphics published by the DSHS show a sharp upturn in cases reported statewide since the start of June, when about 64,800 total cases were confirmed. As of Tuesday afternoon, the number had risen to more than 120,300. The DSHS estimated that roughly 47,400 of those cases remain active.
Businesses in Texas started to reopen at the beginning of May. Although Texas Governor Greg Abbott has not required residents to wear face masks in the state's public spaces during the reopening process, he did encourage people to do so earlier this week in response to increasing case counts and hospitalizations.
"Wearing a mask will help us to keep Texas open. Not taking action to slow the spread will cause COVID to spread even worse, risking people's lives and ultimately leading to the closure of more businesses," he said during a news conference on Monday.