Houston Joins These Cities to Issue Fines For Not Wearing Masks in Public
Houston Mayor Sylvester Turner announced Monday that individuals who choose not to wear a face mask could be fined $250 for violating the statewide face covering mandate.
Texas Governor Greg Abbott signed an executive order in July calling for state residents to wear face coverings in public areas where social distancing could not be easily practiced. Although some local governments were reticent to enforce the mandate with fines, Turner said Monday the risk of community spread of the virus was too great to ignore.
"There are too many street parties, house parties, zydecos on the corners, backyard parties, and more happening in our city especially when individuals are not wearing masks," Turner tweeted. "I am urging individuals to please discontinue from having these as #COVID19 continues to spread."
Newsweek reached out to Governor Abbott's office for comment.
Recent data indicated a cumulative total of 459,021 positive cases of the coronavirus in Texas since the pandemic began. Houston is the seat of Harris County, which leads the state in the number of positive cases that have been reported. Harris County reported 1,463 new cases of the virus Monday for a total of 78,105 positive cases of the virus.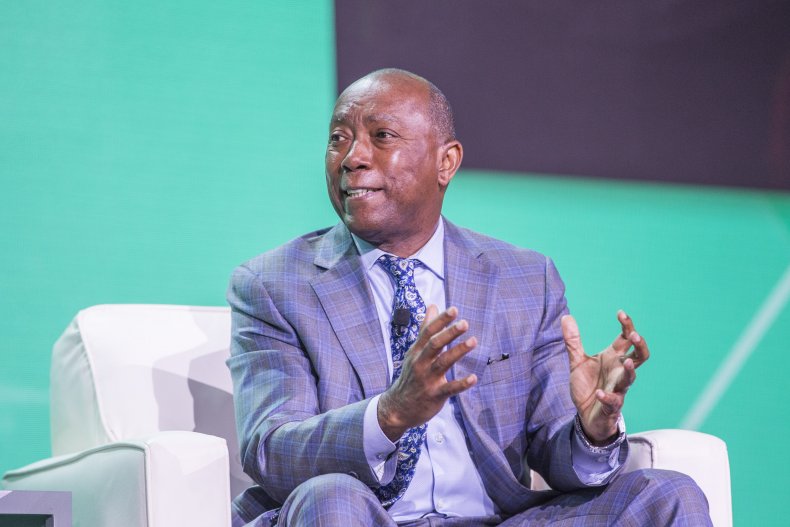 Houston joins a number of cities enforcing mask mandates with fines. In July, the city council of Austin, Texas approved a $2,000 fine for violating the mask mandate.
Some California cities are fining their residents for going maskless in public. In West Hollywood, the first violation of the statewide mask mandate will result in a $300 fine. Residents of Glendale will be fined $400 for the first violation, $1,000 for the second and $2,000 for the third violation.
Savannah, Georgia Mayor Van Johnson announced in July that 25 city employees had been deputized to enforce the city's face mask mandate. Individuals not wearing a mask could be fined up to $500 for a violation.
In Cincinnati, Ohio a $25 fine could be levied against those who don't wear masks. Dayton, Ohio has a higher fine in which violators could be charged $85 for breaking the mandate.
Arkansas Governor Asa Hutchinson authorized fines to be charged against anyone in the state found violating the mandate in a July order. Individuals without masks in Arkansas could be charged a $500 fine except violators under the age of 18, who only get a warning.
Police in Florida cracked down on individuals and businesses that are found in violation of the state's face covering mandate. In Miami, the first and second violations of the mandate caused a $100 fine. After the third violation, individuals were given a notice to appear in court.
Not all law enforcement officers are enforcing the mandates. In Wisconsin, some sheriff's offices Governor Tony Evers' mask mandate was difficult to enforce.
"Wear a mask if you want, if you don't want to, that is fine also," wrote Florence, Wisconsin Sheriff Dan Miller in a Thursday Facebook post. "The Sheriff's Office is not the mask police. We will be looking out for real criminals."